Usually I post about my astronomy-related activities, but I thought I'd put up a post about what I've been doing while staying home during the COVID-19 pandemic (spoiler alert: lots of baking and knitting).
Living in Seattle, life changed for us pretty early. My last "normal" day in the office was Wednesday, March 4th, 2020. By the time I got home that day, prospective week for the incoming UW astro grads had been cancelled and Garrett had been asked to work from home. We canceled our trips to Ireland, Washington DC, Colorado and California and have since stayed home except for essential trips out. But, I've still kept busy with some fun stuff!
While maybe not "fun" in the classical sense, at the beginning of the COVID-19 crisis, N95 masks were in short supply at our local hospitals. The UW Astro department head, Julianne Dalcanton, helped establish the Seattle Mask Brigade that collected N95 masks from the community and distributed them to hospitals. For a while I helped out by collecting masks around my community and bringing them to nurses who distributed them to their colleagues. Here's a nice write-up of the efforts. I'm happy to say that this week, the Seattle Mask Brigade was *finally* disbanded as mask requests from hospitals have subsided. Here's a nice write-up of the efforts.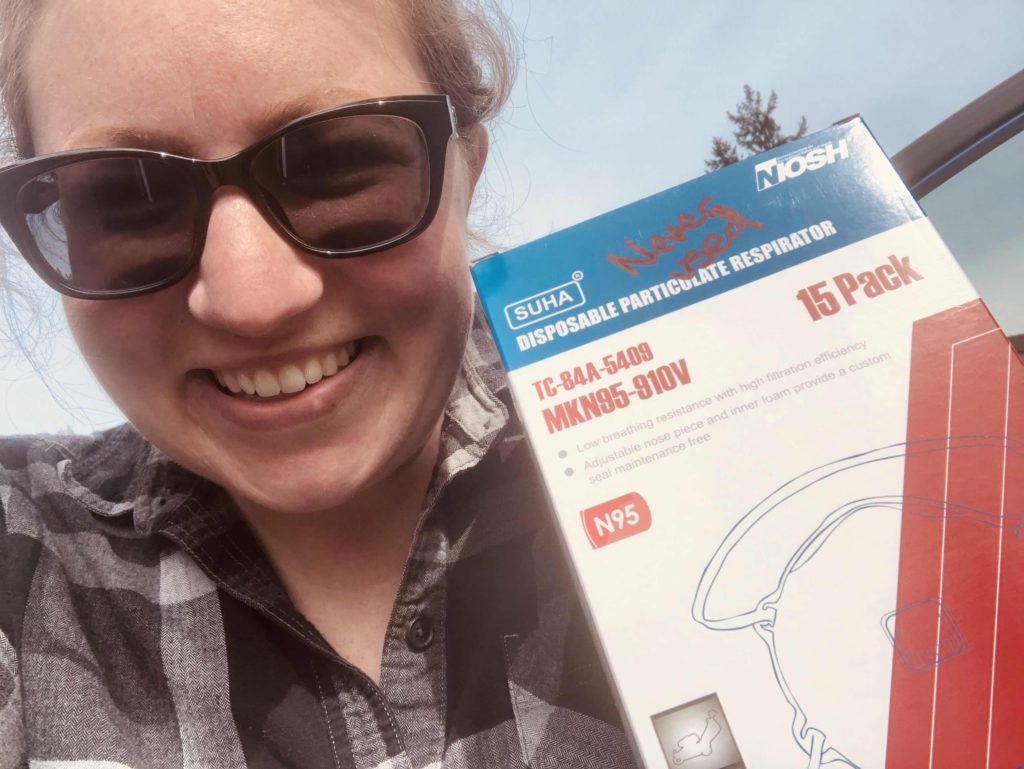 Mask pickups with the Seattle Mask Brigade.
I've been knitting on and off for the past few years, but with half of winter quarter and all of spring quarter online, I gained an abundance of weekly Zoom calls. To keep my hands busy, I decided to work on my knitting. Here are a few of my (many) recent projects.
I started off quarantine with a pretty simple shawl / scarf.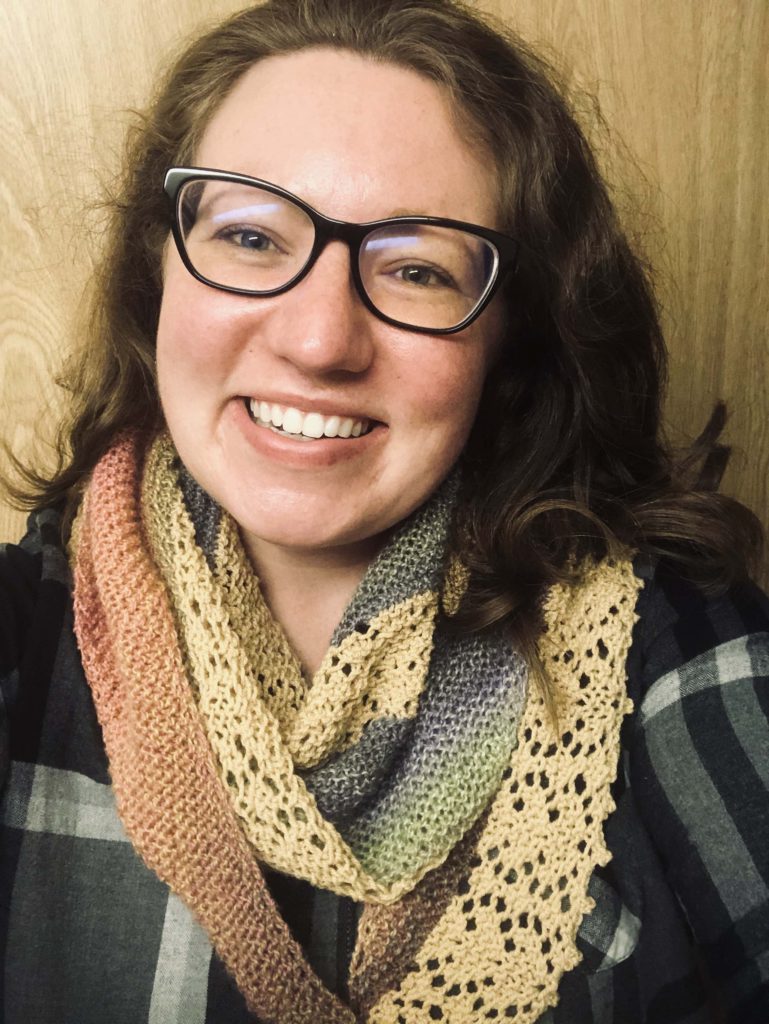 I then made Garrett some Ravenclaw socks with hand-embroidered detailing.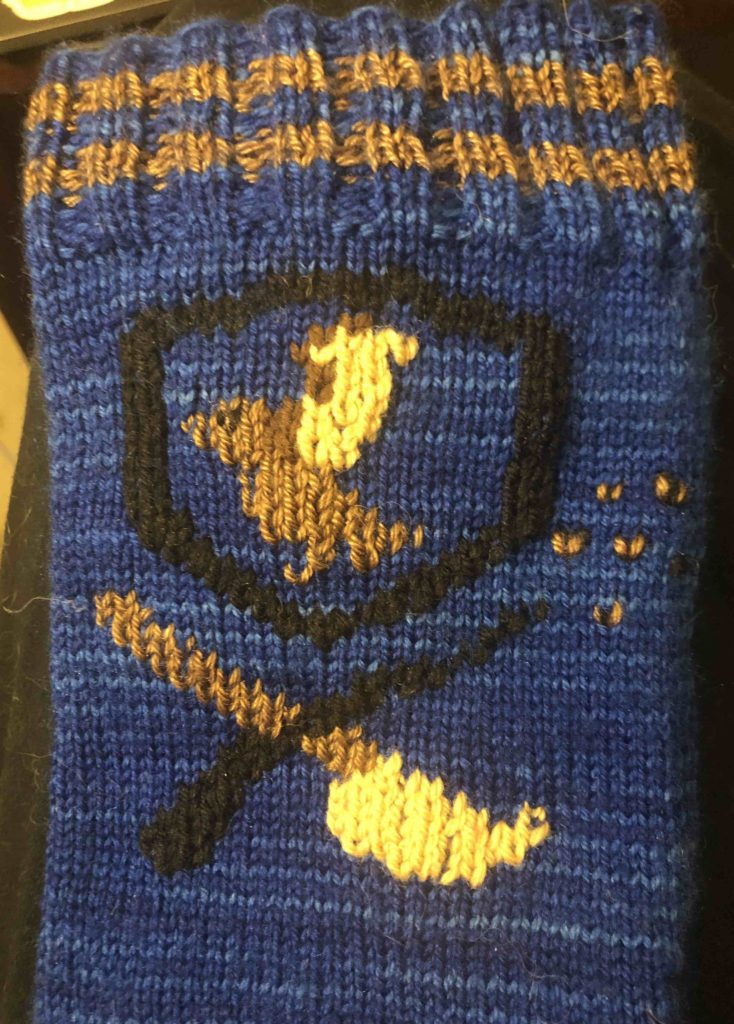 I'm most proud of this Celestarium shawl. There are around 400 beads that represent the constellations visible in the northern hemisphere (Polaris is right in the middle). The beads are colored based on the spectral type (temperature) of the stars. It measures around 4.5 feet in diameter and is made of beautiful hand-died merino wool.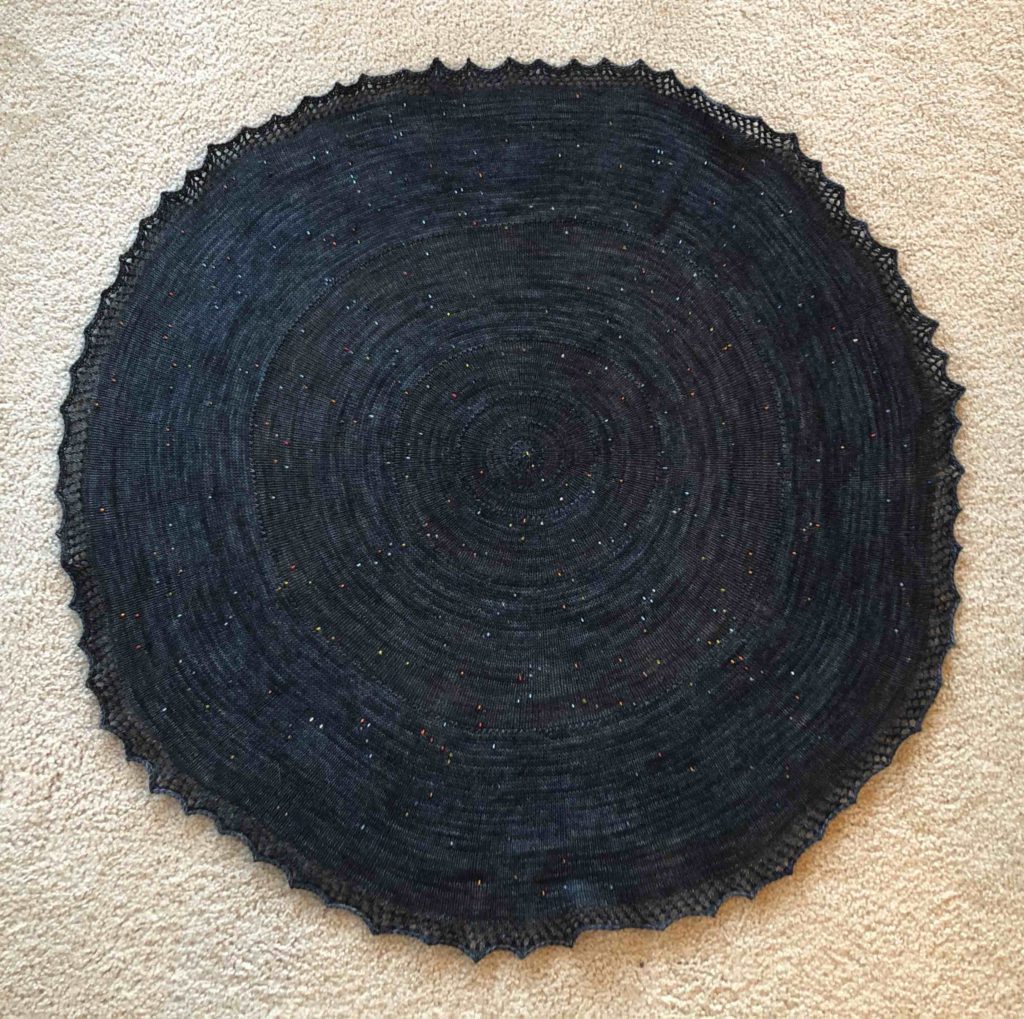 Besides being creative with knitting, I also went through a painting phase. I did a paint-by-number of a cat and also created my own stained-glass-like creation in acrylic with some black puff-paint.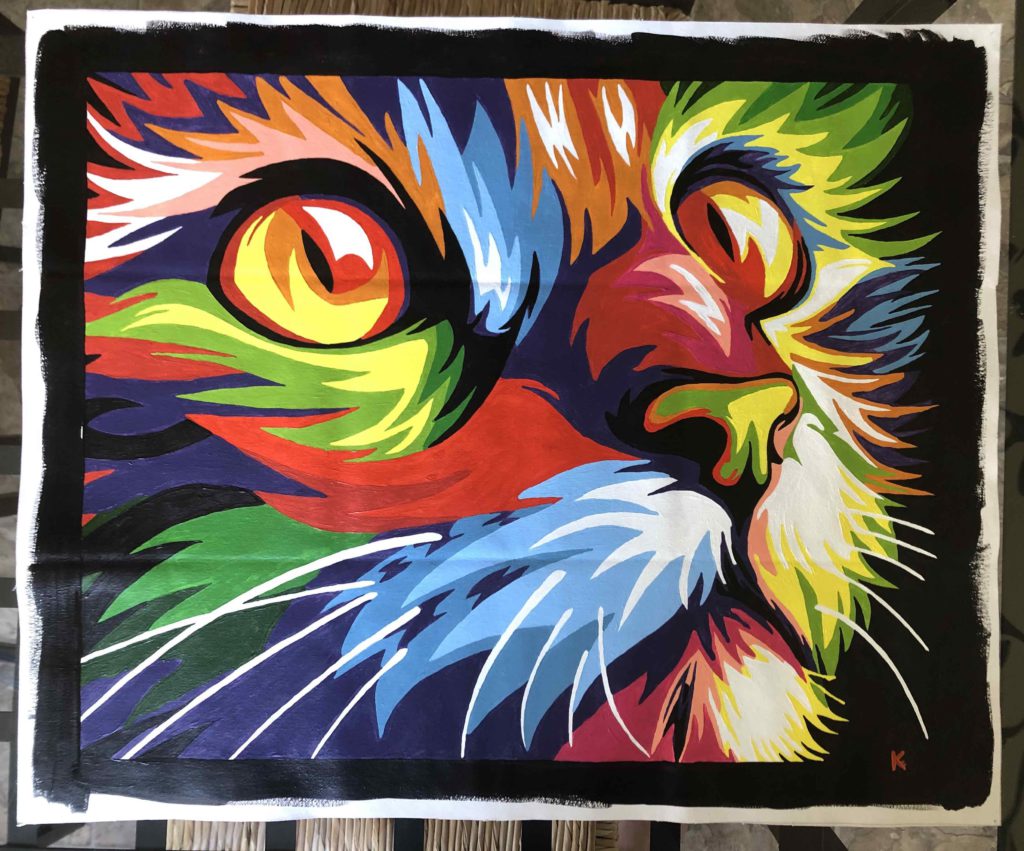 Paint-by-number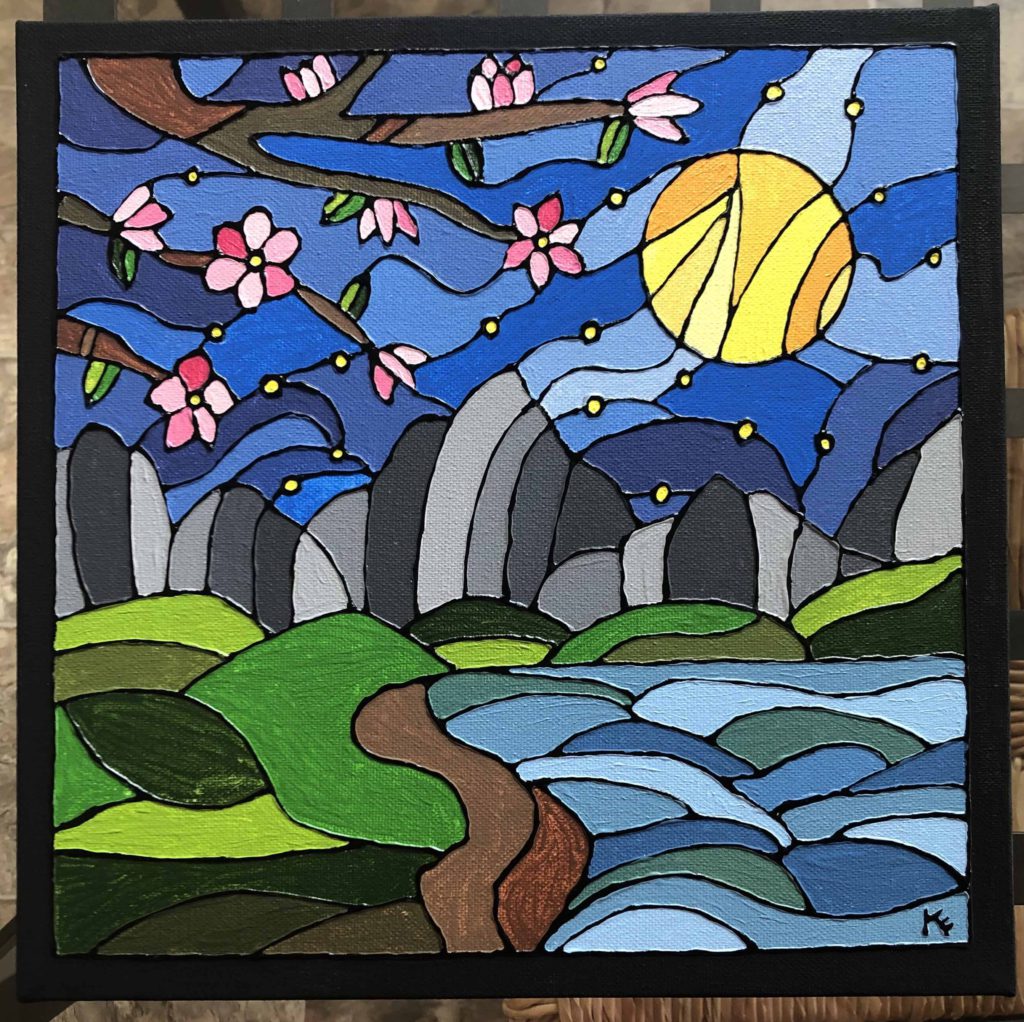 Acrylic creation. It reminds me of the Flatirons in Boulder, CO as well as the cherry blossoms from both Washington DC and Seattle, WA. I also love the little stars and moon.
I've also become even more of a plant person than I was pre-quarantine. A few months ago Garrett and I decided to stick a partially-rotting bell pepper in some soil. And now …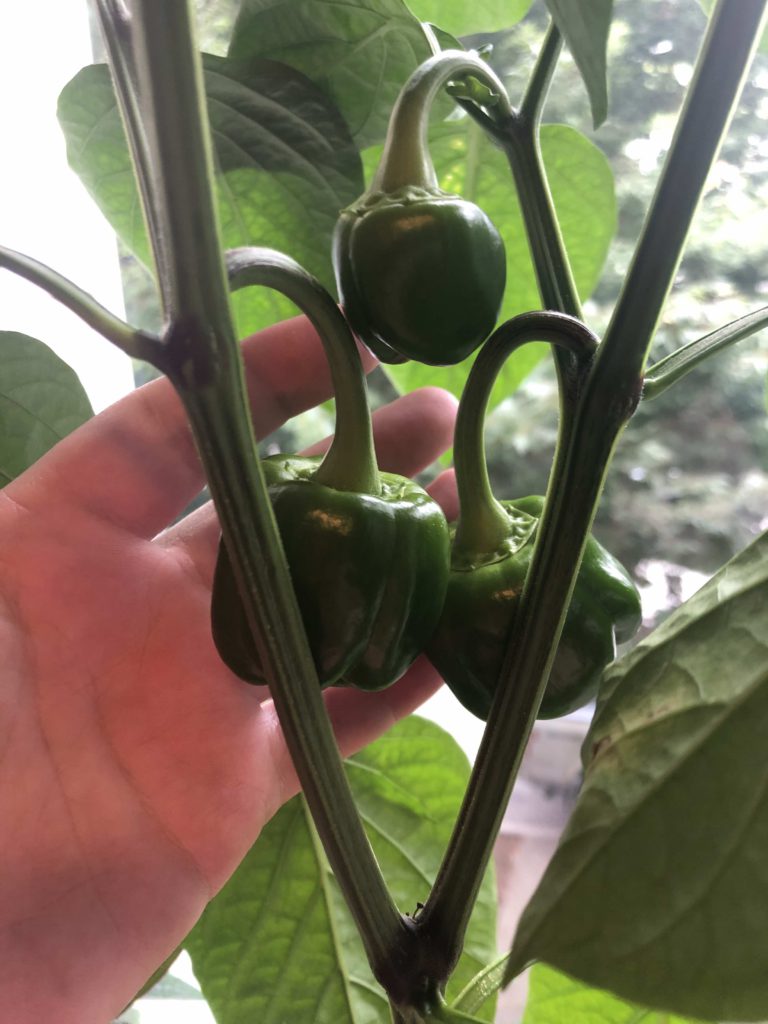 Bell peppers! They're even bigger now and we can't wait to pick and eat them!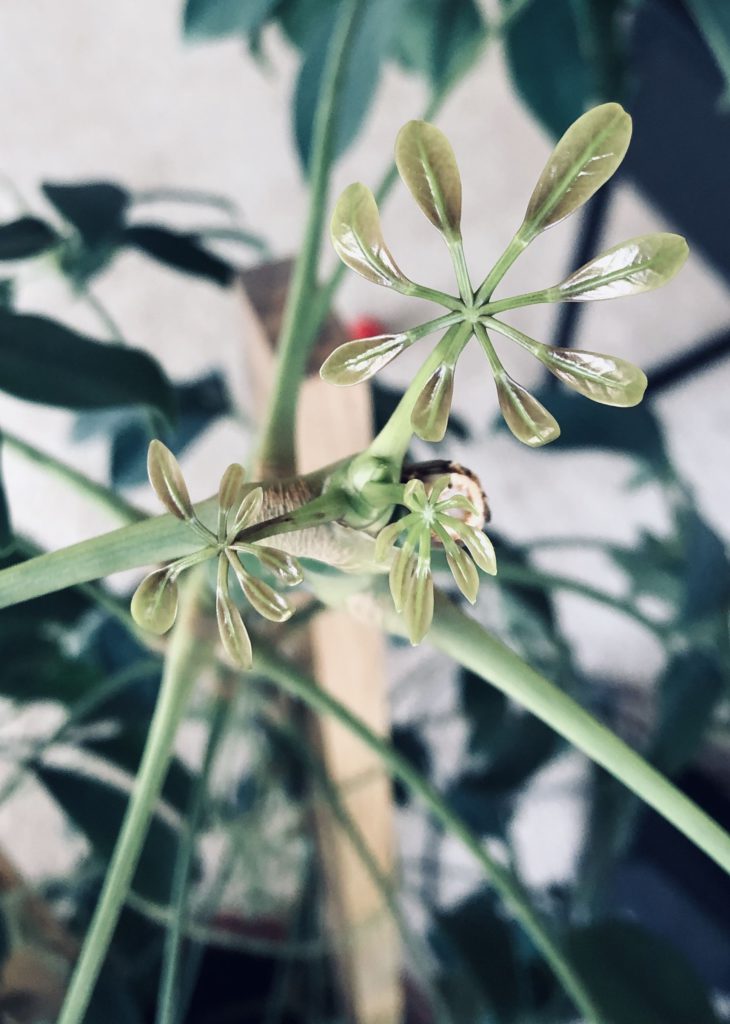 We also propagated one of Garrett's plants. Here's the new growth. Soon our apartment will be even more overrun …
Finally, like nearly everyone else during the pandemic, I've gotten into baking. While I haven't experimented with bread (no sourdough starters for me …), I did re-watch all of the Great British Bake Off and that inspired me to make some of my own creations. Here are a few …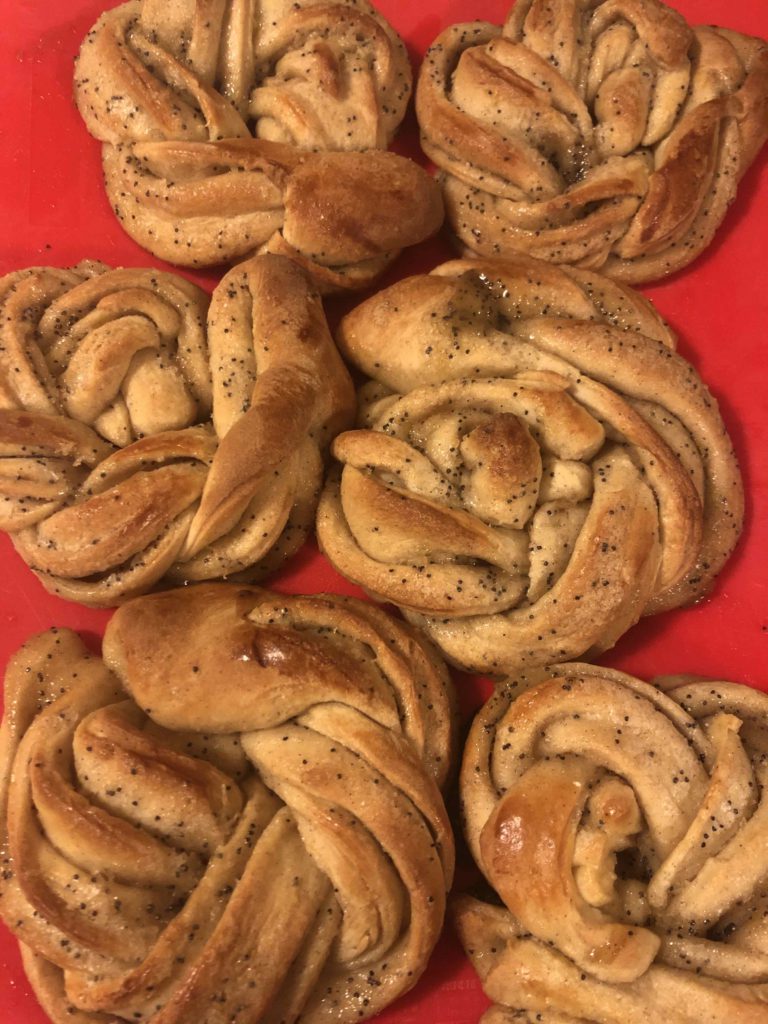 Lemon poppyseed and cardamom twists. Made with a yeasted dough and VERY yummy.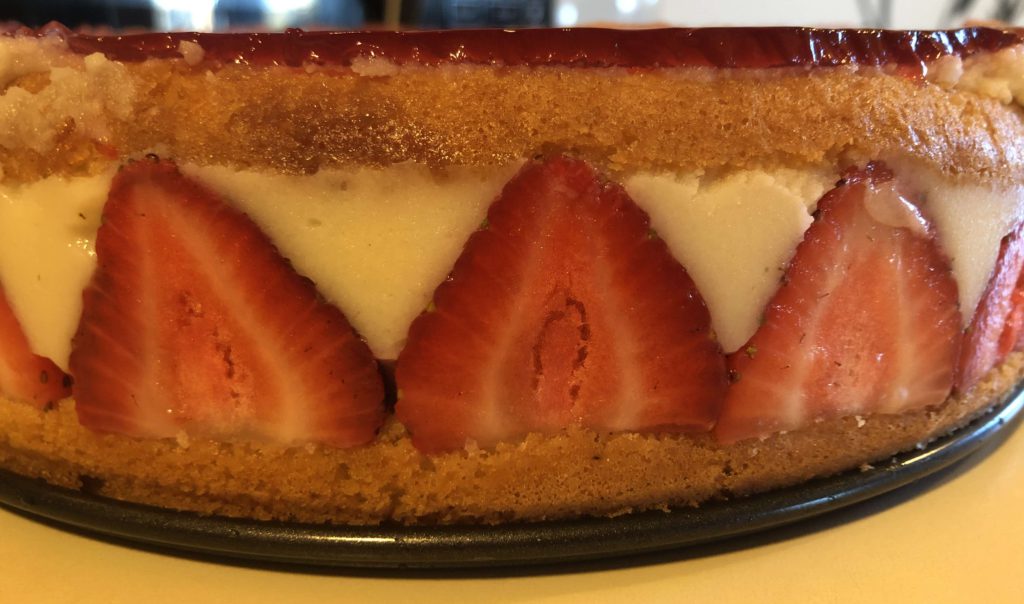 A classic Fraisier cake straight from a GBBO technical challenge! It involved making a genoise sponge, creme patissiere and homemade strawberry jam.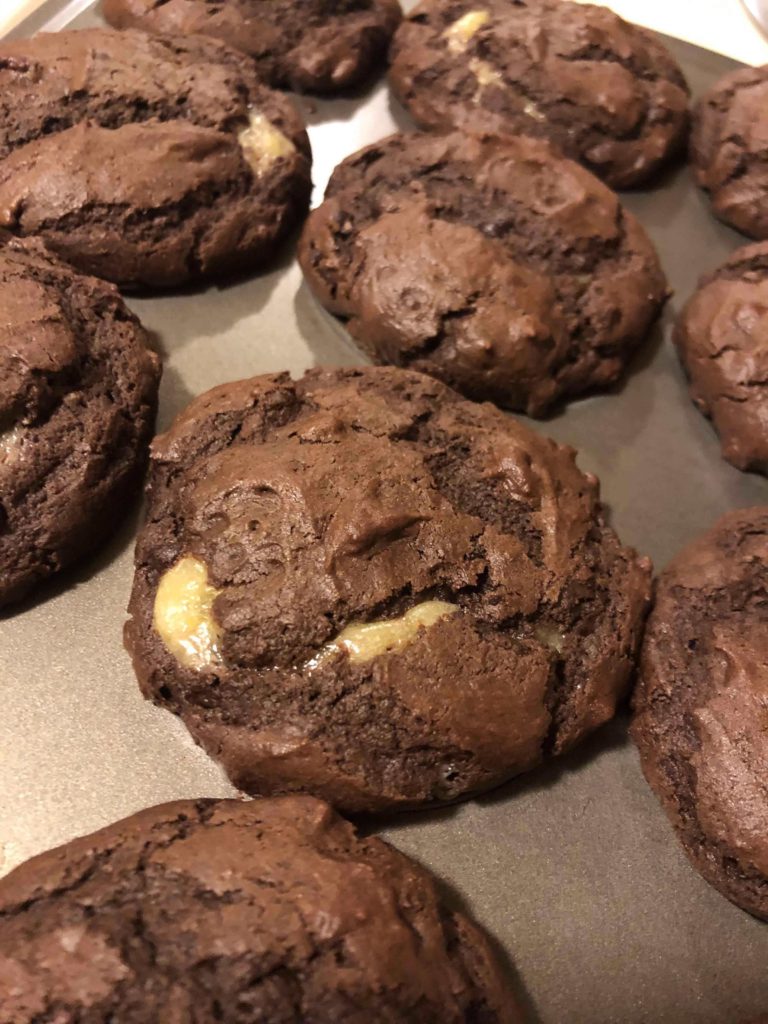 Lemon curd filled chocolate muffins.
While I can't wait to get back to traveling and leaving the apartment, I think I've done a pretty good job of entertaining myself over the past 5 months.