12/21/2007 - 11/15/2019
Betty was born on 12/21/2007 at the Washington DC Humane Society to a stray momma cat that had been turned into the shelter. For reasons that aren't well understood, she was adopted out before being spayed (but after being named and microchipped) to someone in the DC area. Sadly, sometime within the next two years she was most likely abandoned and ended up as a stray kitty on the streets of DC. She was brought back to the DC Humane Society on June 27th, 2010 and an exam found her to be pregnant. The pregnancy wasn't far along and sadly the kitties were lost as part of Betty's spaying. She remained at the shelter for another month and a half before she got a case of the sniffles and was prescribed doxycycline and put into foster care to recover on August 2nd, 2010. She got another checkup on August 22nd, 2010 and was deemed healthy enough for adoption!
It was at around this time that I moved from Flagstaff, AZ to Washington DC to begin my Master's degree in Computer Science at George Washington University. It was my first time living by myself and I was excited to adopt a cat. I was lucky enough to live with my aunt and uncle, Bill and Jill, for a few weeks at the beginning of the semester while I found an apartment. I then figured I'd take a few months to settle in before I started searching for my future companion. I did pretty well … I lasted around a month and a half. I moved into my studio apartment in Woodley Park on September 10, 2010 and didn't begin searching PetFinder.com until mid October. My classmate Xavier and I spent a few classes sitting in the back of the room searching through animal listings searching for the perfect kitty. I knew I wanted a female young adult cat, but that was really my only criteria. I first identified a 2 year old calico that was being fostered by an older woman in DC. I gave her a call but the cat had turned into a "foster-fail" as she had decided to adopt her. Next on the list was Betty. She was described on PetFinder as a 2 year old, 8 pound tabby and was being fostered by a family down near the Capitol building. I set up a time to meet her – 1pm on October 19th, 2010.
Conveniently enough, Phil came to visit that week so he could come meet her as well. A few hours before the visit I realized that I might be adopting a cat later that day and clearly I needed all the cat stuff. So, we went to the underground PetCo near Woodley Park and bought a carrier, bed, litter box, etc. in preparation for her homecoming. We then headed across town (in Stinson) to meet Betty. On the way Phil attempted to navigate DuPont Circle and we came close to dying. But, eventually we made it to SE Washington DC and met Lisa, Betty's foster mom. She put us in the downstairs sitting room and brought Betty in to say hi. I first noted that Betty was not the 8 pound kitty that the website (and her paperwork) claimed … she was a chonker and closer to 12 or 14 pounds. But, she was adorable. She came right over and asked for pets before playing with a pink hair tie that belonged to her foster mom's daughter. She was the perfect spunky and affectionate kitty I had been looking for. Lisa said that she had grown attached to Betty and knew she'd go quick so she hadn't brought her to any adoption events yet – she was just waiting for the perfect person to come by and find her. It was clear that I was that person. Phil liked her too. I decided to adopt Betty.
Sadly I couldn't take Betty home with me that day – first I had to make an appointment with the DC Humane Society to fill out some paperwork. I made an appointment for October 26th and my aunt Jill said she'd come along. Then, for reasons I'm not totally clear on, I got a call on Sunday, October 24th asking if I wanted to come fill out the paperwork and pick Betty up early. Obviously I agreed (though sadly Jill couldn't come along). At 2:22 pm on October 24th, 2010 I paid $85 to adopt Betty. $45 went towards her spay, $25 towards the FELV/FIV test, $5 towards the microchip and a grand $10 towards the adoption fee. I then raced off to SE DC to pick up my kitty from foster care. As we drove through downtown DC to my apartment in Woodley Park, I sang to Betty to keep her from meowing. She seemed to approve.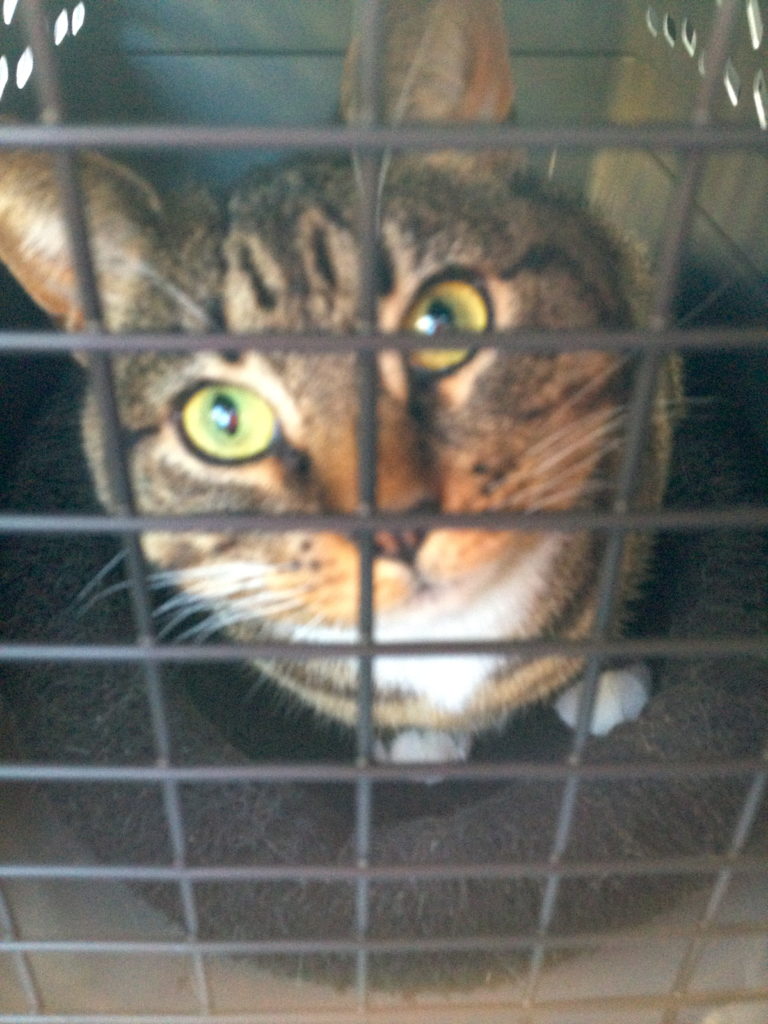 Betty in her carrier soon after her adoption.
For the most part, Betty enjoyed our small DC studio apartment. Her bed was right by my pillow and she'd sleep with me every night. In the morning she'd get up before me and move to the sun on the windowsill until I woke up. I'd call her name and she'd come running back to the bed to greet me and get cuddles. She was still a young kitty so we'd have playtime with her crinkly tunnel and feather toy every night while I watched TV. She especially enjoyed when I watched Planet Earth. I had a balcony that I tried to let her out on but she ended up squeezing through the railing and going over to my neighbor's balcony. I had to lure her back with treats and never let her go out again. She was still quite a chonky kitty so she was on a pretty strict diet to lose weight. This lead to a lot of begging for food in the middle of the night. I tried one of those food dispenser toys but Betty was too smart for it and eventually broke it open. She also had some separation issues. I had class Monday, Tuesday and Wednesday nights from around 6-10pm but other than that I didn't venture out much. When I would leave the apartment she'd just sit on the ledge next to the front door and howl until she'd nearly lose her voice. I got a few notes slipped under my door from neighbors worried that she had been abandoned. Nope, that was just Betty being Betty.
One of her favorite things (besides food … food always ruled) was being in the bathroom while I took a shower. The combination of the hot air and sound of water must have been soothing. But also, in DC I had a small heater vent right next to the bath mat / towel rack. Before getting in the shower, I'd sit on the floor with her and we'd cuddle for a few minutes. Even when we moved and the heater vent went away, she continued to come running into the bathroom whenever I'd turn on the shower.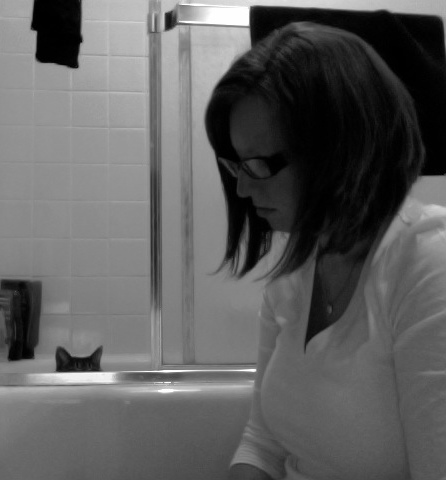 The two of us hanging out in the bathroom in DC.
The night before she passed I turned on the shower and she didn't come. That helped me know that it was time.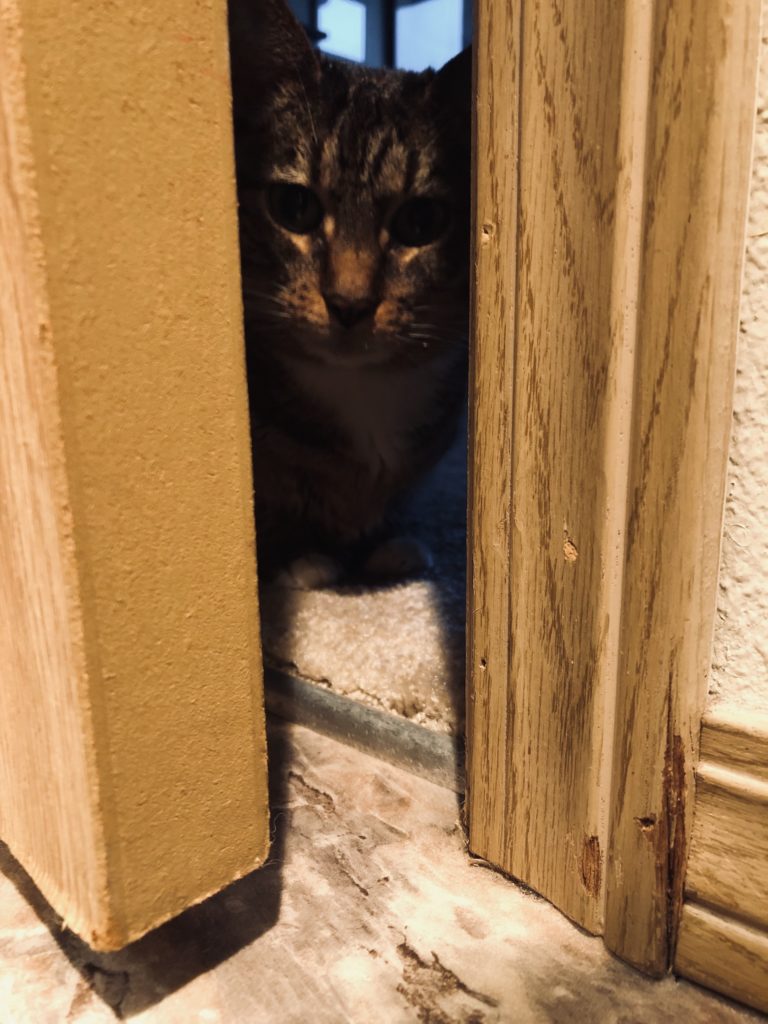 Betty waiting at the bathroom door
In the late spring of 2011, Betty started sneezing and getting congested. As a nervous pet parent, I decided it was time for our first big trip to the vet. I spent hours doing research and eventually picked one out in Maryland … a good 30 minute drive away … but hopefully worth it for a good vet. The entire experience was hilarious, in retrospect. The vet office was basically one big room that included the receptionist, waiting area, and the exam tables. In one room. No doors. Now, maybe this would work for a very easy-going dog, but this set-up doesn't work for a cat who has never really been to the vet before. Needless to say, things didn't go well. We eventually got Betty out of the carrier and started the exam. After around 10 seconds it became clear that things weren't going well … Betty was hissing and shaking and the vet just wasn't handling her gently. He then tried to look in her mouth and she very happily expressed her anal glands all over him. He made the mistake of letting go of her and she was off that exam table immediately. Given their nice "open office" vet layout, she had a myriad of places to hide and it took a good 45 minutes to get her back into the carrier. In the end, he gave me a decongestant and suggested that I change the filters in my air conditioning (that had just been turned on for the season). Obviously we never went back to that vet. And Betty never expressed her anal glands again! Though, she was never a huge fan of vets either …
Living in DC meant we lived close to Bill and Jill and their two cats, Tawni and Pippin. We decided to do a test run to see how the cats would get along just a few days after I adopted Betty. I brought her over to their house in Virginia on Halloween for the introduction. Over the year and a half I lived in DC, the three cats did a good job of working through their differences. Tawni was always the alpha cat, and Betty did a good job of respecting her.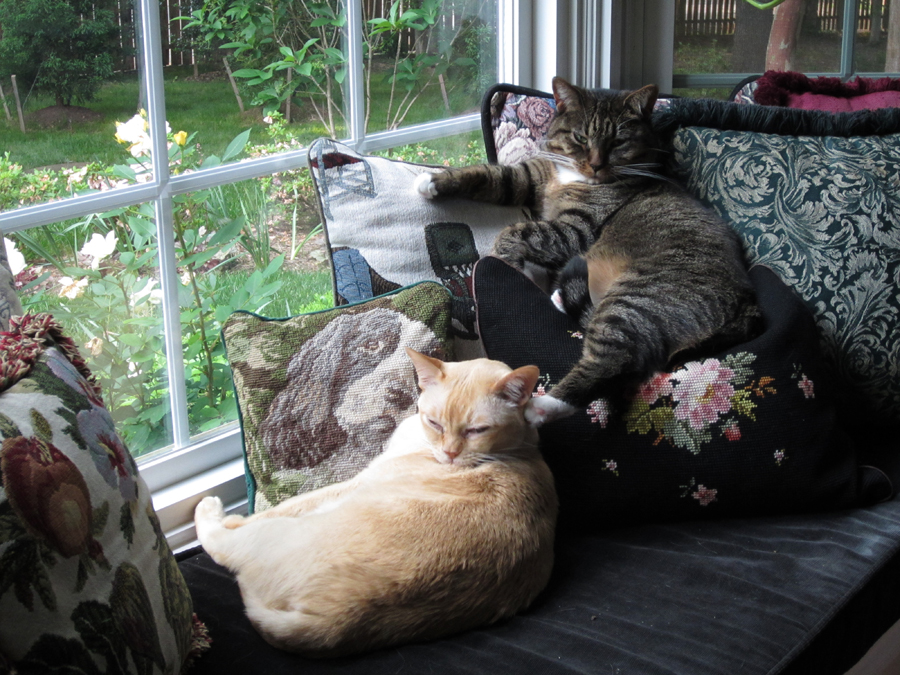 Betty and Tawni
Pippin and Betty got along quite well and even played at times. It was so adorable to sit downstairs and hear them racing across the hardwood floors. Though, Pippin never got Betty to groom him, though it wasn't through a lack of trying.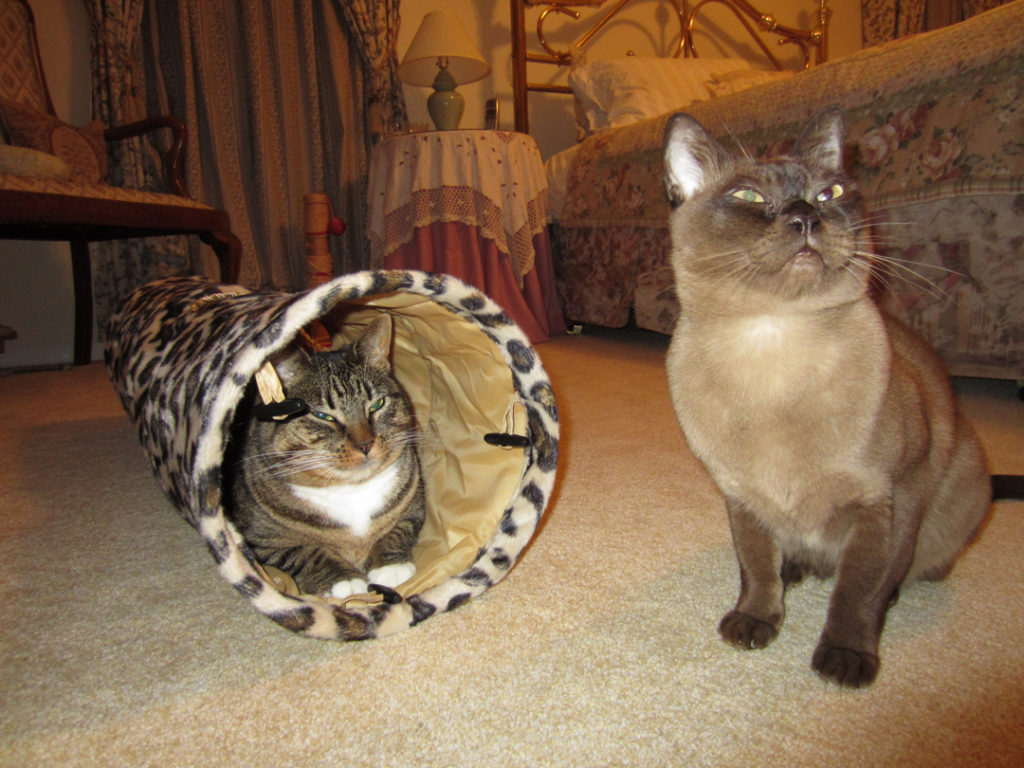 Betty and Pippin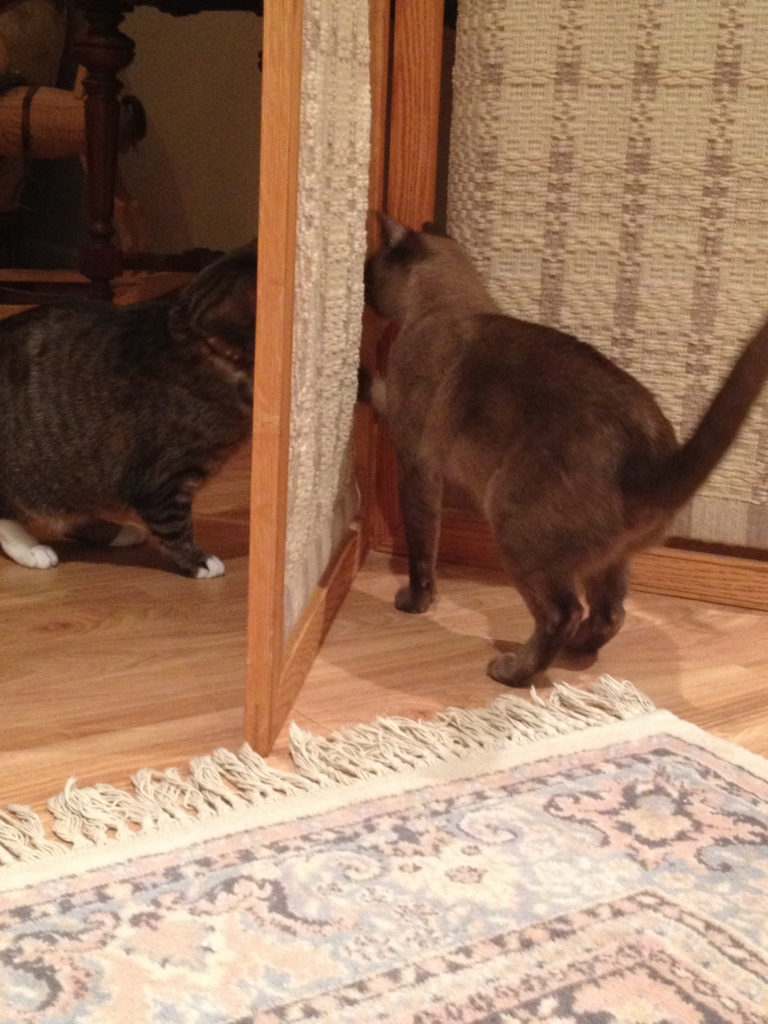 Betty and Pippin playing
Betty also learned some valuable lessons. Jill was the first person to cut her nails during "spa-kitty" sessions and also figured out which treats Betty liked best. Tawni taught Betty to meow in the bathroom so it would echo - something she continued to do for the rest of her life, causing us to shut the bathroom doors at night. When Betty and I were living with Bill and Jill for a short period of time, Jill bought a bag of nuts for the sole purpose of enticing squirrels onto their back deck for Betty to cackle at. She had a blast. For the most part, Betty was a good house guest. The one exception was when we were all sitting in the living room after dinner one night and Betty waltzed in and squatted to pee on the carpet. I was mortified. Luckily Bill and Jill replaced their carpet not too long after …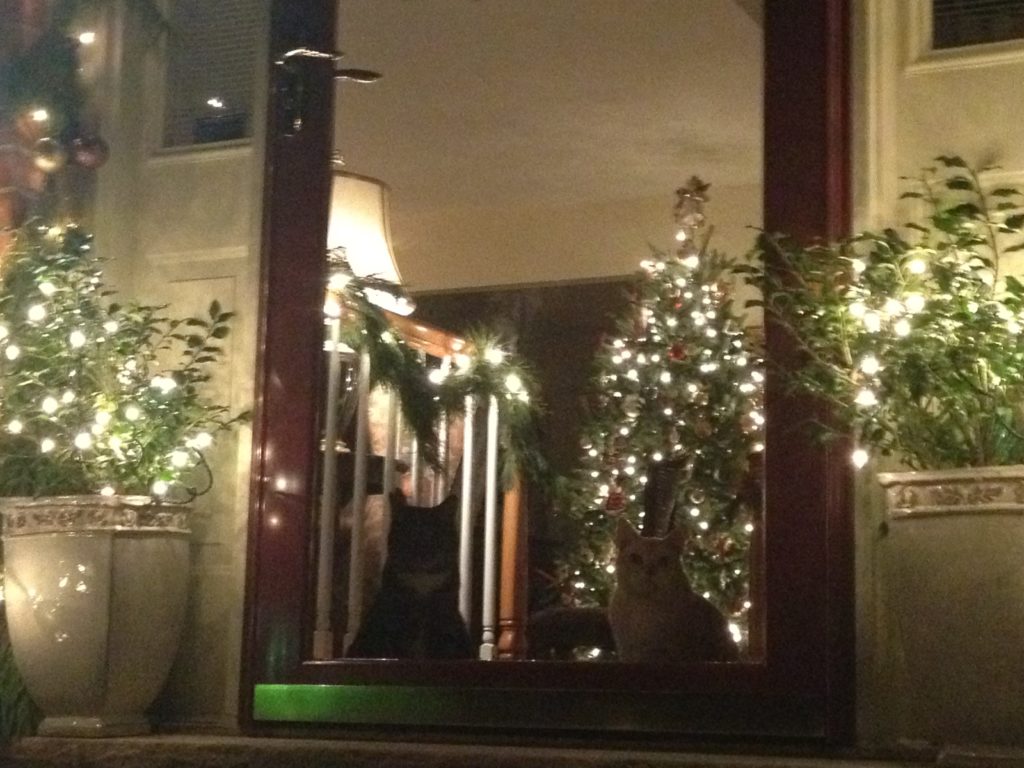 The girls at Christmas
In late January 2012, Betty and I moved from Washington DC to Colorado Springs, CO so I could begin my career in cyber security at MITRE. Luckily Betty was always good in the carrier – I think mostly because we only ever went back and forth between my apartment and Bill & Jill's house. Still, I decided that 3+ days of driving might be a little much for her and I invested in a large dog crate so she could have a litter box, food, water, etc. with her. It worked for about the first hour on the first day. I stopped at a rest stop to see what she'd do if I let her out of the carrier and she ran right underneath the gas pedal. So, back in the carrier she went. While she wasn't a fan of the driving aspect, she did seem to make herself right at home as soon as we'd arrive at the hotel. She'd sniff around for a while, use the litter box, and then fall asleep on the bed.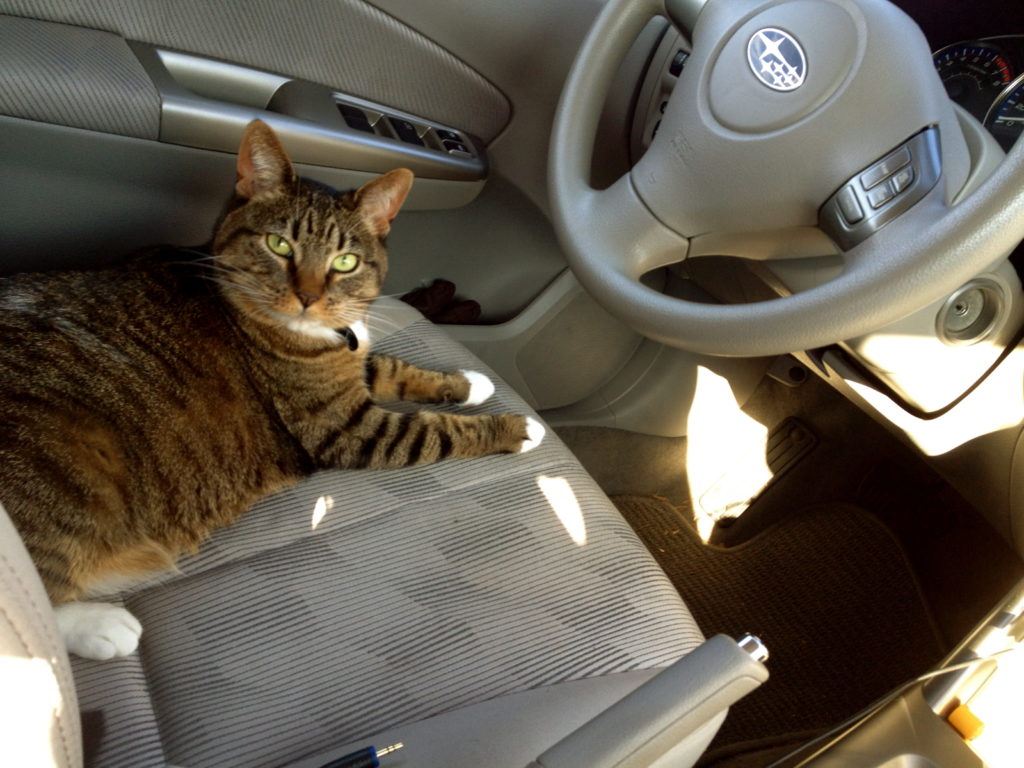 Betty taking a break during the drive from DC to Colorado Springs
We moved into our new 1 bedroom apartment in Colorado Springs on Saturday, January 28, 2012. With more space, more money, and a non-city environment, I was now ready to add to our family by adopting a dog. On Saturday, February 25th, 2012 I adopted Meg, the 2 year old corgi-mix (formally named Princess). Needless to say, Betty wasn't immediately thrilled. The first couple hours went alright. I had Meg on a leash, the two sniffed, Betty hissed but Meg didn't growl … things seemed to be okay. Then I made a mistake. I fell asleep on the couch with Betty on my lap and Meg on the floor. All of a sudden I was awoken by Betty leaping onto Meg's head with a huge hiss. Meg peed and cowered. I lunged at the two of them and Betty turned on me, piercing my nose with her nails and scratching up the side of my neck. She jumped down and ran and hid under the bed. It was horrible. I didn't know whether to give them more time together or give up on my hope of adopting Meg.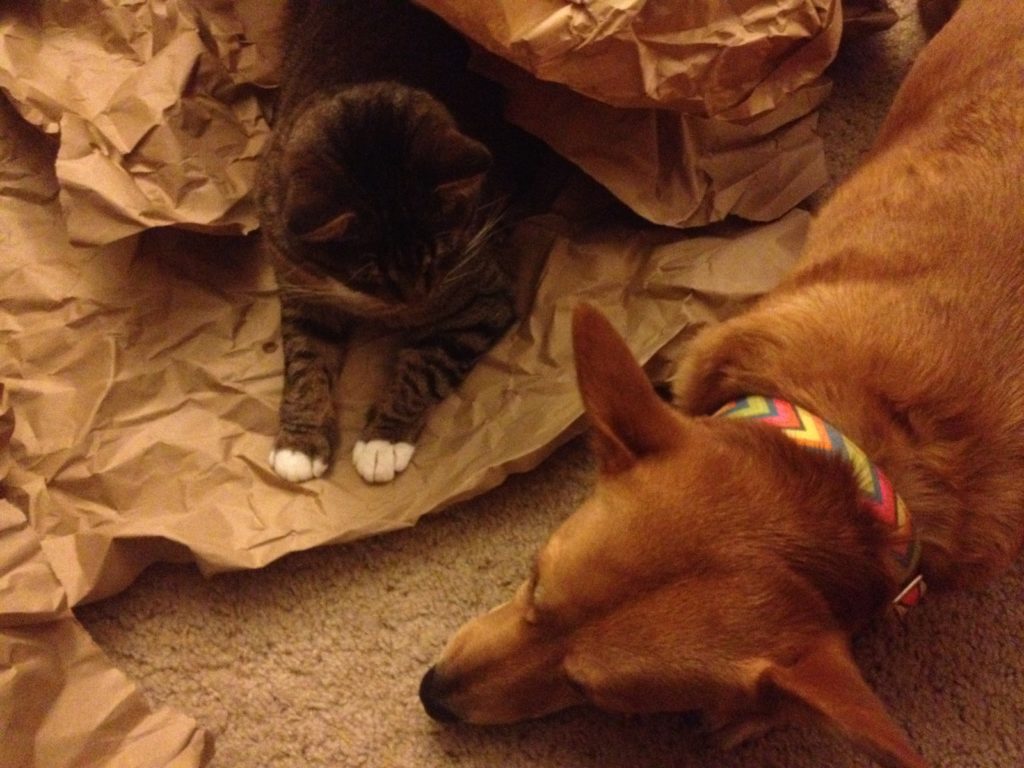 Betty and Meg at the beginning
It turned out that Betty really just wanted to let Meg know that she was in charge. Once she got that out of her system, Betty went back to normal. Over the years she even warmed up to Meg and tried to be friends by cuddling with her and grooming her. I don't think Meg ever really got over the initial attack and was always quite wary of Betty. I do wish they had become better friends, but things could have been worse.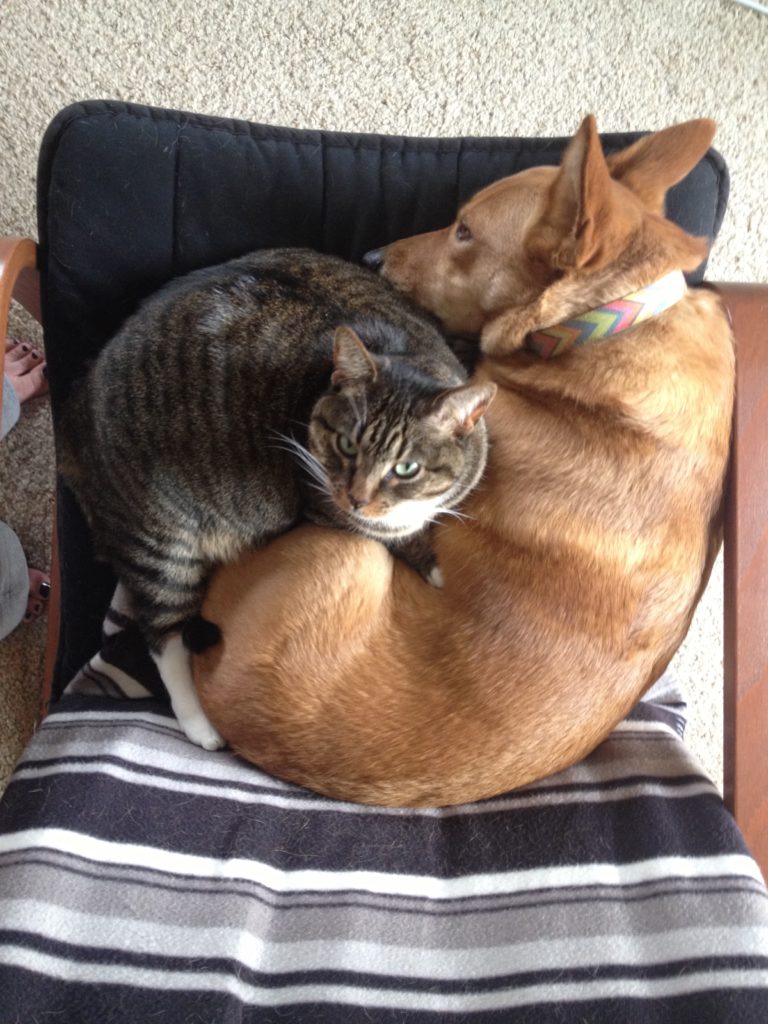 Becoming friends
In Colorado Springs I started volunteering at a cat rescue organization called Look What The Cat Brought In. I fostered several sets of kittens that were recovering from being fixed and too young (or sick) to be put up for adoption. Surprisingly, Betty really enjoyed having the kittens around. She'd play with them, groom them, and generally just treat them as her own. Even though she was getting older (4ish), the kittens really brought out her playful energy.
In November of 2013 we all moved up to Boulder, CO so I could start a new cyber security job. Betty loved the Boulder apartment because it had hardwood floors and big windows that let in lots of sun.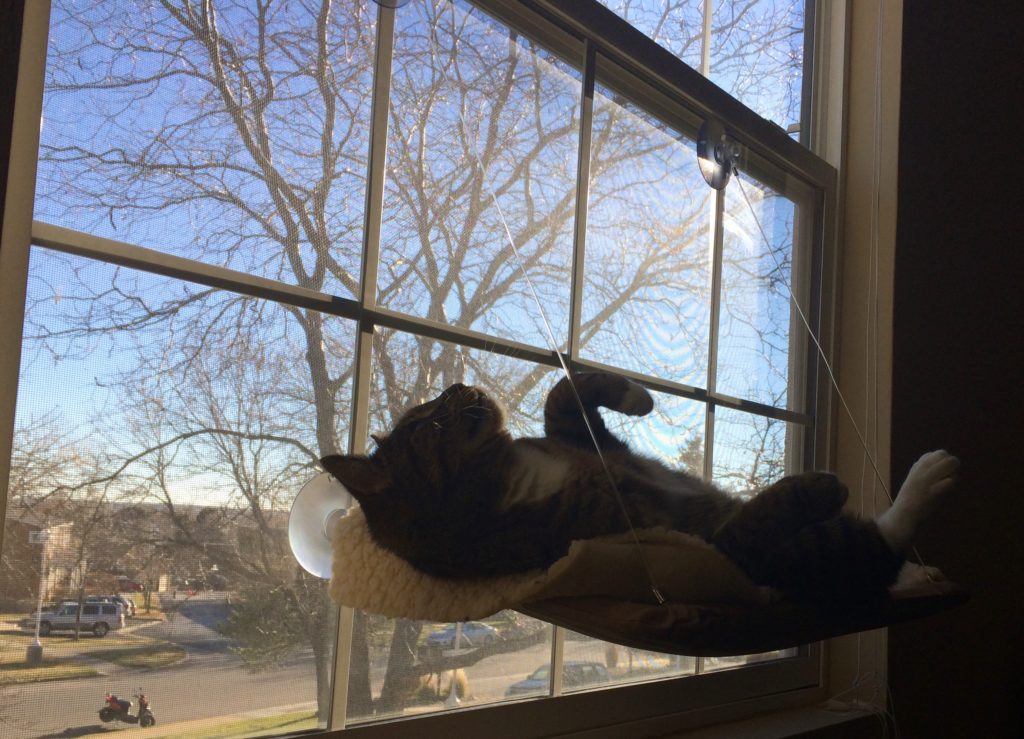 Betty's window seat
She would spend late night batting around her aluminum foil balls and stuffed mice. I also set up the balcony with Meg's dog crate so Betty could go outside and get some fresh air (and even play in the snow!).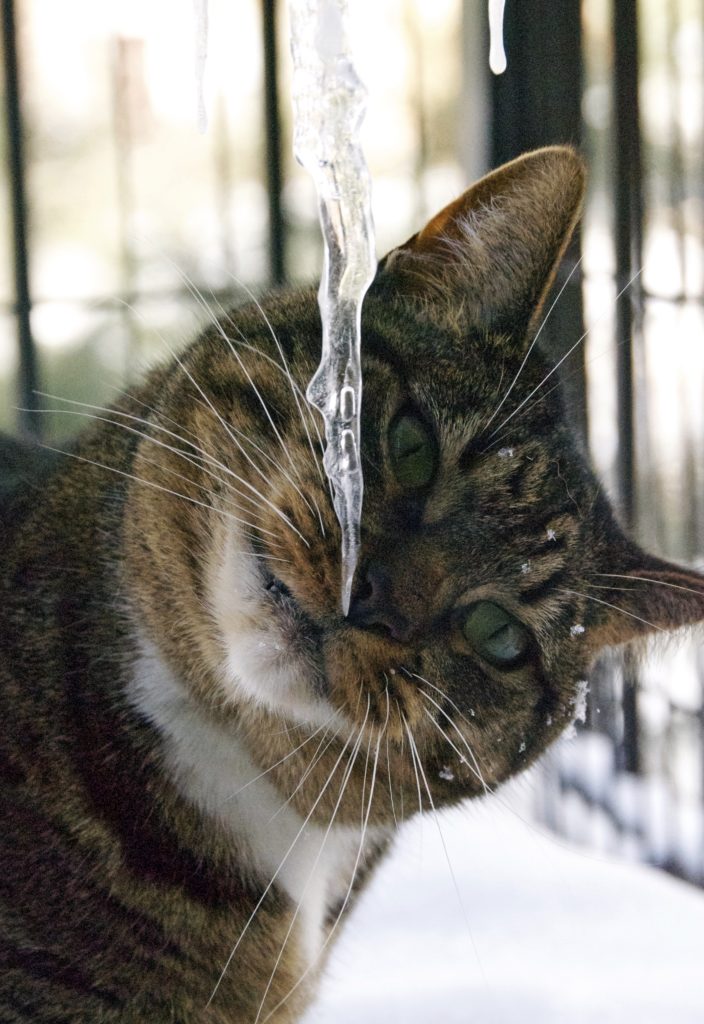 Betty in the snow on the balcony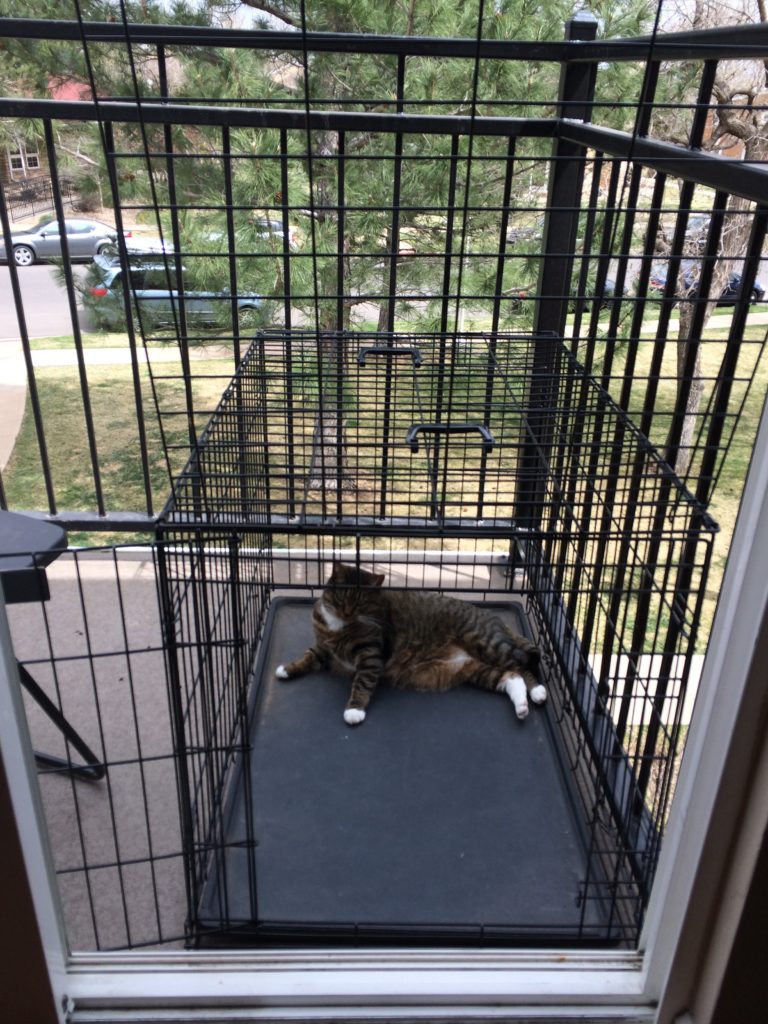 Boulder balcony
Her main gripe during these years was that she "wasn't getting enough food." At 10+ pounds she was still pretty overweight for her build so she was basically eating the cat food equivalent of card board. Poor kitty. She became quite good at waking me up in the middle of the night begging. Besides the usual tricks of meowing, scratching on the comforter, and pouncing on my feet, she also knew that my eyelids and lips were the most sensitive part of my face. So, to get my attention, she would put her paws on them and flex her claws. Flexed claws on your closed eyelids really does wake a person up. In an attempt to sleep better, I got an automatic feeder. It was pretty spiffy and allowed you to record a message. So, 6x a day, it would call out "Food Time for Betty Kitty!!!" and she'd go running. I ended up using it for quite a few years until we switched to wet food.
Luckily Betty was pretty healthy throughout these years. However, she did have some teeth issues that somehow all of my previous vets had missed. In Boulder she ended up having 6 teeth extracted on one side of her mouth (with another 4 extracted a few years later). The whole procedure went well but it was pretty scary to know she was unconscious for a long period of time. A few months after she had her teeth extracted she let out a big yawn and I noticed that one of her canines was missing. I freaked out because I was convinced that it had fallen out recently. I called the vet and asked if her canines had been one of the extracted teeth. Yes, it had. They thought I was pretty crazy …
Betty was somewhat of an escape artist … mostly because she was a curious cat. This wasn't a problem in DC because the door opened into a hallway, but in Colorado (both in Colorado Springs and in Boulder), the apartment opened up to the outside world. I always tried to be careful, but she did end up escaping a few times. Twice in Colorado Springs she got out, ran down the stairs, and ran under a car … which wasn't too bad. But in Boulder she got out one night and actually made it across the street. I accidentally let go of Meg who "chased" her (hey mom! play time!) across the street, past the dog park, and up a tree. It was dark and windy out and I had to make the decision whether to leave her to go get treats and her carrier or to stay and just hope she'd climb down from the tree. I eventually took Meg and got the carrier and treats and she was still in the tree when I got back. Eventually she came down and ran right into the carrier. Crisis adverted.
In August 2015 we moved yet again … this time to Flagstaff so I could start my Master's in Physics at Northern Arizona University. Allison and I drove Betty and Meg while Phil took the UHaul (with an overnight stop in Albuquerque). We moved into the trustee's basement apartment at Lowell Observatory for a few months until I could find an apartment to rent. There wasn't a ton of light or space so Betty was pretty happy when we eventually got an actual apartment in Flagstaff.
At around this time, I started dating Garrett and he and Betty became fast friends. Meg was always jealous of Garrett taking her spot on the bed (or couch, or floor, or whatever was closest to me) but Betty just saw Garrett as another opportunity to get pets and food.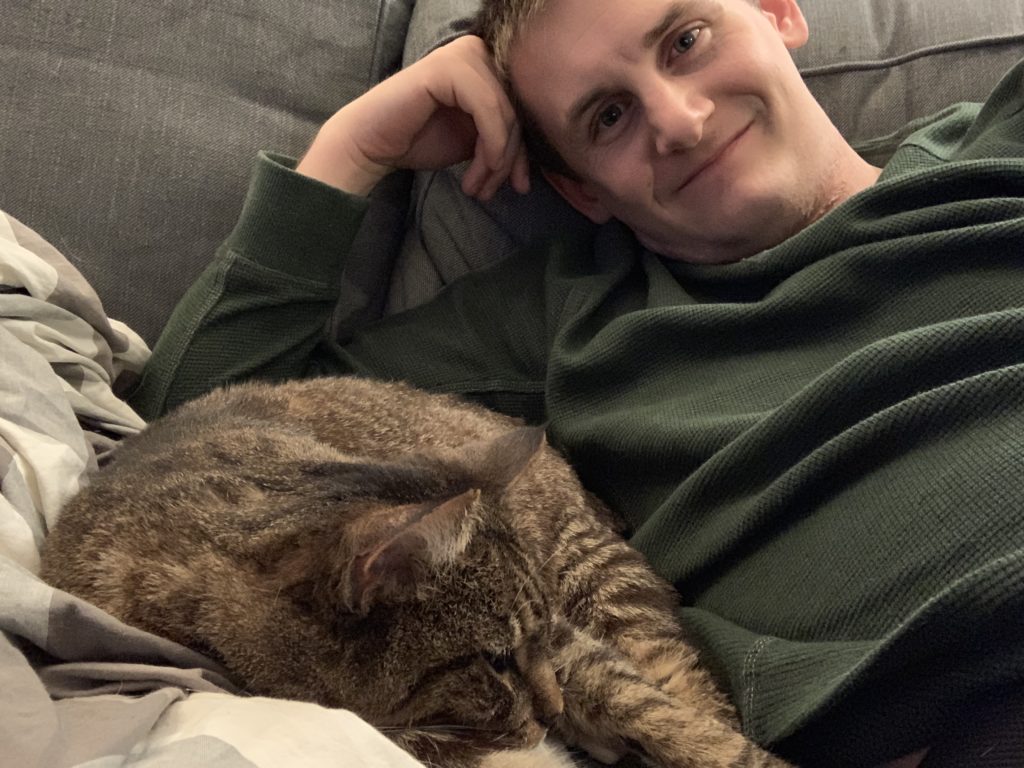 Betty and Garrett bonding
In the Spring, Garrett and I screened in the balcony to make a "catio" for Betty so she could go outside and feel the fresh air. He talked incessantly about how we needed to get Betty a monster cat tree (something we eventually did in Seattle). Garrett really helped Betty open up and be more social throughout the rest of her life.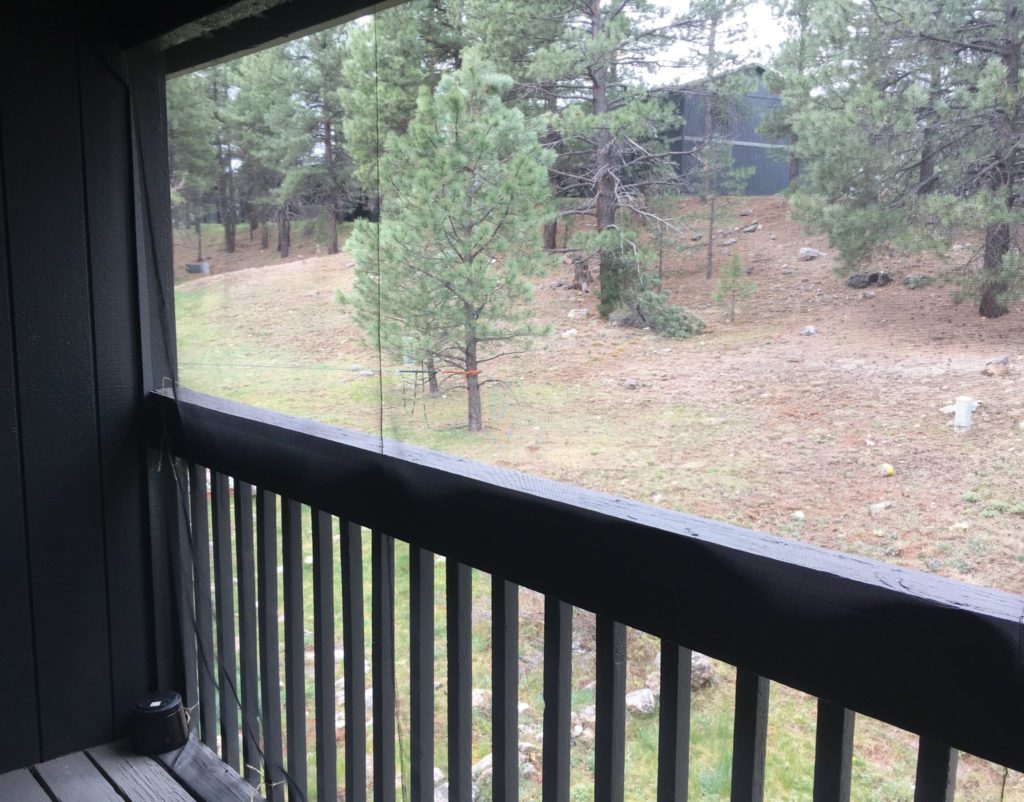 Betty's screened-in "catio" on the Flagstaff balcony
Betty's life in Flagstaff was pretty uneventful. When we went on vacation she would often go to Phil's house and play with all of his cats and dogs. At the beginning she'd stay in her own little room but after a while she was allowed to roam around the house. She made friends with Nexus (who doesn't?) and enjoyed their fireplace. During this time she was still pretty fiesty – she learned how to turn on the gas stove and open the freezer door so we had to remove the knobs and tape the door before we left. She also got out a few times in Flagstaff, but we always managed to get her (Garrett helped a lot … and Meg helped by eating our Chipotle).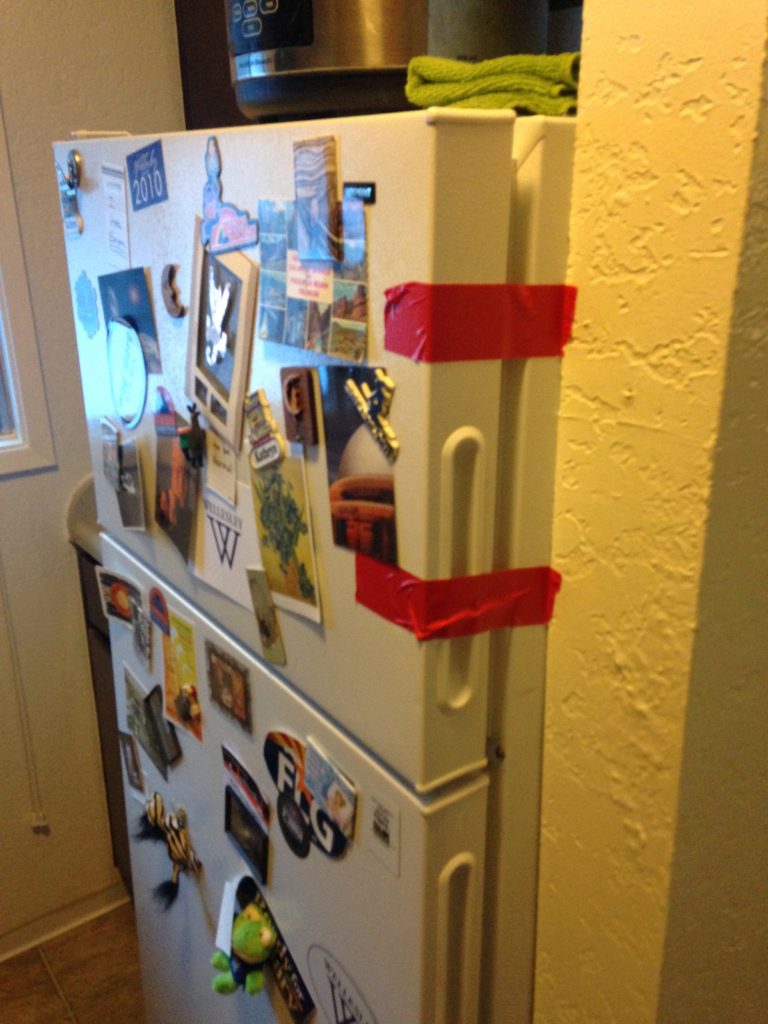 freezer door taped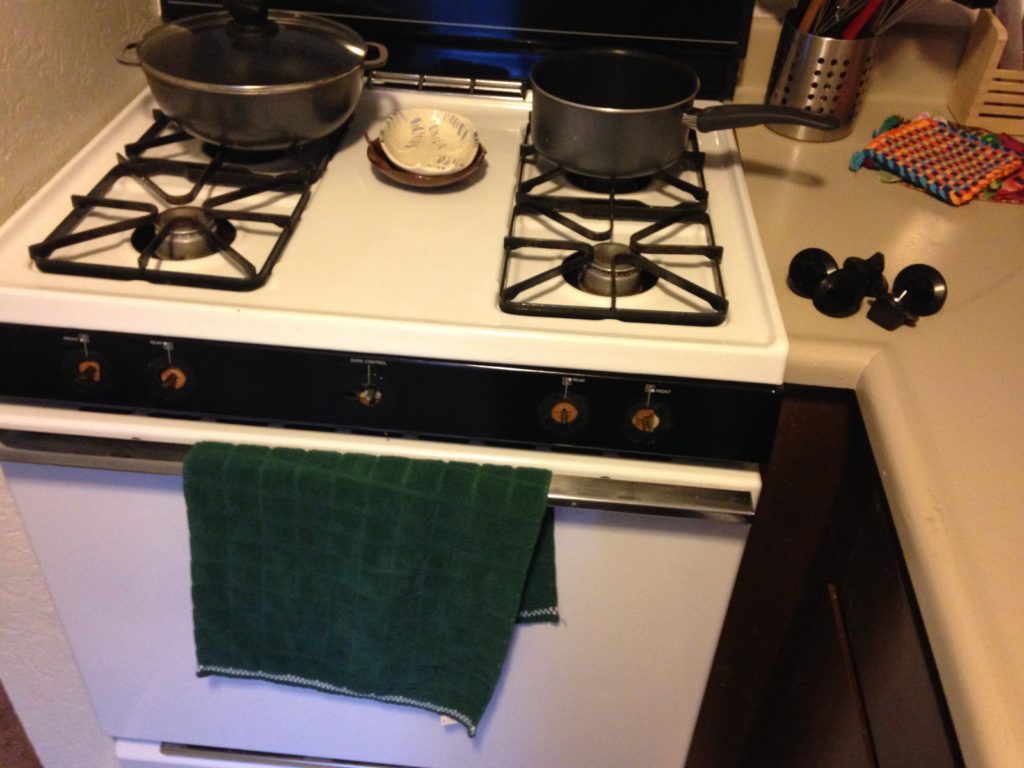 knobs taken off the stove
We started to notice a change in Betty in June of 2017 when she started throwing up bile on a fairly consistent basis (a couple times a week). I went on a work trip / vacation for 2.5 weeks and came back to find that she had pulled out all of her stomach hair. It happened so quickly that I was convinced that Garrett had shaved her while I was gone. We didn't realize it at the time, but this was the start of her medical issues. I brought her to the vet in July and we decided that it was a combination of stress and hairballs (she was pulling out the hair due to stress and then throwing up due to the huge hairball growing in her stomach). We started treating her for hairballs by squeezing chicken-flavored goop (basically hair conditioner) onto her paw every night. She'd lick it off and the hope was that it would clear up the clot of hair in her tummy.
In August of 2017, we all (Garrett now included!) moved to Seattle, Washington so I could begin my PhD program at the University of Washington studying astronomy.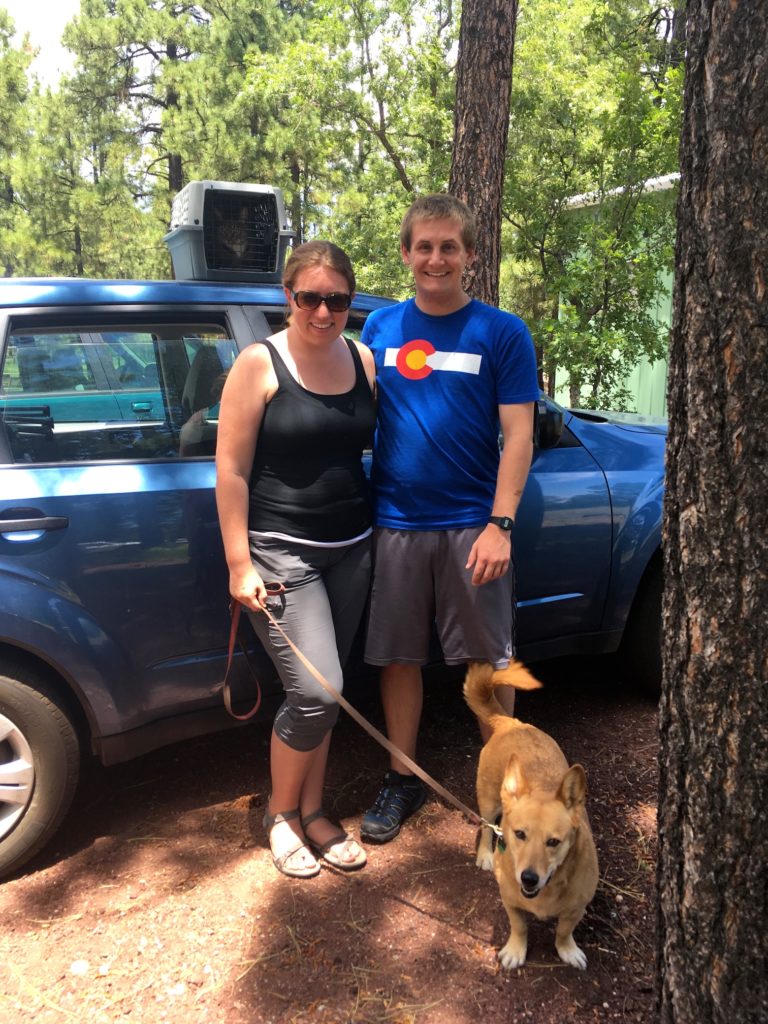 Leaving Flagstaff!
Betty did a pretty good job with the multi-day journey and only had a meowing-fit once (we stopped, let her out in the car with a litter box and she pooped. After that she was much better).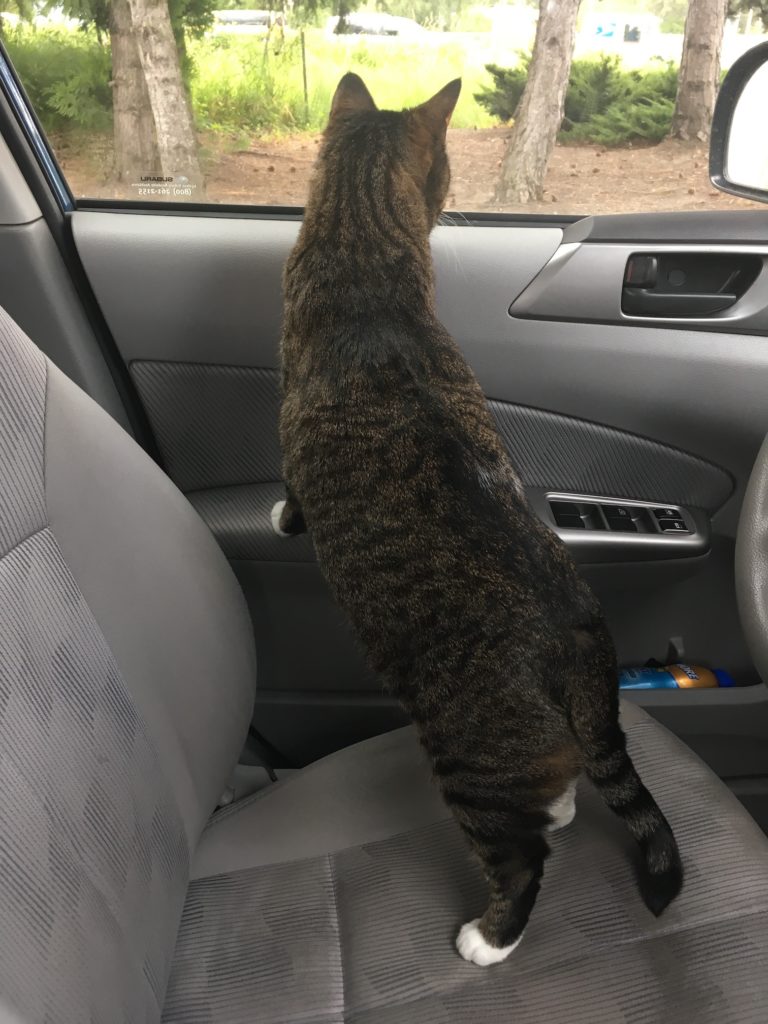 On the way to Seattle!
The new apartment wasn't her favorite – lots of carpet and we couldn't figure out how to screen in the balcony.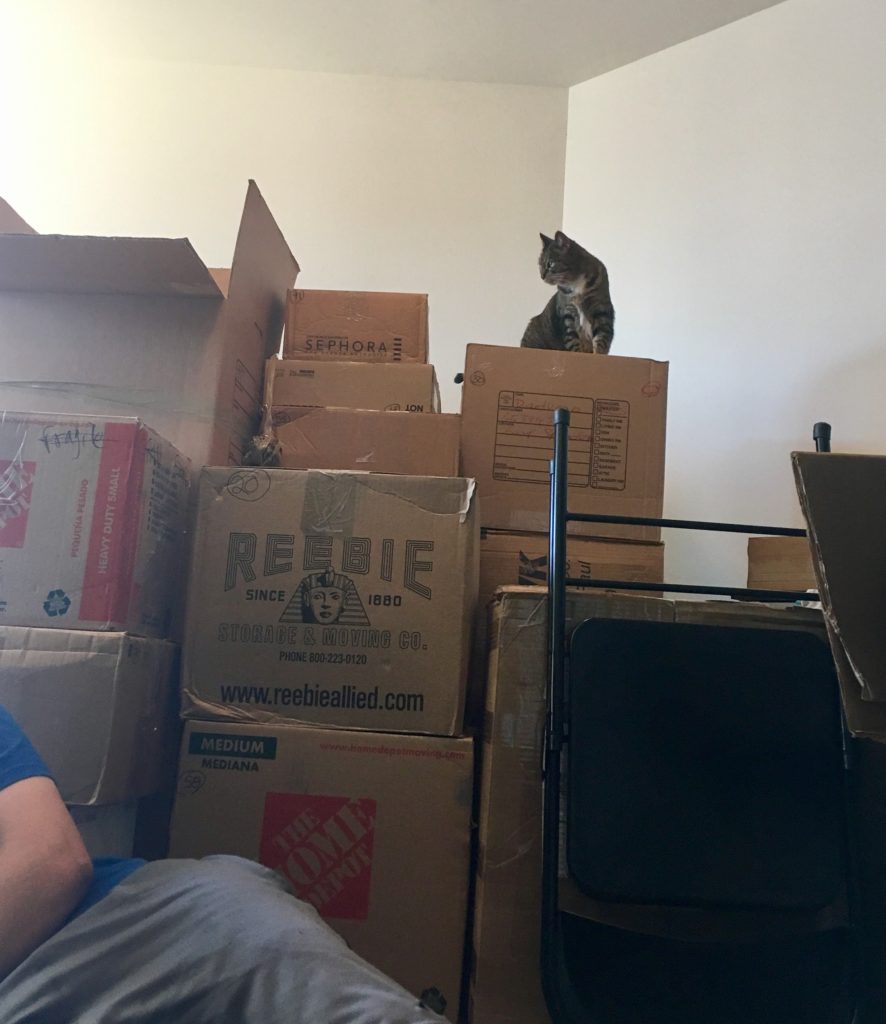 Betty surveying the new apartment
There also wasn't much room for the cat tree that Garrett wanted. But, he did build her a pretty amazing fort out of taped together amazon boxes.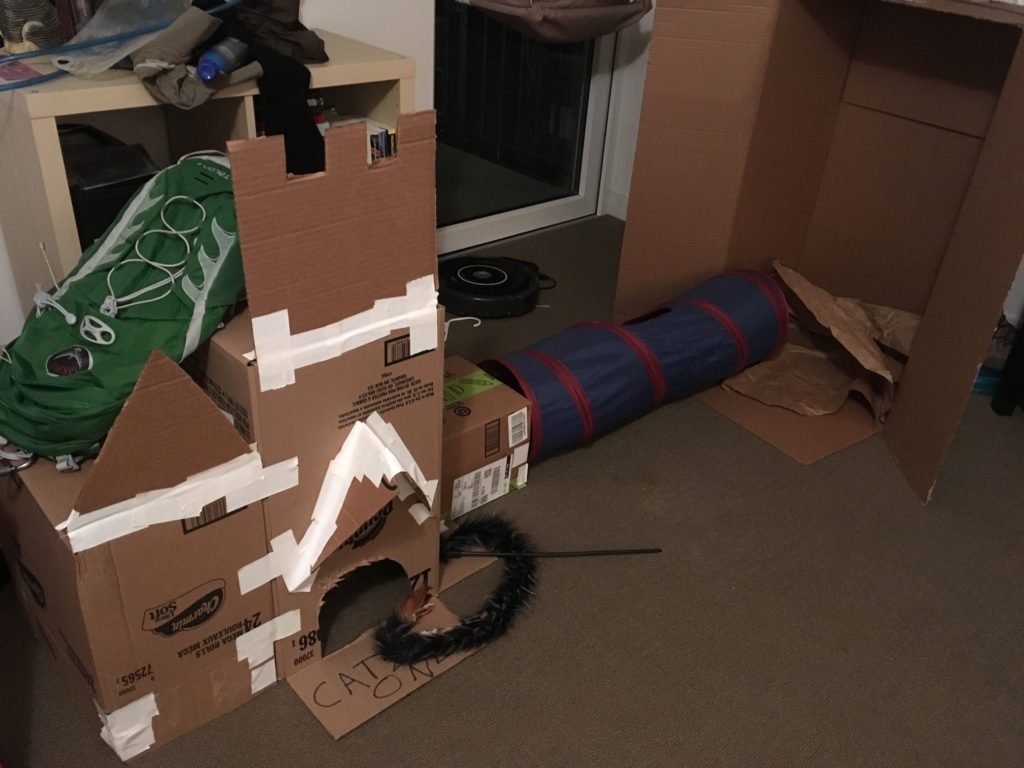 Garrett's cat castle
Sadly during this time her vomiting kept getting worse until it was happening several times a day. Soon after moving we brought her to a vet for another opinion and one of her first words was "cancer." We thought it was crazy – I mean, Betty couldn't have cancer – she was so young and had been so healthy! We opted to believe the slightly less scary option which was "Irritable Bowl Syndrome." We switched her food to the irritant-free Science Diet z/d and gave it a shot. Things improved slightly, but she was still throwing up so we went to a new vet, Dr. Martin, in November of 2017 for an ultrasound. The ultrasound revealed a thickening of her small intestine that could either be due to IBS or to intestinal cancer. We opted to do a biopsy which confirmed it as small-cell lymphoma. While the news wasn't great, we learned that small-cell lymphoma can generally be treated with some success for a few years so we opted to start a treatment plan. Anti-nausea drugs kept her from throwing up and antacids helped with heart burn. She was also on steroids to help her immune system and a liver protectant to counteract the chemo. From August 2018 - November 2019 she went through three different chemo protocols. At one point she also developed multiple myeloma in her lymph nodes but, through the help of chemo, went into remission a few months later.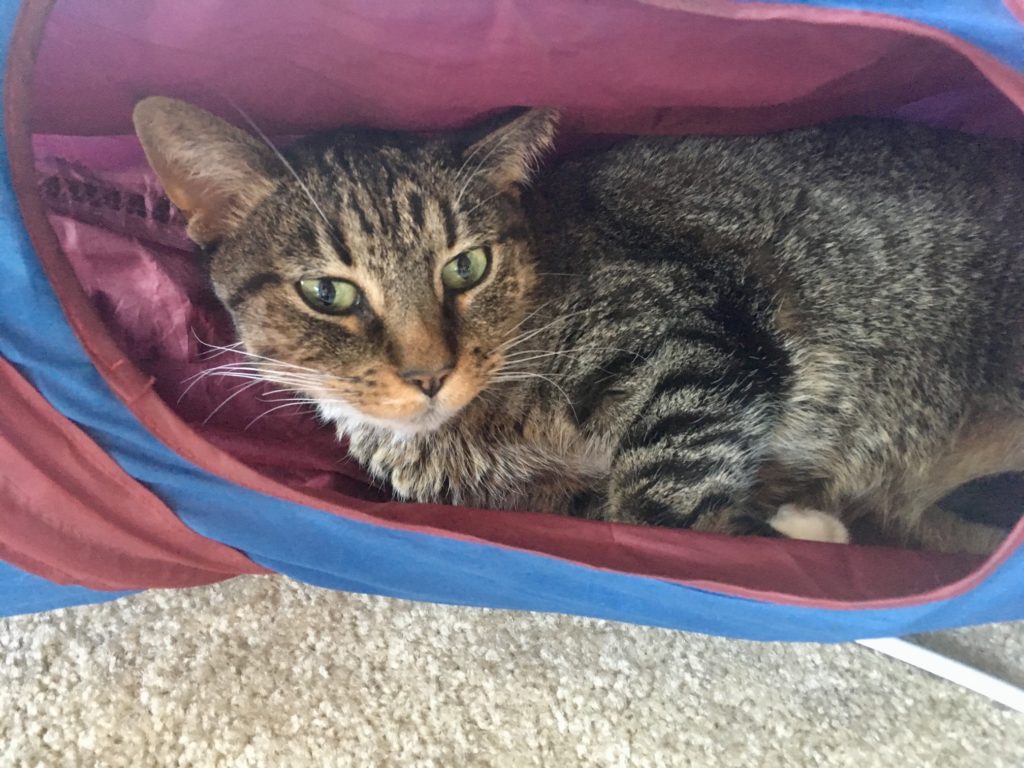 Betty in her tunnel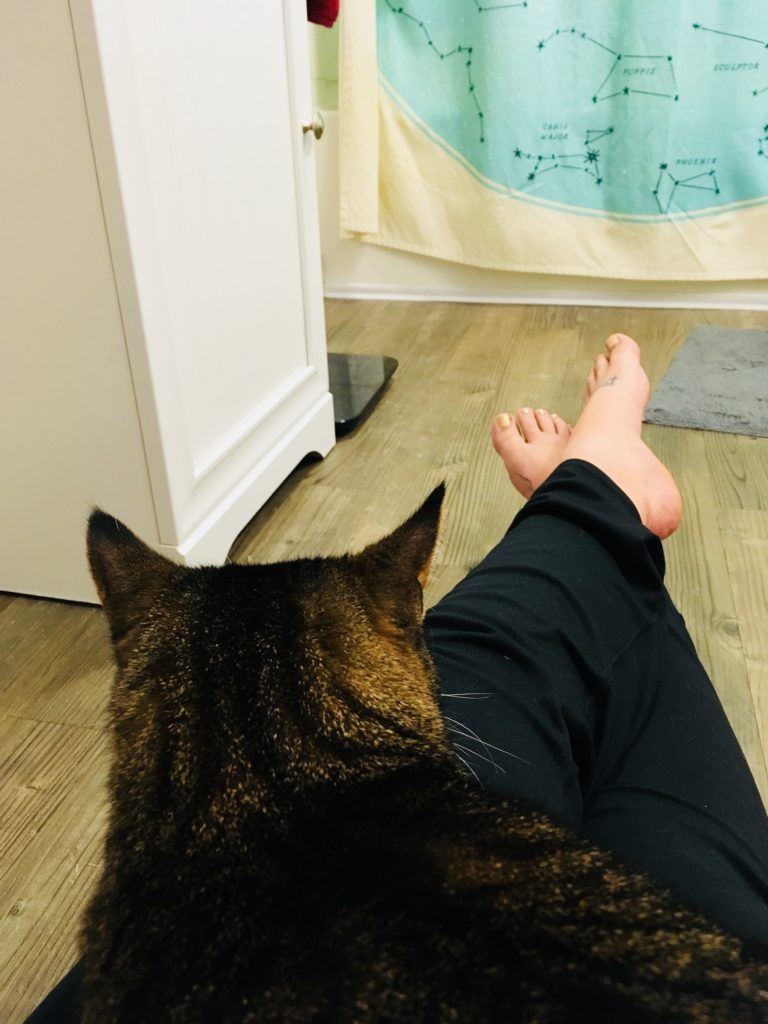 Sitting and listening to the shower with my kitty
While all of this sounds kinda awful, she really did continue to live quite a happy and spunky life. Since her intestines weren't absorbing nutrients as efficiently as before, she was at a high risk of losing weight. Thus, she could now eat all the food she wanted! Unlimited kibble and wet food! Betty's dream! It also meant we got a lot more sleep at night … She never warmed up to taking the pills … which was a pain because at times she was getting up to 6 pills a night. With two people it wasn't too bad. One person would burrito her and the other would use a pill gun to alternate pills and water (through a syringe) into her mouth. Eventually we got it down to a few swift movements and she was done in seconds. It always amazed me that she never seemed to hold a grudge. She'd shake it off, go scratch her scratching post, and then be back ready for some cuddles. It was almost as if she knew we were trying to help. That being said, one time I did pill her a bit too forcefully and ended up knocking out one of her canines. Though, it must have been loose to begin with … right?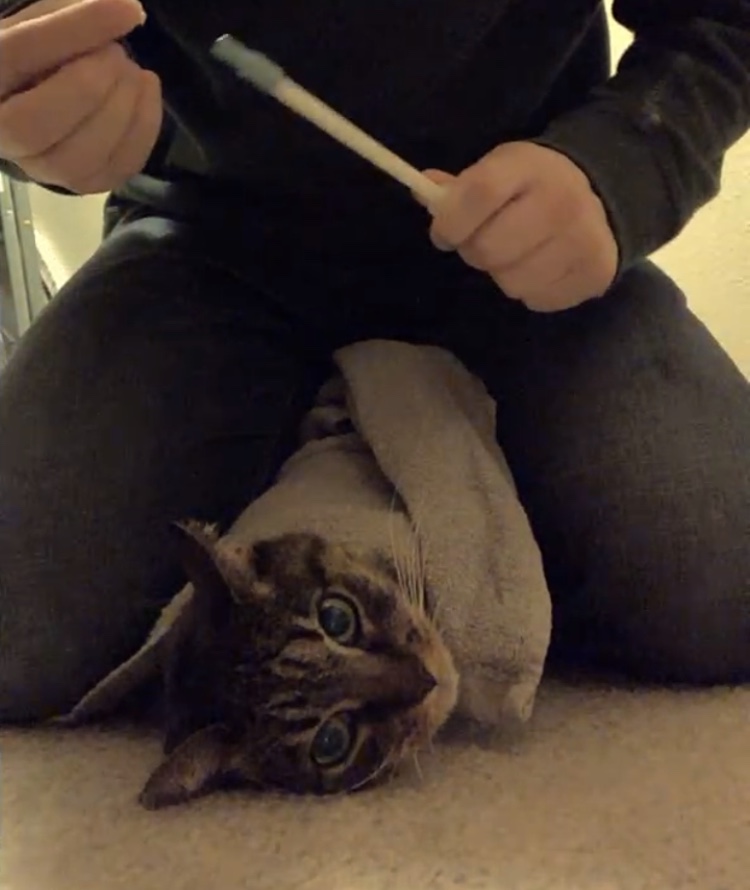 Action shot of Garrett pilling Betty
In March of 2018 we moved a few streets down to a much bigger apartment with huge south-facing windows. Finally Betty (well, and Garrett) could get the cat tree of their dreams. It was actually the first thing in the apartment – we assembled it before any of the furniture had arrived. And Betty loved it. It was right in a corner between two sunny windows looking out on the street and a hummingbird feeder. She spent most of her time happily sleeping in that cat tree.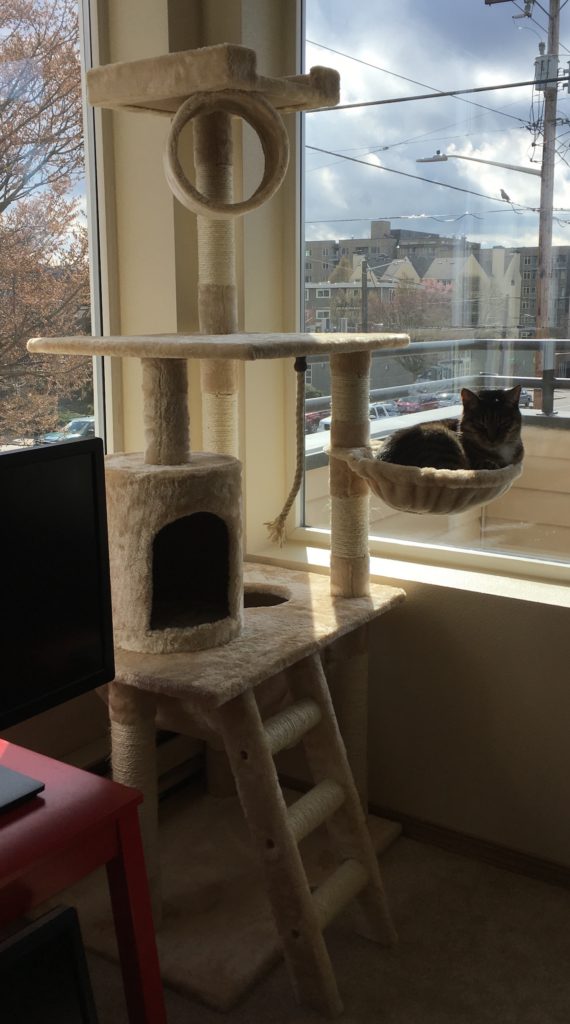 Betty in her new cat tree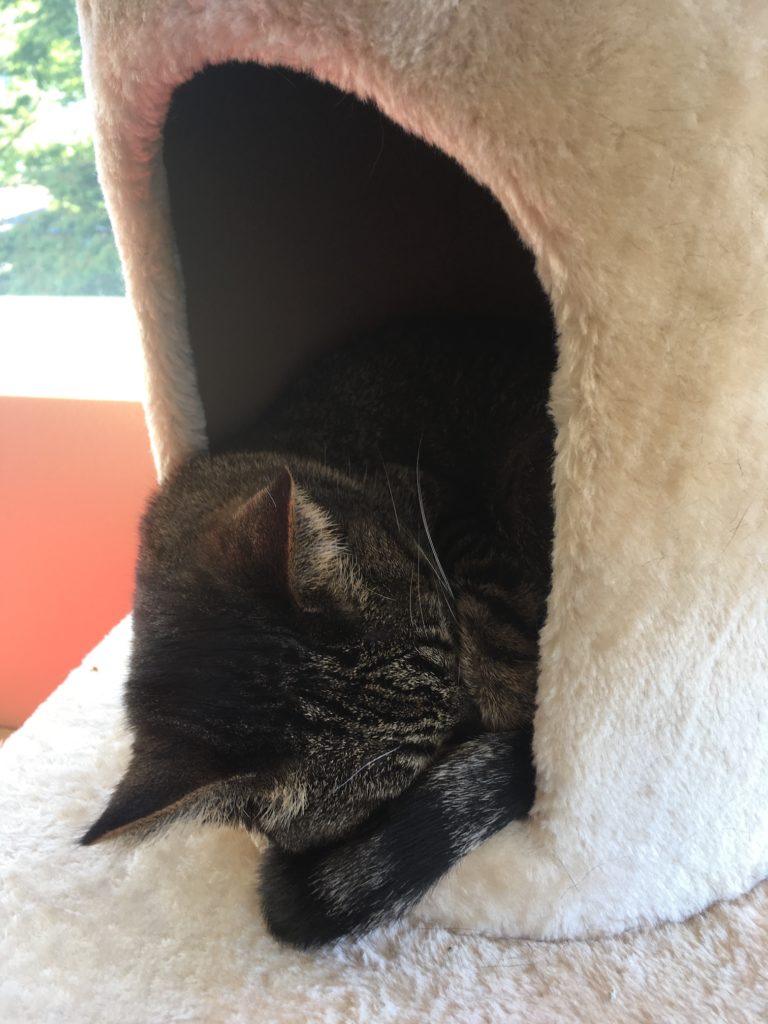 she's a fan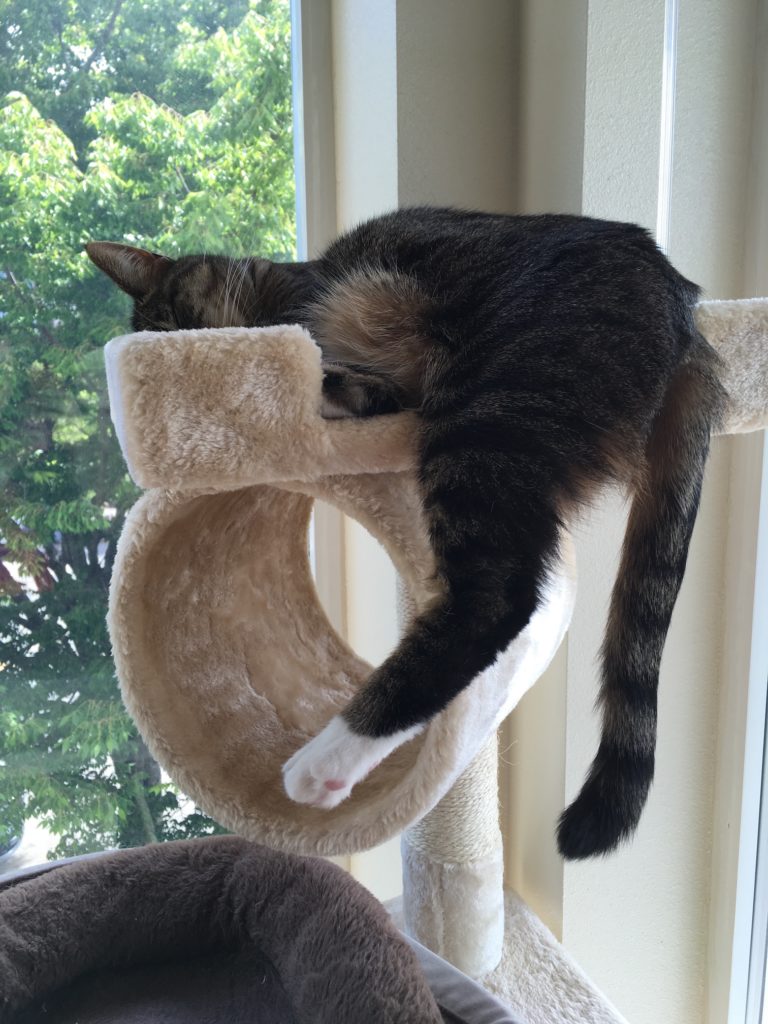 a big fan
The apartment also had a second guest bedroom / office where we could put the plants. She loved trying to sneak in while Garrett was playing video games to eat the spider plants. We kept a spray bottle in there just in case. But sometimes she'd decide that eating the plant was worth more than the water spray and you'd have to pick her up and throw her out.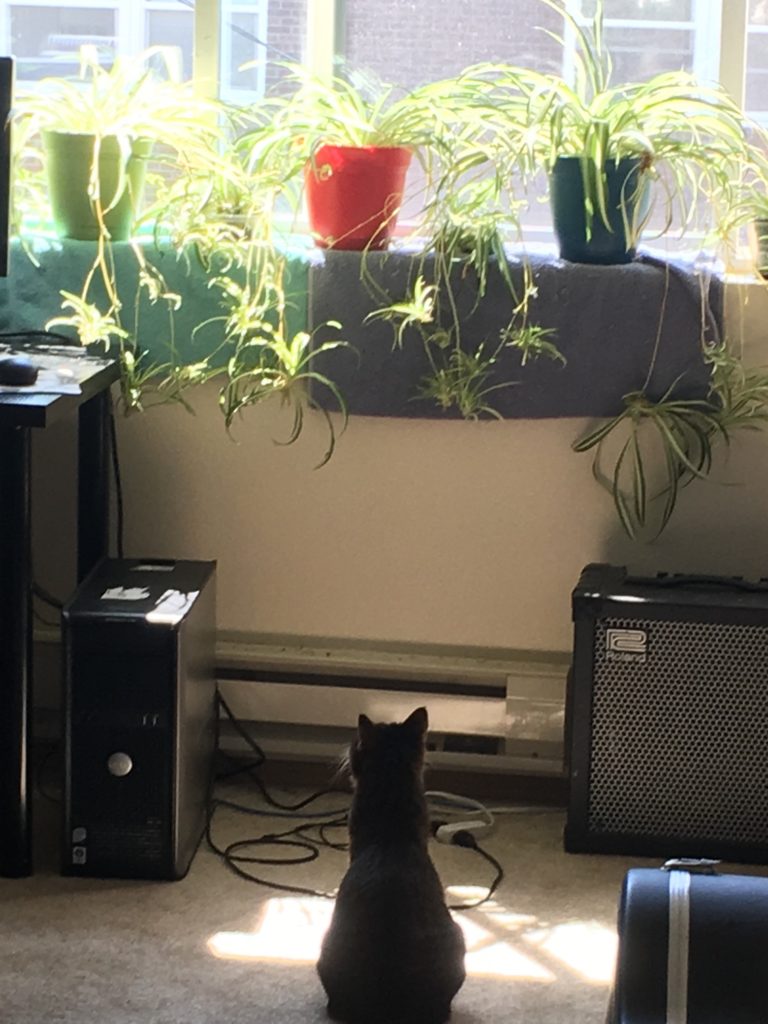 Look at all those yummy plants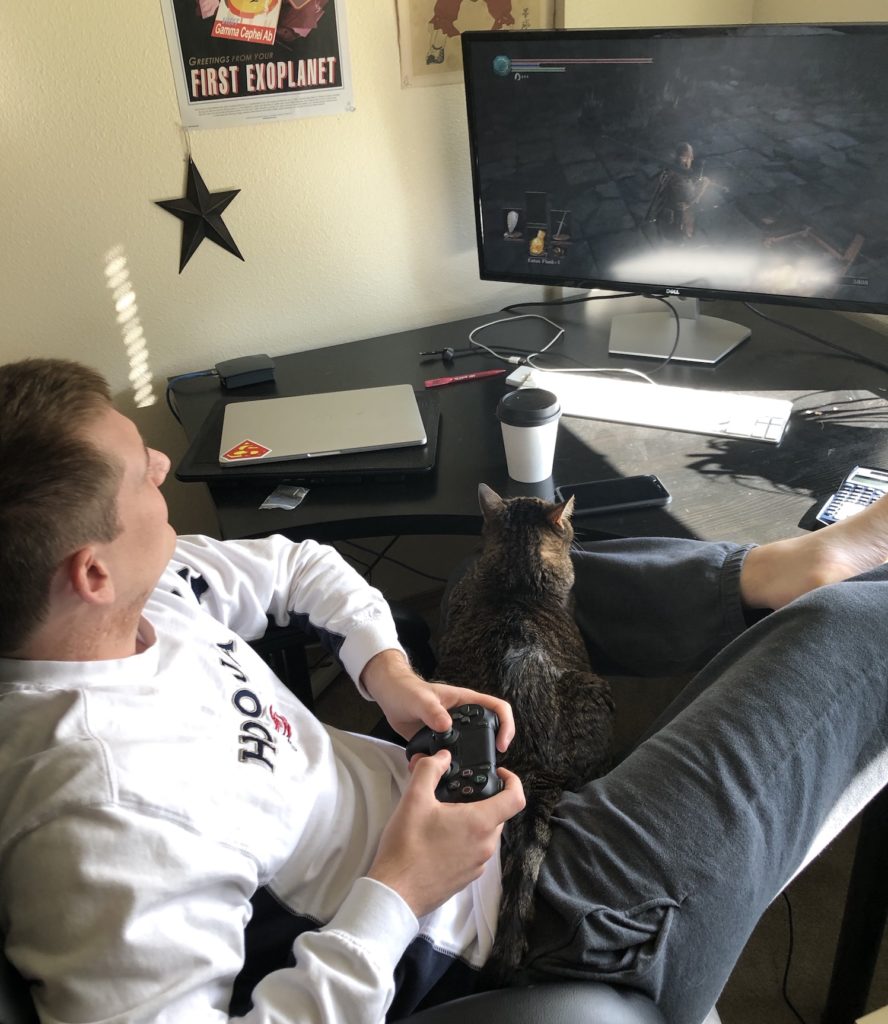 Playing video games with Garrett
Betty was a real trooper throughout the last year and a half. At times we had weekly vet visits to check her white blood cell counts to see how well she was tolerating the chemo. A few of the blood draws were through her jugular and, well, she wasn't a fan. They had to double burrito her and put on an eyepatch so she couldn't see them coming. But, while she never loved being at the vet, the vets sure loved her. She was just fiesty and spunky enough to grab everyone's attention.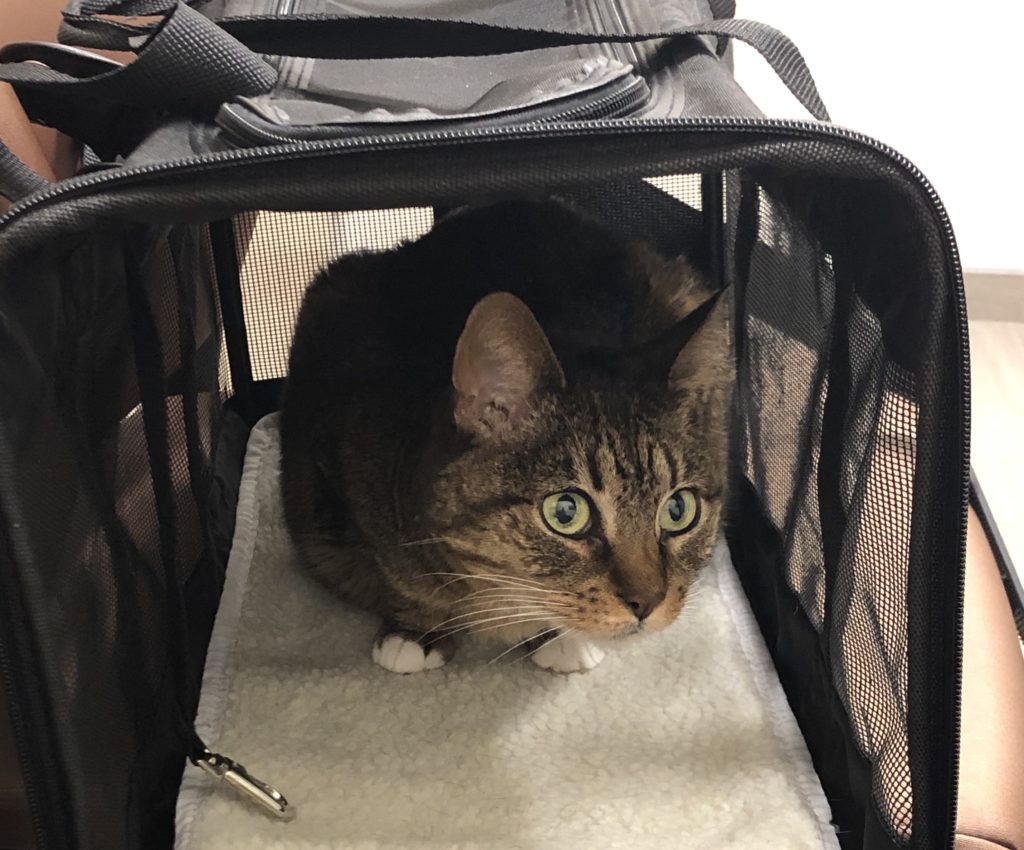 Betty on one of her last trips to the vet
Betty's spunk went away on Thursday, November 7th. We went to her oncologist to get another dose of chemo and when she came home she couldn't walk. While she improved slightly in the next couple of hours, she stopped eating and started hiding. On Monday I brought her into the ER vet with a high fever. She ended up staying for two nights. While she was there they did another ultrasound and found a large growth in her stomach that hadn't been there just two months earlier. We increased her steroids and tried an injectable chemo, but it was clear that the end was near. We were able to bring her home that Wednesday. On Thursday afternoon we made the tough decision to schedule a mobile vet to come help her pass on Friday.
Her last few days were full of lots of cuddles, pets, and probably too much attention. I brought her in the bathroom for all of my showers (and a few times just to sit with her with the shower on).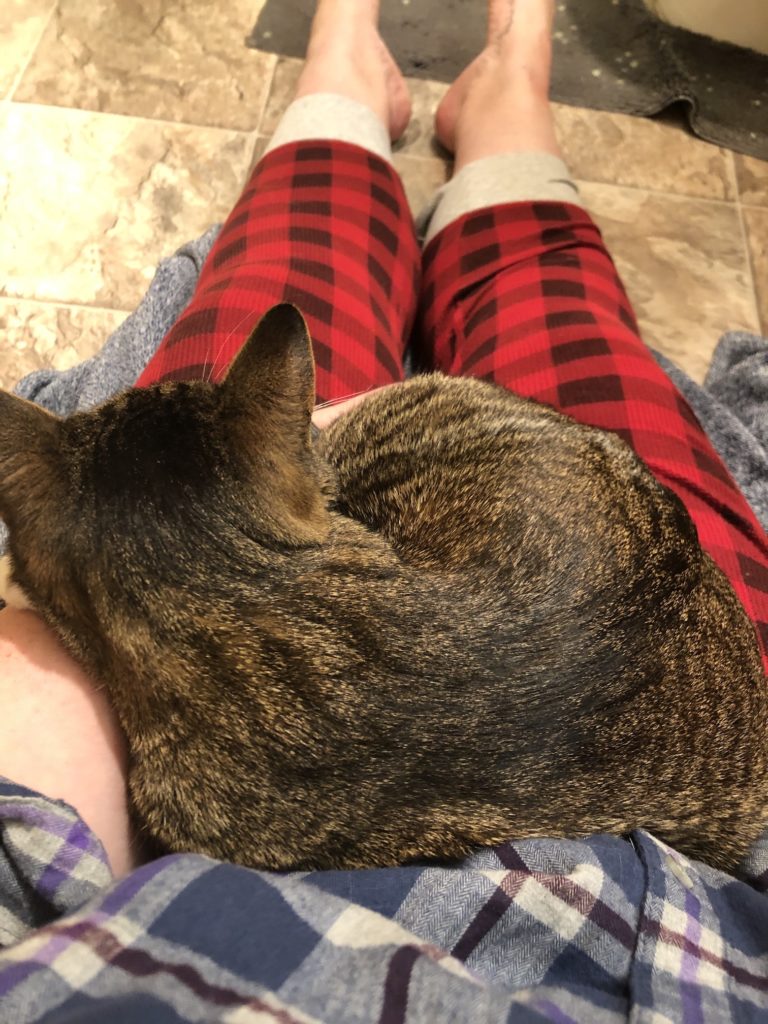 One of our last showers together.
We gave her Fancy Feast which must have tasted amazing after years of prescription cat food and cardboard and offered her some of the spider plants. The sun came out for a few minutes and we moved her onto her cat tower to look at the hummingbirds.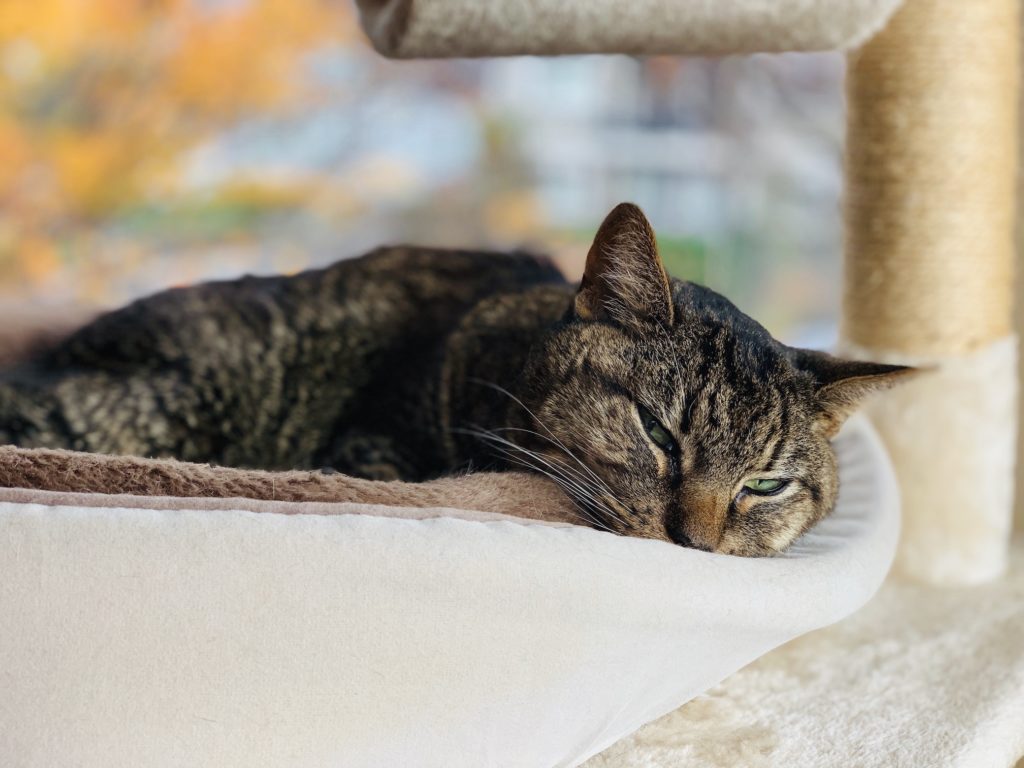 Enjoying the sun
Garrett brought her out on the balcony to feel the wind and see the people down below. She slept in between us on the bed under the covers on her last night. At 6:05 pm on Friday, November 15th, Betty went peacefully while curled up in my lap thanks to the help of Dr. Audrey. It was one of the most difficult moments of my life.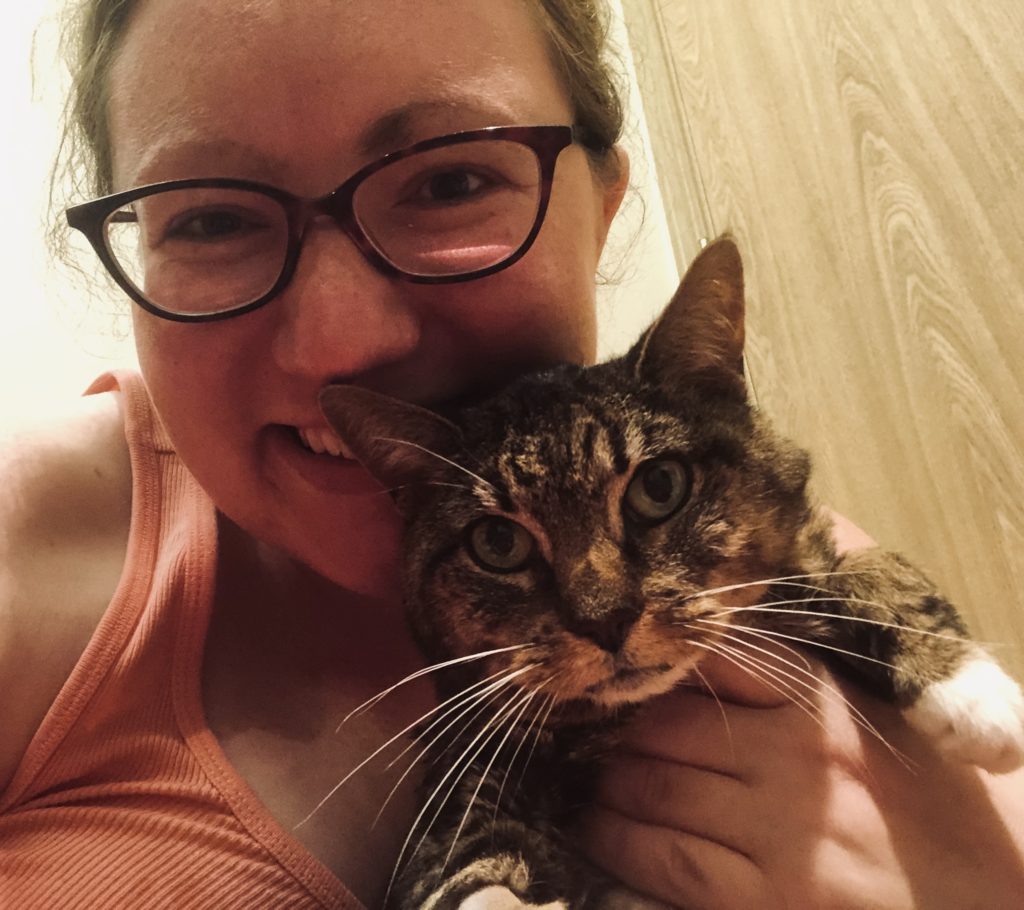 Goodbye hugs
As this incredibly long post/essay/description shows, Betty meant the world to me and I was so lucky to have her for 9 years. She helped me through three degrees, multiple jobs, getting fired, mental health issues, multiple concussions, moving, and everything in between. She was an amazing, spunky, playful, and loving cat that cannot be replaced. But, she lived a good life with me and I'm just happy that I was able to have her for as long as I did. Betty kitty, you'll be missed.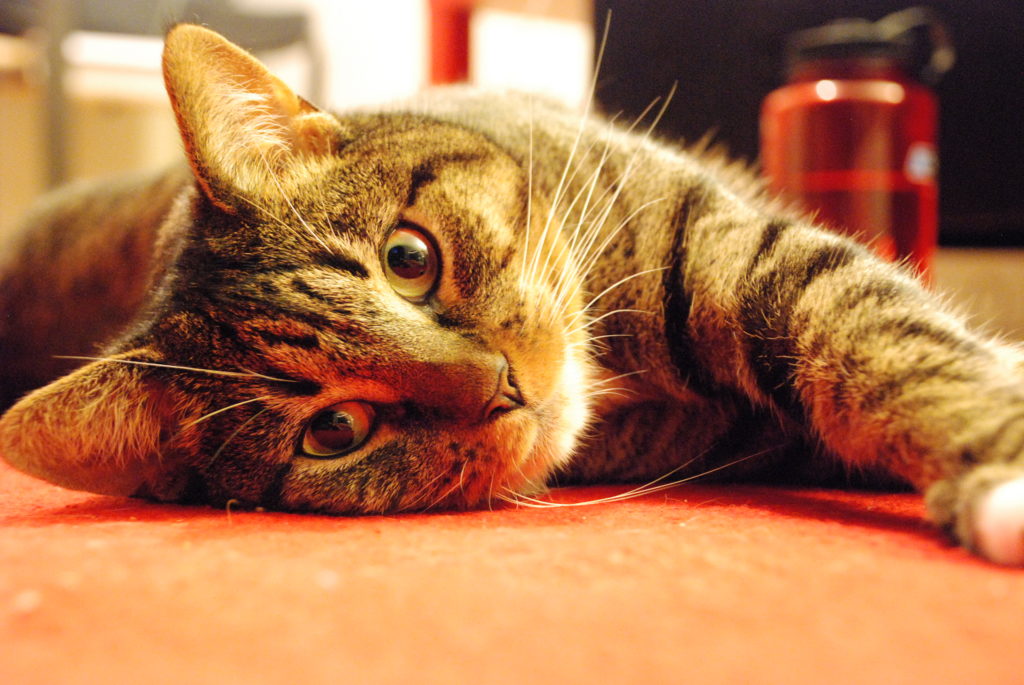 Betty at home in DC a few months after her adoption.