Meg Neugent
Winter 2010 - August 4, 2023
Meg was the perfect dog for me, and I was the perfect person for her. She came into my life when I needed a friend and constant companion, and she stayed by my side (sometimes a bit too much) right until the end. While words and pictures (even a lot) will never fully capture her hilarious, stubborn, and unfailingly loyal personality, this biography and compilation of memories is at least my attempt.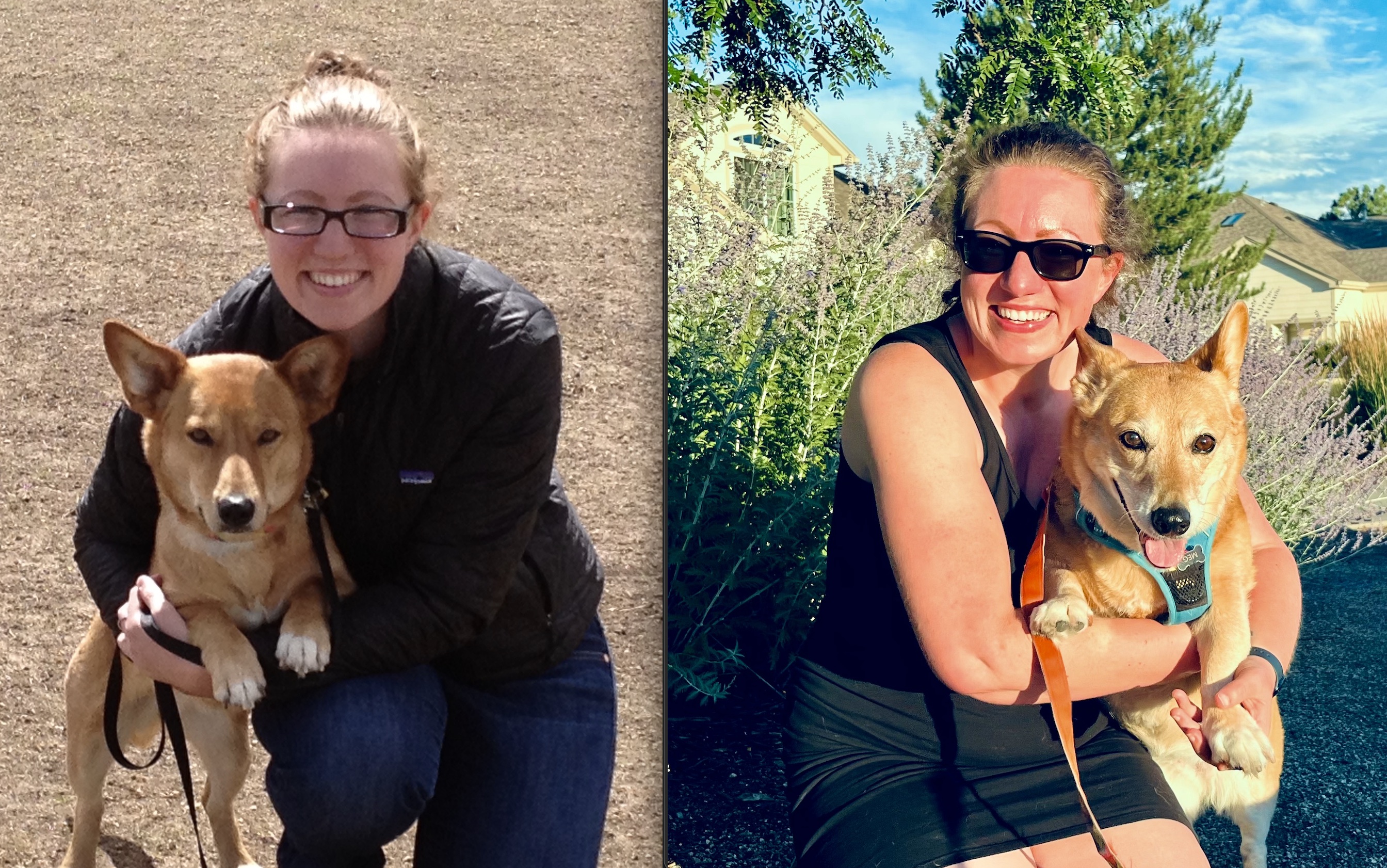 First (April 2012) and last (August 2023) pictures of us together.
Biography
Adoption
Meg was born sometime in late 2009 / early 2010 likely somewhere in Missouri. She was rescued from a hoarding situation in February 2012 and brought to the Kansas City humane society. She appeared to recently have had puppies, and was given a rabies shot on February 17, 2012. Her name was listed as Kelli (Princess) on the rabies certificate, suggesting that she had previously been named Princess but was re-named Kelli by the shelter. Given her corgi-stature, the humane society reached out to corgi rescues around the US to see if anyone was interested in taking her. At that point, the Wyoming Dachshund Rescue had recently rescued and adopted out some of its first corgis and was considering expanding from just Dachshunds to other short-legged friends. They agreed to take Kelli (Meg), as long as she could be transported to Texas where there was one other corgi-mix and a likely pure-bred corgi waiting to come up to their ranch in Wyoming. Kelli (Meg) made her way to Texas on the afternoon of February 17th, 2012 before arriving at the Wyoming Dachshund (and now Corgi) Rescue late in the evening of Saturday, February 18th, 2012.
During February 2012, I was also in the midst of some pretty big life changes. I had recently graduated from George Washington University with my MS in Computer Science and had accepted a job in Colorado Springs to work at MITRE as a web application penetration tester. Betty and I moved from DC to Colorado in January 2012 and I purposely chose an apartment complex that allowed dogs. Given my newfound love of hiking (thanks to a backpacking trip in Rocky Mountain National Park the summer before), I figured I'd eventually adopt a doggy hiking companion once life settled down. My job at MITRE was pretty travel-heavy (up to 50% travel), so I knew adopting a dog immediately wasn't the best decision.
I lasted three weeks. My second week living in Colorado (before I began working at MITRE), I travelled to Chile for an observing run and Betty was pet-sit by Lindsay. I talked with her a bit about potentially adopting a dog with all of my upcoming travel and she encouraged me to start looking. I was pretty set on adopting a corgi (thanks to a middle / high-school obsession with them), and thought that it would take a while to find a corgi that would also make a good hiking companion. At around the time I started looking, the animal shelter I used to volunteer at in Washington DC listed a golden retriever / corgi mix and said that she would be a "wonderful hiking companion." While I was tempted to fly back to DC to adopt her, I showed some amount of self-restraint and instead broadened my more local search to include corgi-mixes. A search on petfinder revealed that there was a small Dachshund rescue just a few hours away from me in Wyoming that had a few corgis for adoption. I reached out to them in mid-February and while the corgis they currently had available wouldn't make good apartment (or hiking) companions, they were hopeful that they'd have a few more dogs soon.
Somewhat surprisingly, they reached back out to me just a few days later saying that they expected a few dogs to come in on Saturday, February 18th and they also had an owner-surrendered corgi who needed to be transported up to their shelter from Colorado Springs. I agreed to drive up to Wheatland, Wyoming on Sunday, February 19th to meet the newly rescued corgis and also bring up the owner surrender (named Pumpkin – she was adorable but very overweight due to some neglect. She spent most of the drive trying to climb on my lap and lick my face until I eventually buckled her into the back seat).
When I initially arrived at the rescue, the owner was convinced I would want to adopt one of the other dogs that had arrived with Meg the day before. She was a Jack Russell / corgi mix and clearly had a lot of energy, slightly longer legs, and would have been a great hiking companion. However, something instead drew me to Meg (then Kelli, or Princess). At the time, Meg was still in a bit of shock. Only two days before she had been in Missouri, potentially even still with her puppies. Her tail was droopy, and when I took her out for a walk outside, she kept close behind me. I stayed at the rescue (which was essentially just the owner's house / large ranch with a lot of dogs) for a late lunch, and Meg sat under my chair the entire time. As far as we knew, Meg had never lived with cats, so we tried walking her by the barn cats to see how she'd react. She didn't acknowledge them at all, so we weren't sure if she would be friendly to Betty or whether she was just still in shock. The rescue agreed to a month-long trial period so I could see how well she'd get along with Betty. However, she still needed to be spayed before I could officially bring her home, so I left that afternoon with the intent of picking her up the following weekend. In the meantime, I purchased a dog bed, a few toys, and treats to help welcome her home. I also decided to rename her from Kelli (or Princess, which was obviously not an option) to Meg because it struck me as a strong and empowering name … and Meg seemed like a strong and empowering dog.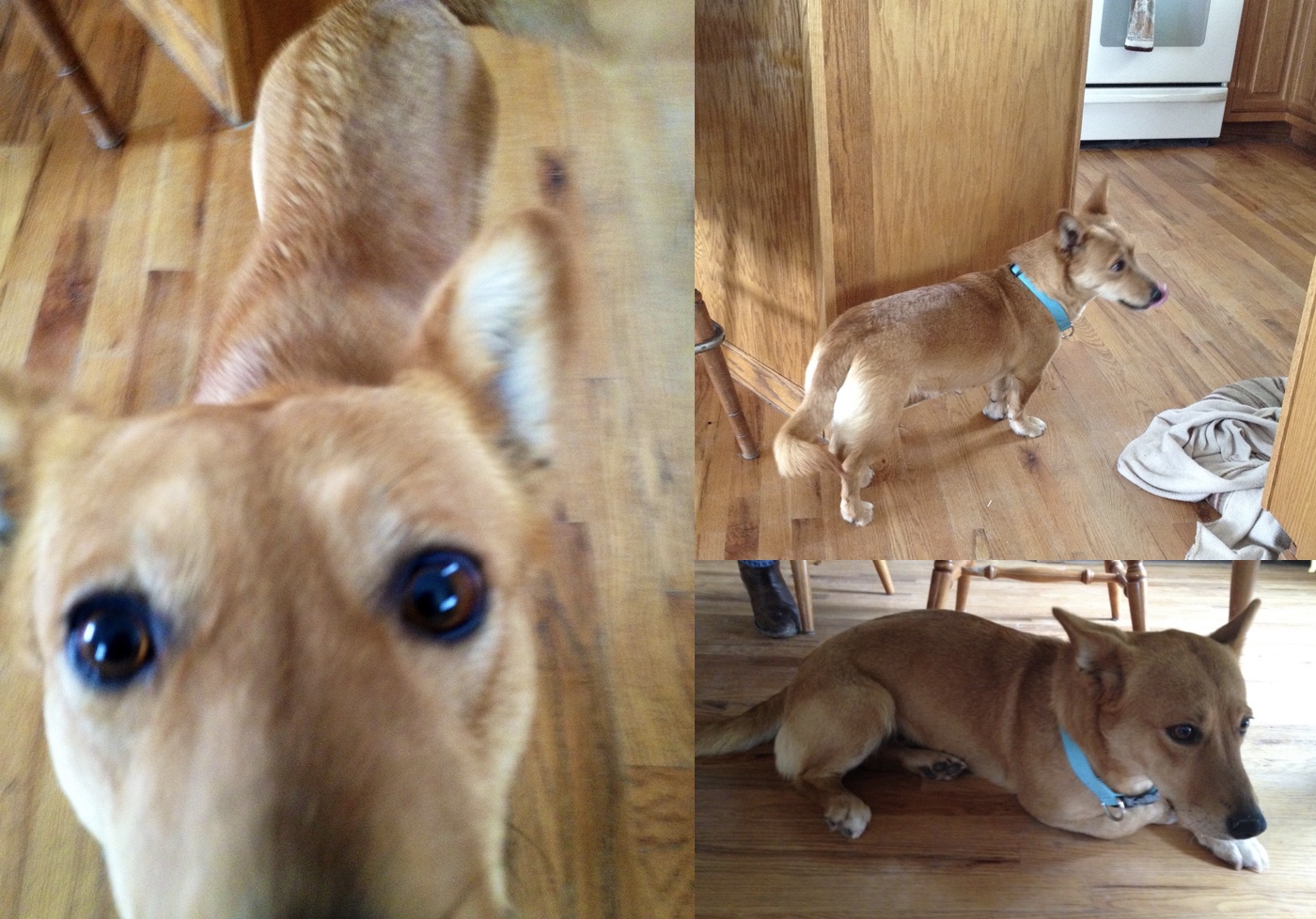 Meeting Meg at the rescue in Wyoming. She was already licking her lips and looking for food in the kitchen.
On Saturday, February 25, 2012, I drove back up from Colorado Springs to the Costco parking lot in Fort Collins to sign the adoption paperwork and pick up Meg. She had been spayed the day before and was still on pretty strong pain medication. While she still hadn't shown much of a personality at the rescue, she apparently did want to sleep in bed with the owners after her spay, so they figured she might be a cuddly dog. When I met her the previous weekend, she was wearing a light blue collar, so I had only brought a leash with me. But, her collar had been removed, and I didn't want her running free in the Costco parking lot, so they gave me a slip leash to bring her to my car. It had written on the side, "The oldest dog lived to 29."
After getting her in Stinson (my car), I still clearly needed a collar for her. We made a quick stop at the PetSmart right off I-25 in Loveland and I essentially carried her inside (remember, she was still drugged from the spay, terrified in general, and I didn't have a solid way of controlling her). One of the employees came over and helped me get a simple black collar for her, and we headed back to Colorado Springs. Things were going well until we reached the Palmer Divide (right north of Monument, CO), and then the stress of the situation (combined, I'm sure, with her pain medication) caught up to her and she projectile vomited all over the back of Stinson. We pulled over, I attempted to clean it up, and we headed home. Once we got back to Colorado Springs, she was hesitant to climb the flight of stairs up to my second-floor apartment. Eventually I figured out it was because of her recent spay, but I ended up carrying her up and down the stairs for the first couple of days (lucky her). Meg was finally home!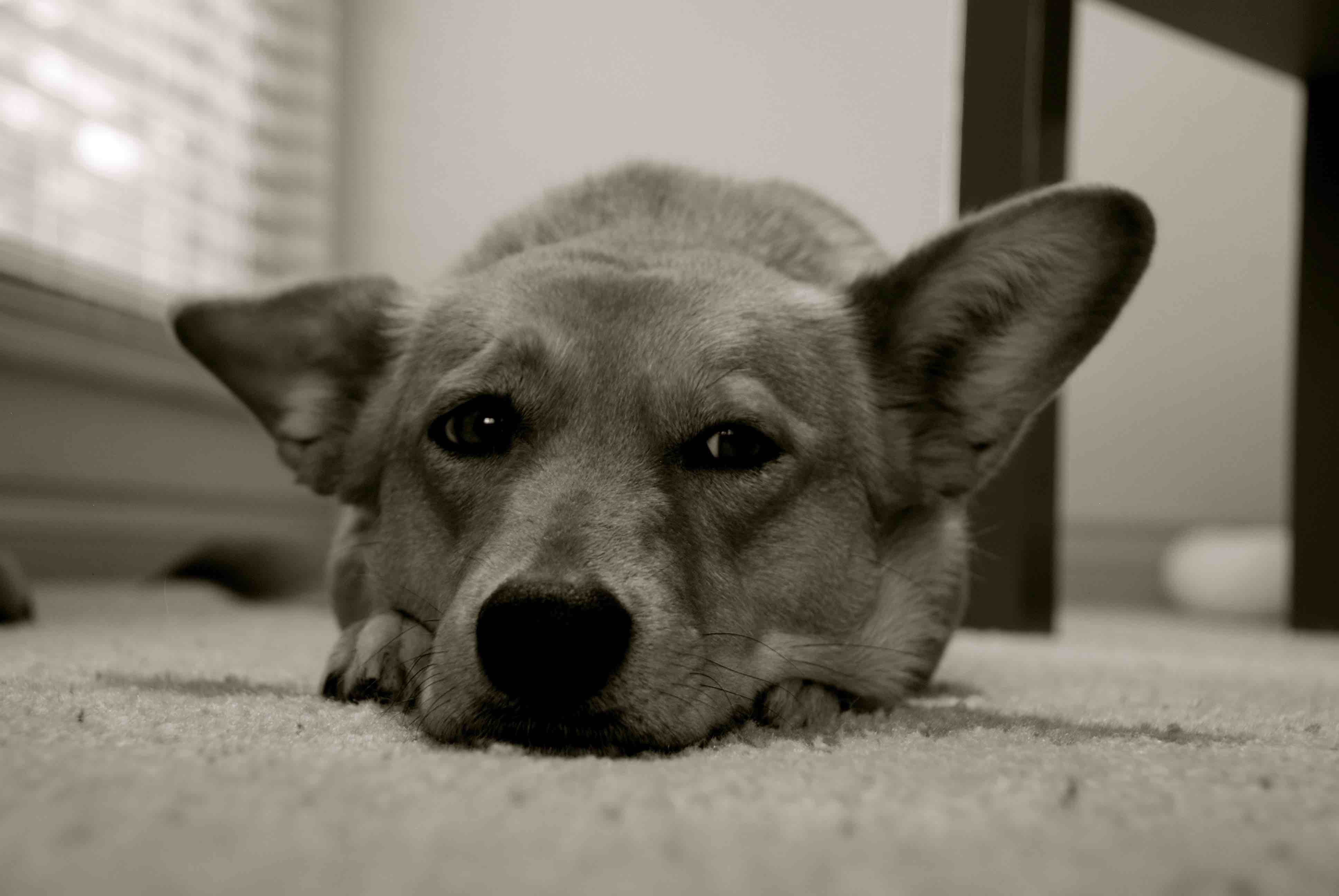 Meg on her first night at home.
Colorado Springs, CO
As mentioned before, Meg had not been "cat tested" in any way, and Betty was, well, Betty, so introducing them was a little terrifying. The initial introduction on the first night went well. Meg did a little growling, Betty did a little hissing, but that was it. I kept Meg in the bedroom in a (too small) dog crate the first night with the door closed. The second day things were going even better with Betty and Meg sniffing each other and touching noses through the dog crate. I decided to let both of them out in the living room at the same time and things continued to go well. However, that evening I made the mistake of falling asleep on the couch. Betty was asleep on my stomach and Meg was on the ground. I woke up to a loud hiss as Betty jumped on Meg's face. Meg peed herself and then Betty jumped on me. She scratched my face and neck pretty badly before running under the bed. I felt horrible and almost convinced myself that adopting Meg would never work. But, once Betty got that out of her system, they became fast friends … as long as Meg respected Betty as the alpha.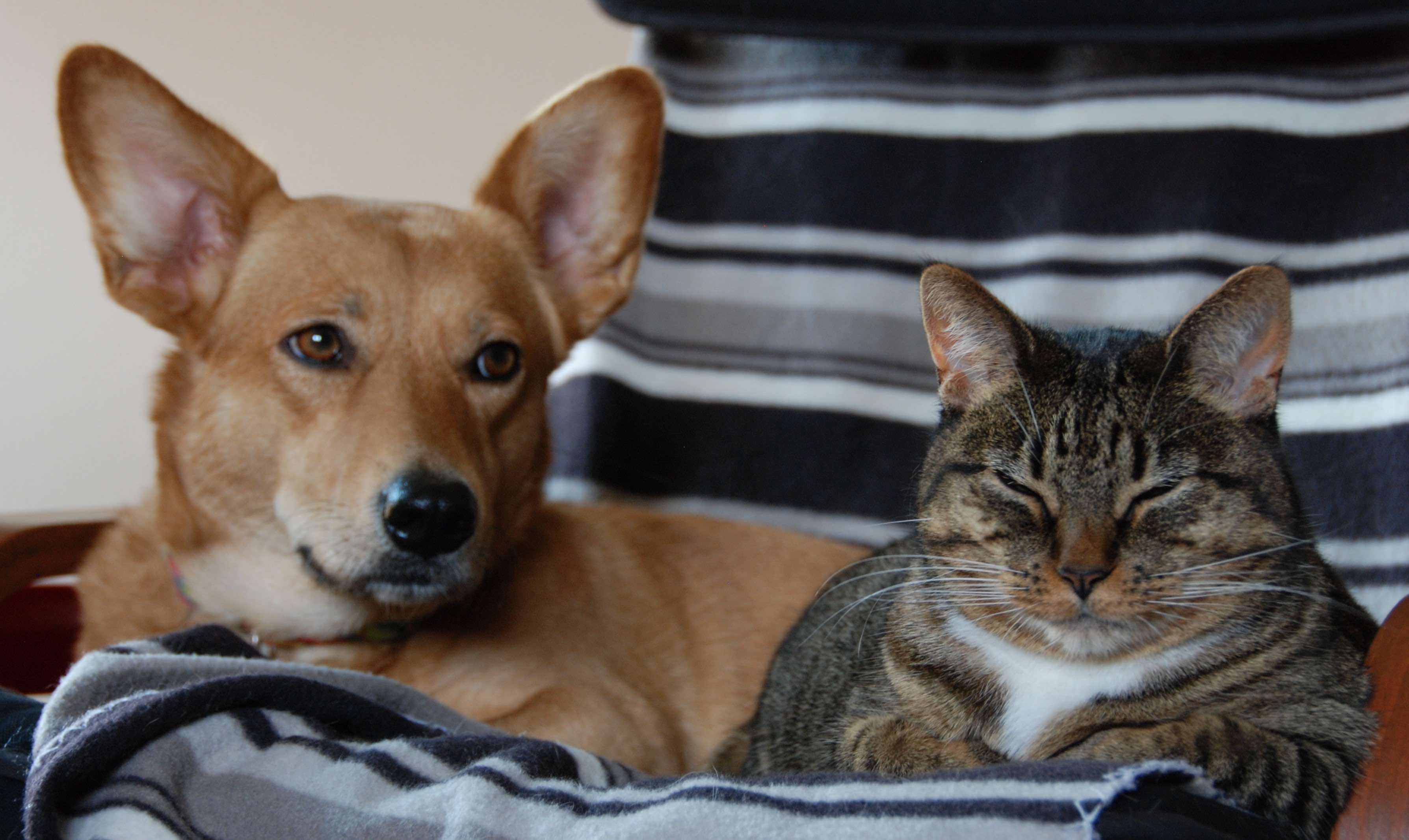 Meg and Betty in Colorado Springs.
While Meg eventually developed an amazing personality, the first month with her was a little rough. It took 3 days of a lot of walking to get her to poop, and even her peeing was infrequent. We started PetSmart clicker-training classes the weekend after she came home, but I had a lot of difficulty getting her to associate treats with the clicker. After two weeks of failed attempts at teaching her the "sit" command, I then had to go away for a week on my first MITRE work trip. I talked with Lindsay (the pet-sitter), and she agreed to help continue the clicker training when I was gone. When I arrived home, I had two surprises … The first was that Meg was so excited to see me that she peed inside (!), and the second was a note from Lindsay suggesting I ask Meg to sit. While I was gone, Lindsay had successfully taught Meg the sit command. Now that Meg understood that the clicker = treat, and that the sound of a click meant she was doing something right, training her progressed quickly. This helped substantially with our ability to bond, and Meg's personality began to finally show itself.
Over the next year and a half, Meg and I worked our way through PetSmart's beginning, intermediate, and advanced obedience classes. The only two skills she never mastered were "drop it" (she wouldn't pick up toys long enough to drop them, and she was never going to drop something worth eating), or a "sit/stay" with loud noises near by. As the years went on, she lost many of her commands due to stubbornness (particularly "come" or "sit" when on a non-comfortable surface), but as soon as food was involved, her memory came back quite quickly :).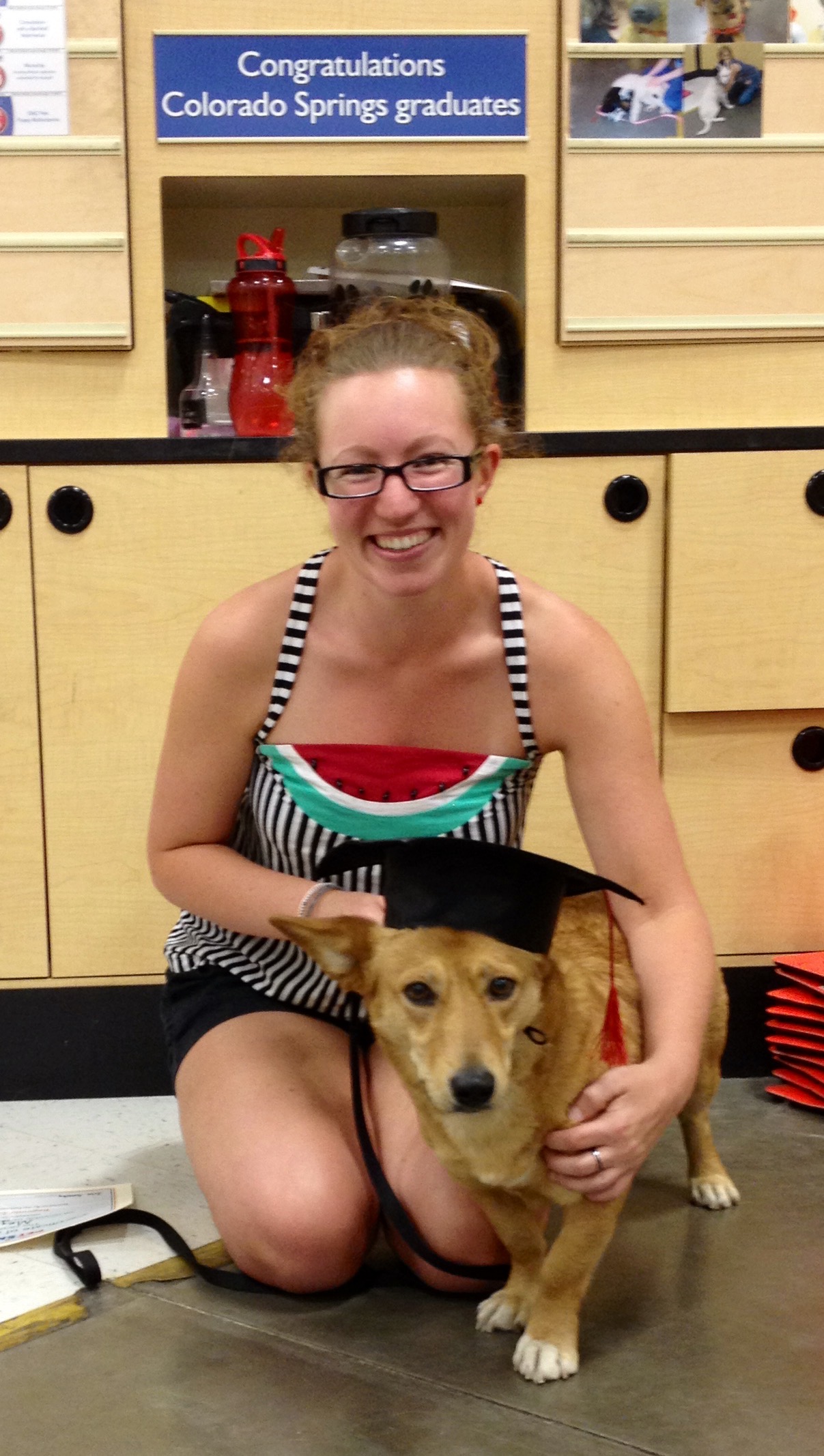 PetSmart graduation!
Once I was able to both train and trust Meg (and she began to trust and train me …), we started going to the Bear Creek Dog Park almost every day after I was off of work. While Meg thoroughly enjoyed going, she didn't understand how to play with dogs. She didn't like the butt-sniffing, and when another dog would approach her, she'd usually run up to the owner and look for pets. Still, she particularly enjoyed going into the small dog area and watching other dogs play. Even though she didn't quite meet the weight limit (<25lbs), we always felt welcome because, well, she wasn't bothering anyone. I was worried about Meg's socialization until we went on her first trip to Flagstaff, Arizona.
Meg and I journeyed to Flagstaff both for a vacation and for me to see the Venus transit at Lowell. While we were there, Meg met Phil, Deidre, and Rita's dog, Goldie. Goldie was a wonderful golden retriever mix who loved everyone and everything (except balloons). Meg and Goldie's meeting was awkward at first, but within just a few hours, Goldie started teaching Meg how to play. There was a bit of a size difference, but the two of them quickly became best friends. By the time Meg and I left Flagstaff a few days later, Meg was ready to return to the dog park and actually interact with other dogs. Just a few days after returning from Flagstaff, we were at the dog park and Meg saw another corgi come inside the gate. We were a good half-mile from the entrance (the place is huge), but Meg began sprinting over to the corgi before initiating a play-session on her own for the first time. She remained particular about her doggy-friends throughout the rest of her life, but always enjoyed a good play session with friends.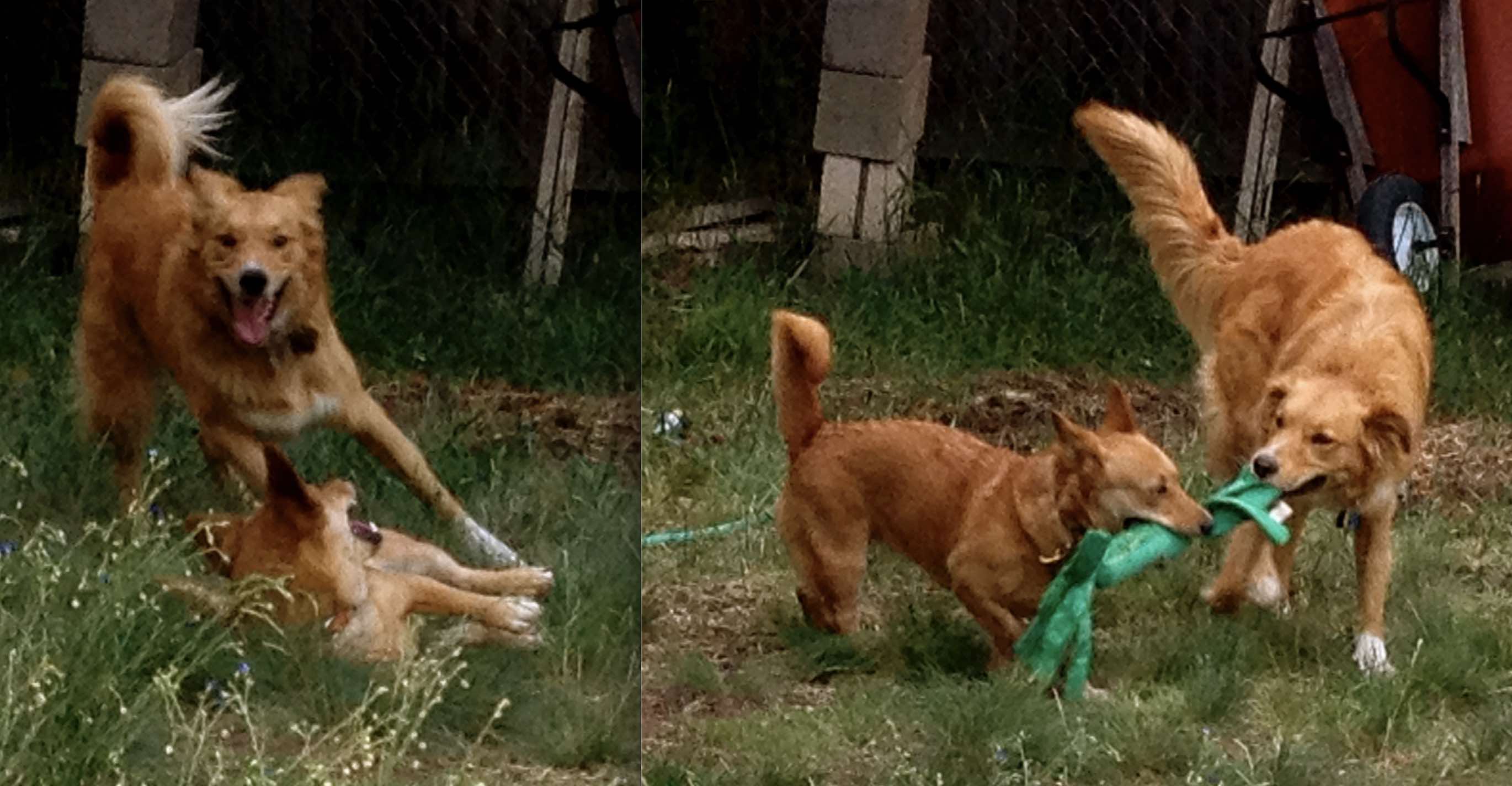 Playing with Goldie for one of the first times.
Since one of my main motivations for adopting a dog was to have a hiking partner, Meg and I started building up her hiking tolerance pretty quickly and on each hike I learned something new about her. In the Garden of the Gods, I learned that she hated hot weather and would rather rest under shady trees. While hiking the Seven Bridges trail, I learned that she didn't like getting her feet, or really any part of her body, wet and would never be a "water dog." On a hike to Catamont Reservoir, I learned that she always drank a lot less water than I wanted her to, and no amount of me stopping and giving her water breaks would change that. On that hike she learned that sometimes I also need to poop in the wilderness and that thoroughly freaked her out. Finally, on our hike to Pancake Rocks, I learned that Meg liked to eat dead things. The more dead, the better.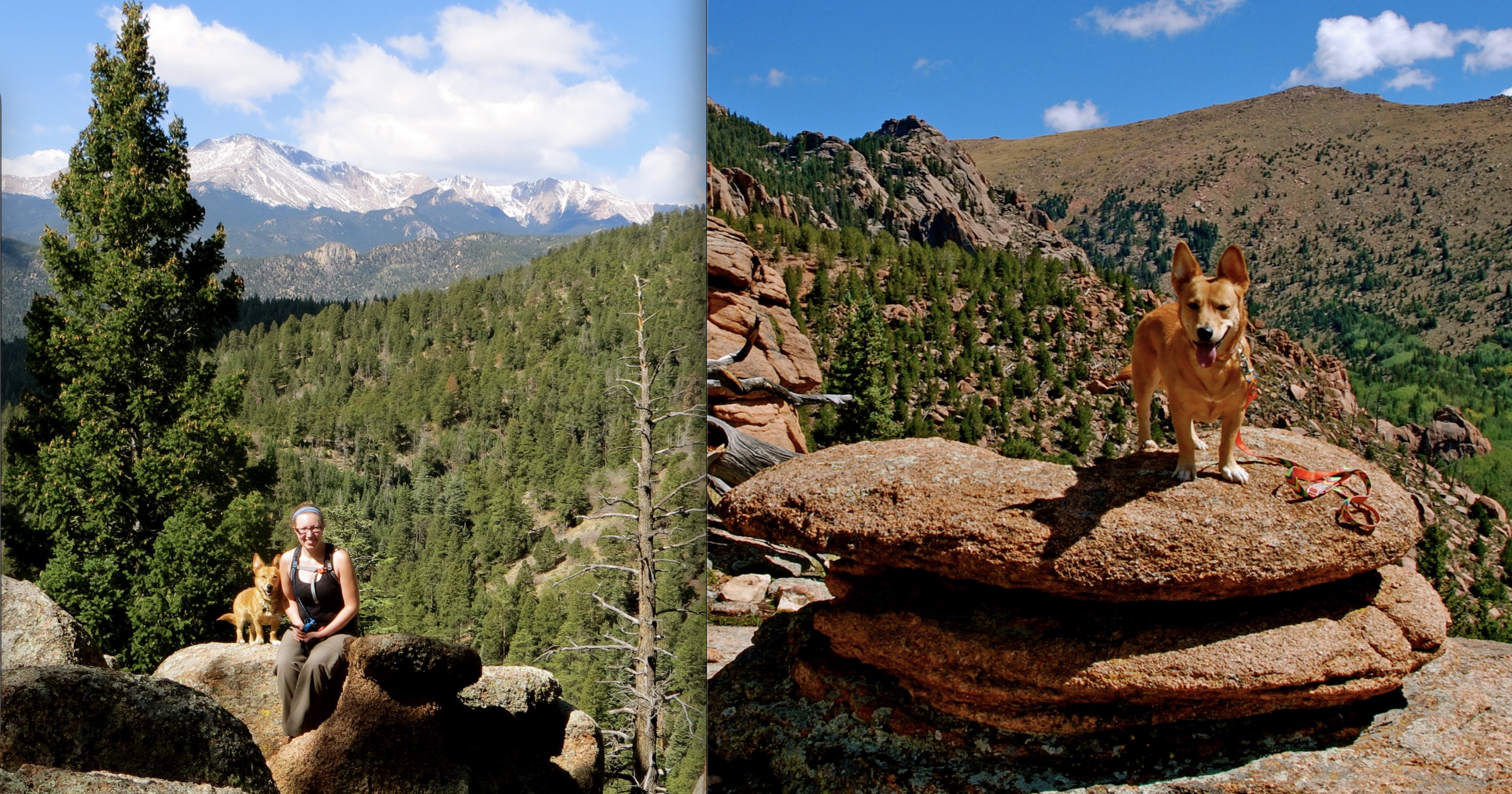 Us at Waldo Canyon with Pike's Peak in the background and Meg at Pancake Rocks before eating her first "dead thing."
After a spring and summer of progressively more difficult hikes, Meg and I decided to attempt Mt. Elbert – the second tallest mountain in the continental US (after Mt. Whitney), and our first Colorado 14er. Since it was a ~2.5 hour drive away from Colorado Springs, I thought it might be fun to camp near the trailhead the night before. Meg's first camping experience started out well. I had a 20 foot leash so she could wander around the campsite freely. When it started to get dark, we headed inside the tent and I quickly discovered that a 1 person MSR Hubba really didn't work well for 1 person + 1 dog. Still, we eventually got settled and tried to sleep. At around midnight, Meg started getting agitated and eventually barked (she almost never barked). I made the mistake of deciding to look outside the tent where we had a nice black and white friend waiting for us. Meg darted after the skunk, who sprayed both her and the tent. So, at around 1:30 am, I loaded everything back up into Stinson and we drove home and spent the rest of the weekend de-skunking Meg, my car, and all of my camping gear.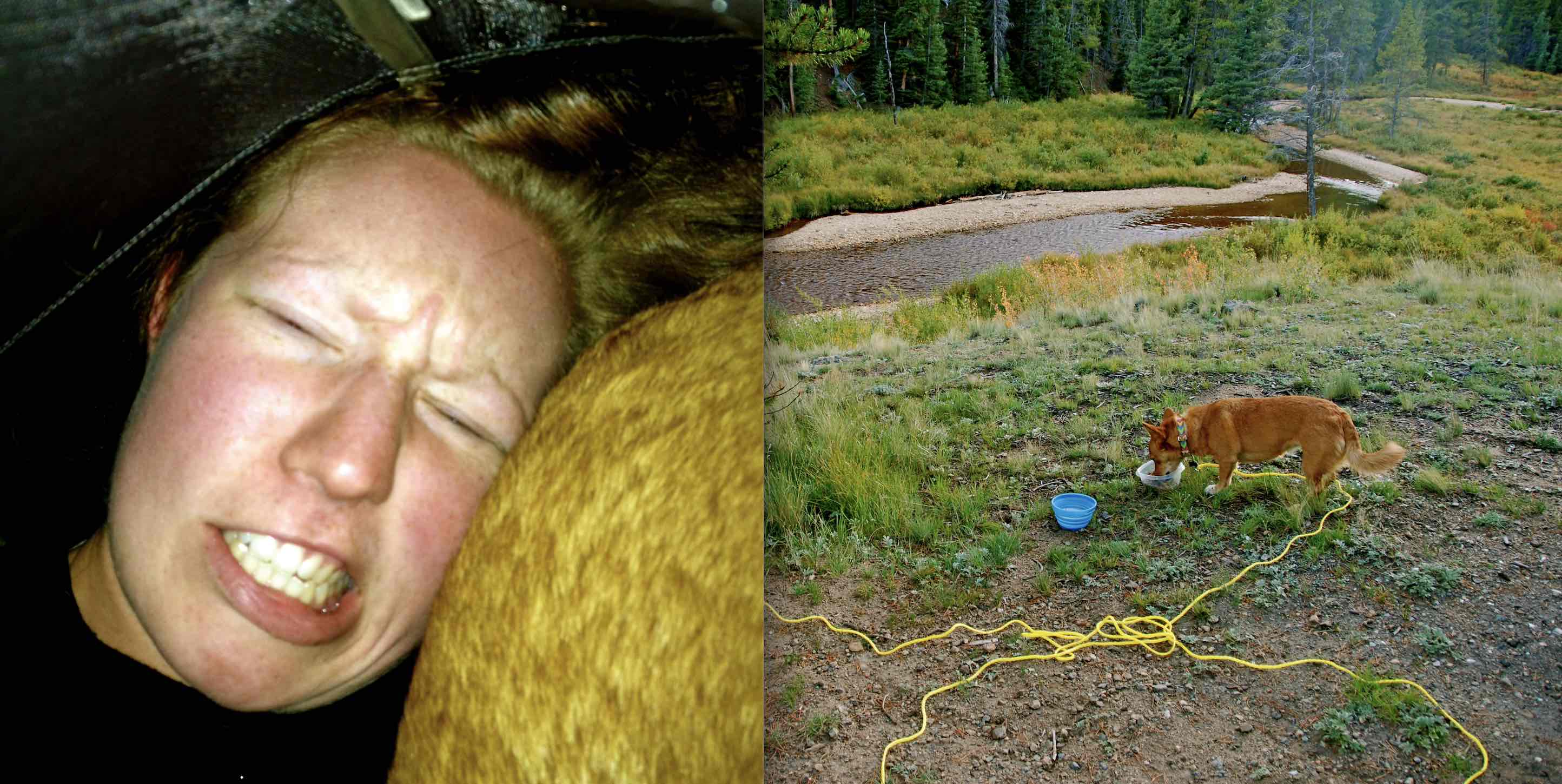 Our first attempt at Mt. Elbert.
Even with the skunk incident, I was pretty set on summiting Mt. Elbert … just maybe without the camping part. So, the following weekend, Meg and I left our apartment a little after midnight to begin hiking a few hours before sunrise. I was nervous about how she'd do with the altitude, but it honestly hardly seemed to bother her. She made friends with everyone else on the trail and spend the whole time running between me and other hiking groups (yes, she was off-leash … at the time her recall was superb and I thought this was okay. I wouldn't have a dog off-leash on a crowded trail now, though). She loved watching the pika and marmots and would stop and listen to them chirp. On September 19, 2012, Meg became the "tallest" dog in the continental US (dogs aren't allowed on Mt. Whitney) … not bad for a corgi :).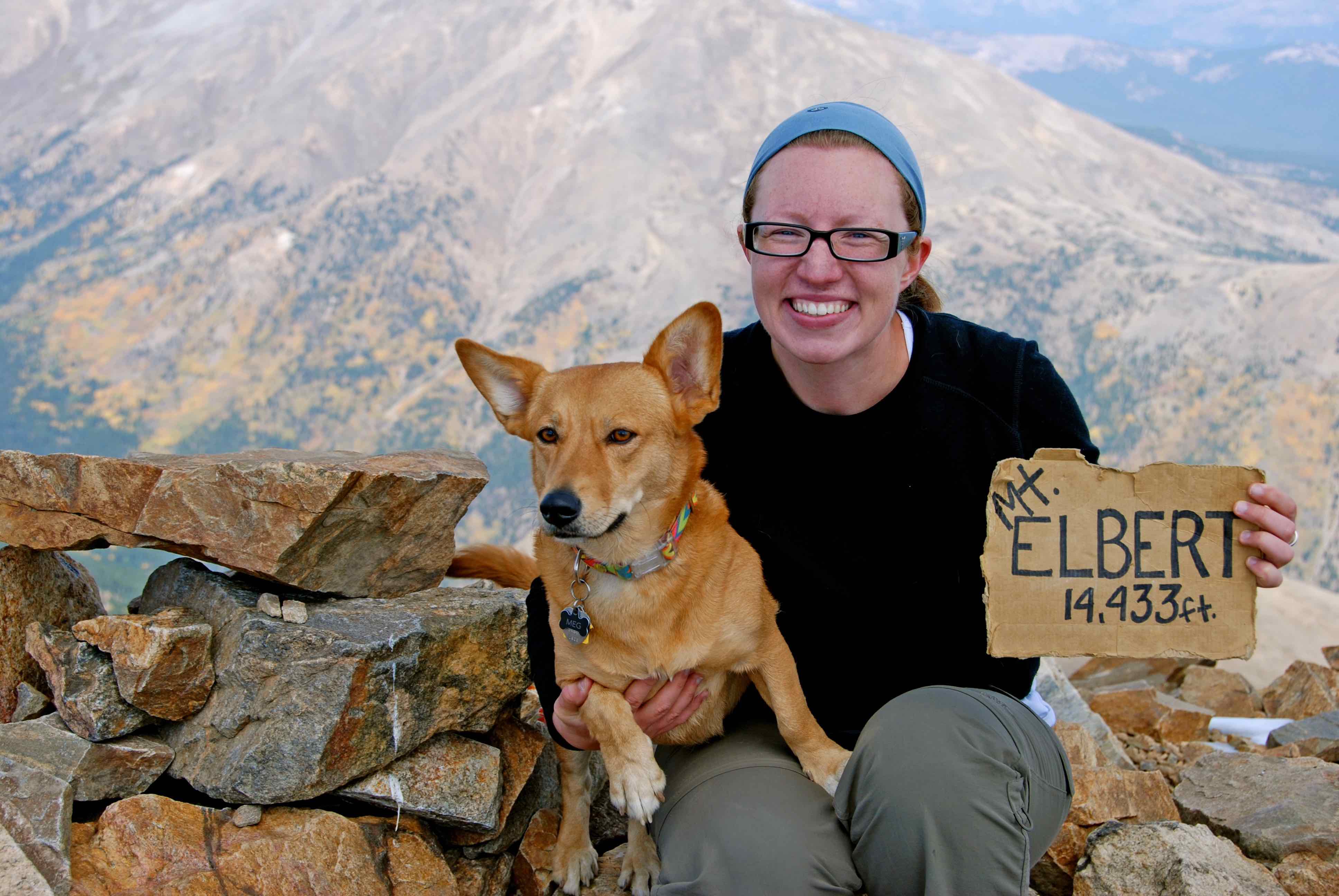 Meg on the top of Mt. Elbert!
Meg and I did many more beautiful hikes when we lived in Colorado Springs and I like to joke that she saw more of Colorado than many long-time residents! On backcountry trails, Meg was usually off-leash. This gave her ample opportunity to run around and sniff. While her recall was excellent, I almost never needed to call her because she never strayed far away from me. If anything, she was usually a couple feet in front of me, glancing backward as if to say, "hurry up! Look at everything amazing ahead we still have to explore!" When we (eventually) adopt another dog, I likely won't let them off leash as much as I did with Meg, but it was wonderful feeling like we could explore independently while still hiking together as a team.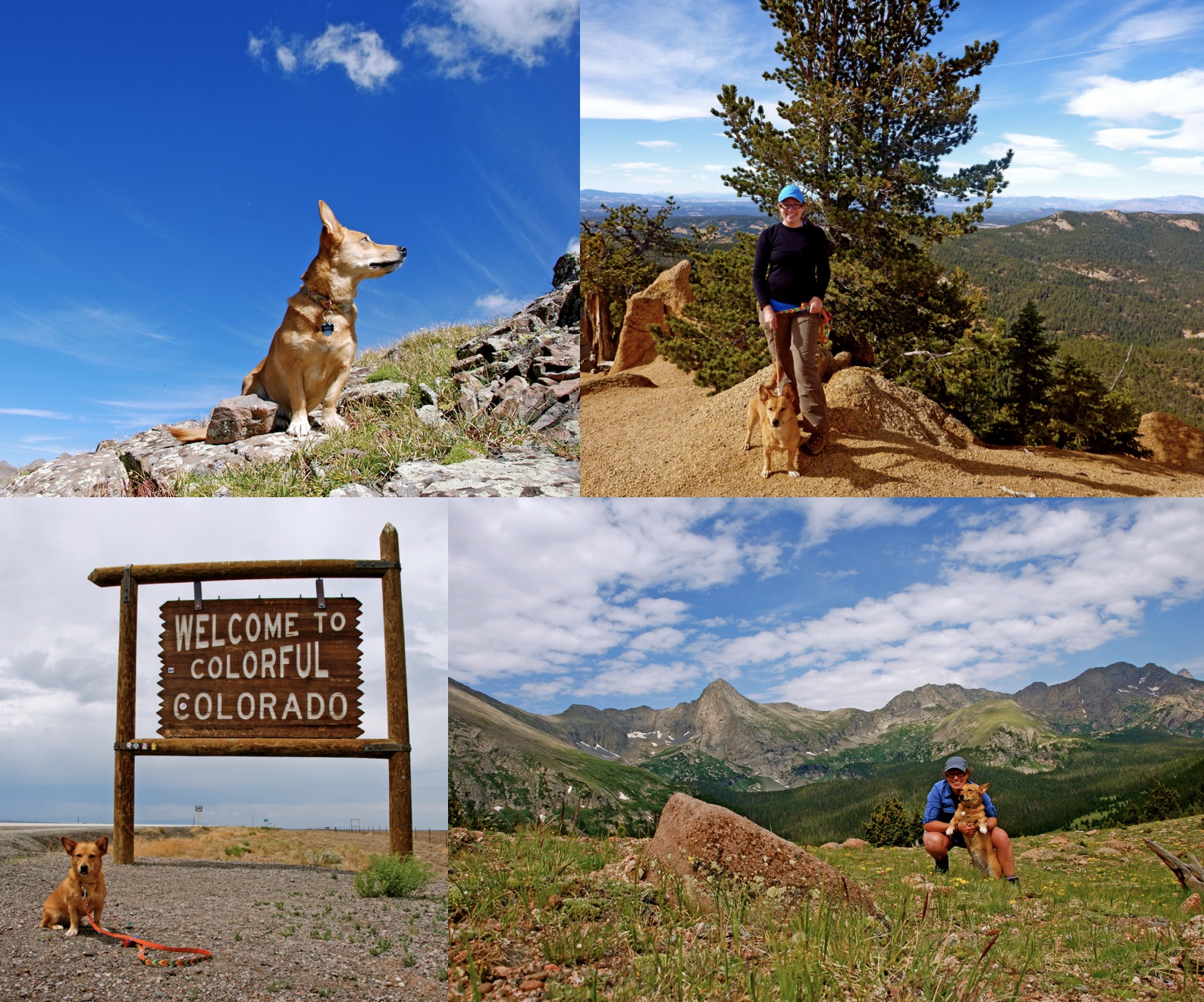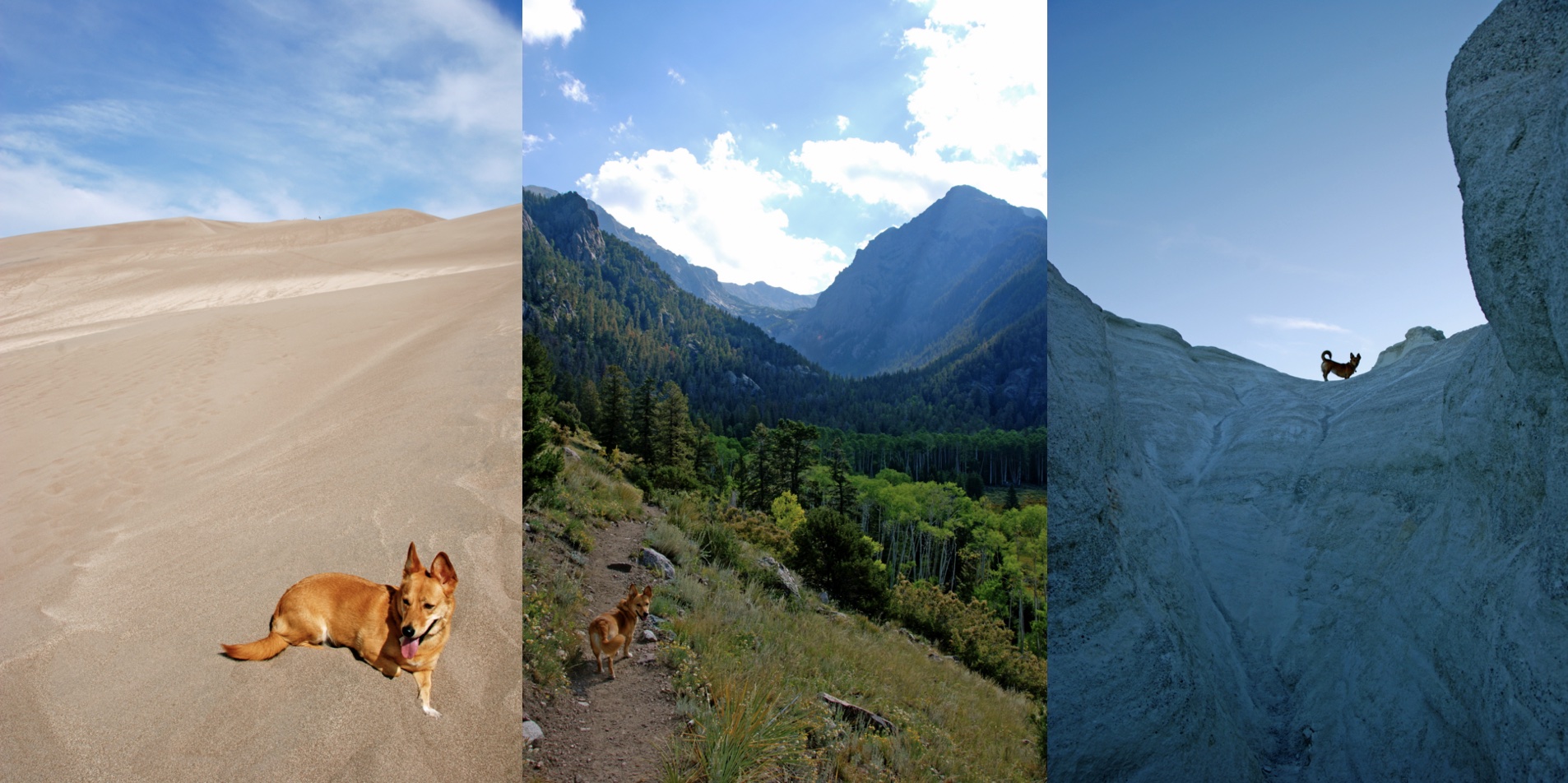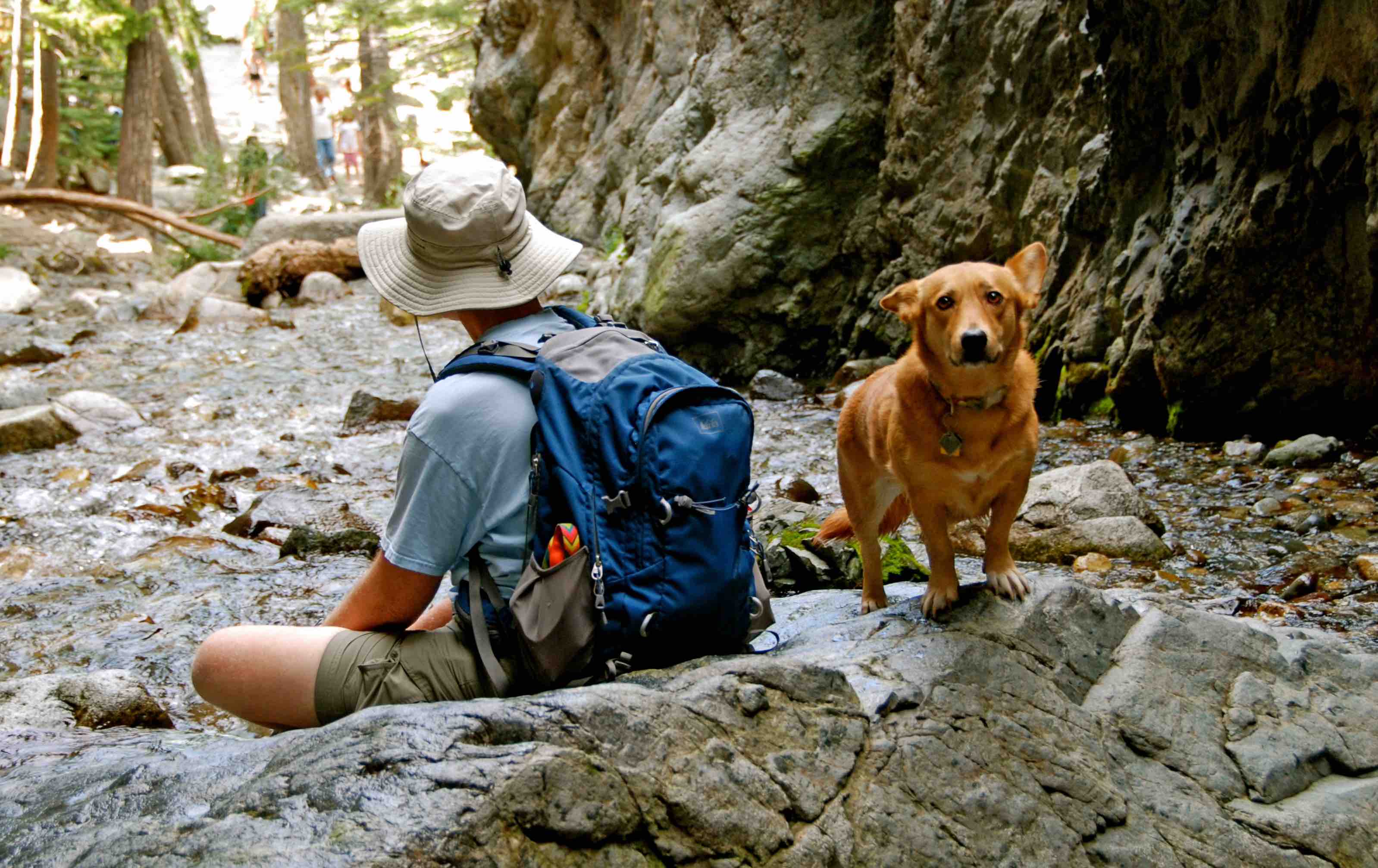 Some of Meg's travels when we lived in Colorado Springs including: Mt. Huron, The Crags, Music Pass, the Sand Dunes, Willow Falls, and the Paint Mines. Also, Meg showing her immense displeasure of water while staying safely on the rock with Phil.
For Meg's first Halloween, I thought it would be fun to get her a costume. I had always wanted a corgi named Crayon (because, I mean, corgis look like crayons with little stumpy legs), so I found a blue crayon costume for her online. On Halloween, I happily dressed her up and then hoped for trick-or-treaters. After a little while I realized that no one was going to come to my apartment complex, so I decided to walk around the neighborhood and hand out candy with Meg (yes, in retrospect, this was somewhat creepy). I wasn't sure how Meg would react to people in costume, but everything started off smoothly. Then, some poor ~8 year old girl came over and she was also dressed as a blue crayon! I thought this was amazing and I was hoping to get a picture. Out of nowhere, Meg lost her shit. She started growling, barking, and lunging at the girl … I had never seen Meg get that upset. To this day, I have no idea what set her off, but we like to joke that she was just upset that someone else was dressed up as a crayon. Every Halloween, I continued to dress her up as a crayon (or, later, a banana). She hated it, but she always looked adorable.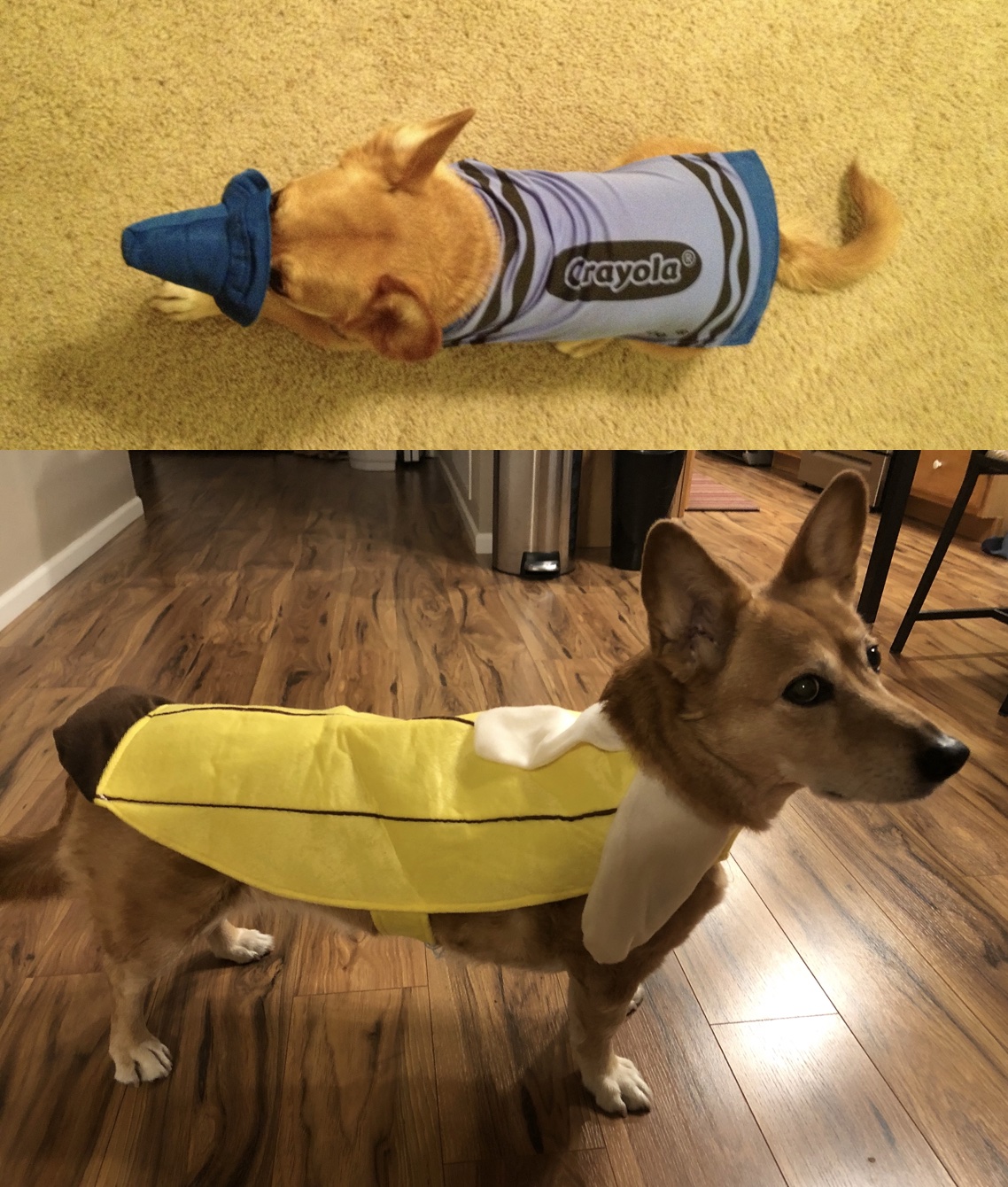 Crayon and Banana Meg.
Over time, Meg developed a strong love for cats. As mentioned before, her relationship with Betty started off a bit rocky, but overtime they grew to at least respect each other and somewhat enjoy each other's company. Around a year after I adopted Meg, I also began fostering kittens from Look What The Cat Brought In. While I never got a photo or video, there were a few kittens that Meg would gently carry around by their scruffs as if they were her own. When we were outside, she had a special "cat noise" that she'd make (it sounded like a muffled squeal of excitement) whenever she saw a cat. While she wasn't as much of a fan of feisty kitties in her older age (such as our newly adopted cat, Andy), when she was younger, I think she would have enjoyed a room full of kittens just as much as me.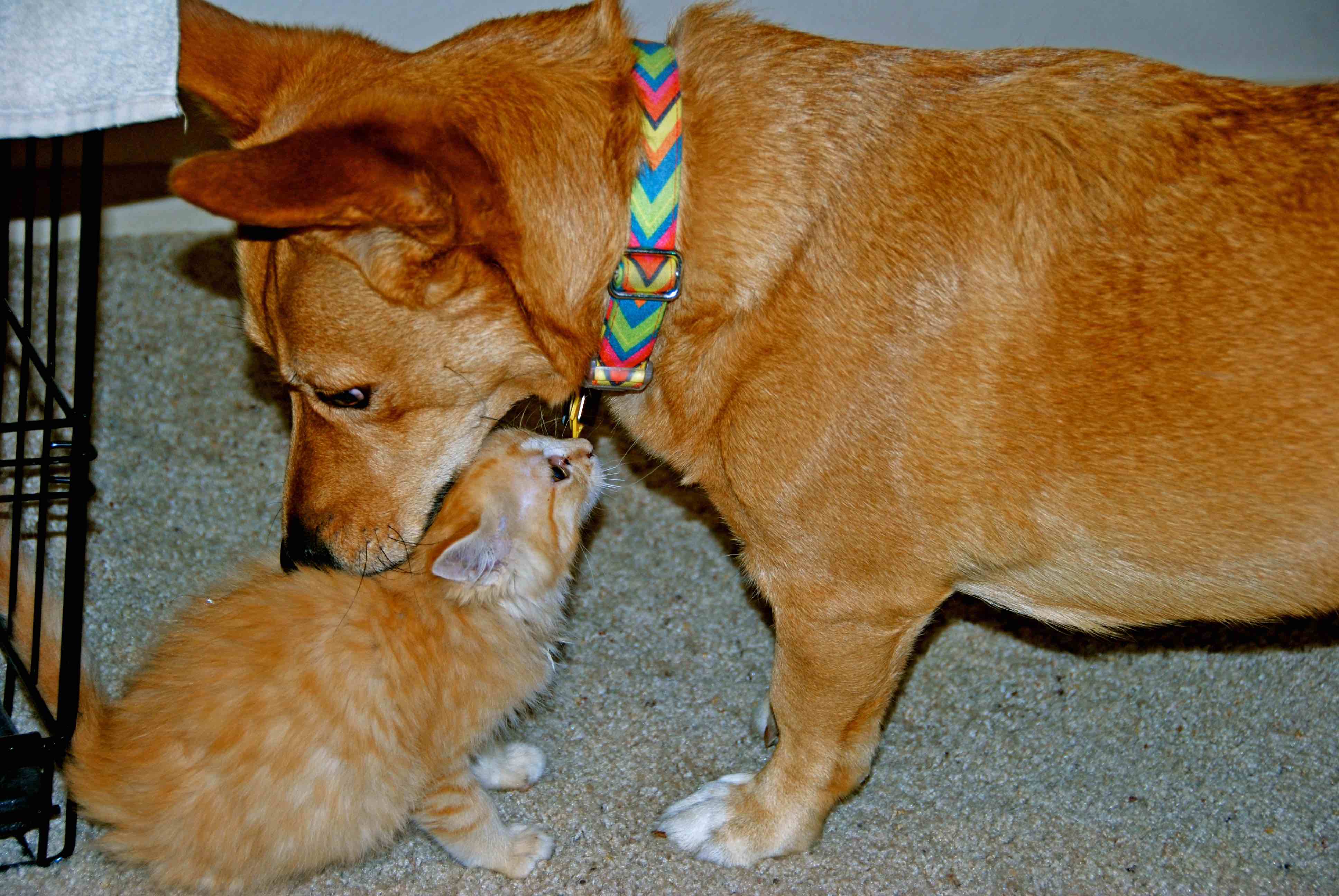 Meg with Red, one of my foster cats.
During Meg's first winter I quickly discovered how much she loved the snow. She loved to roll in it, run through it, and even eat it until she'd get so cold she'd start shivering. Snowballs were one of the few things she would reliably chase. Much to her displeasure, I bought her a puffy red down jacket and purple booties to keep her warm. She only ever wore the booties for a couple of minutes at a time, with the exception of when we went to the Sand Dunes and the sand was too hot. But, she did manage to tolerate her red jacket if the temperature got too cold.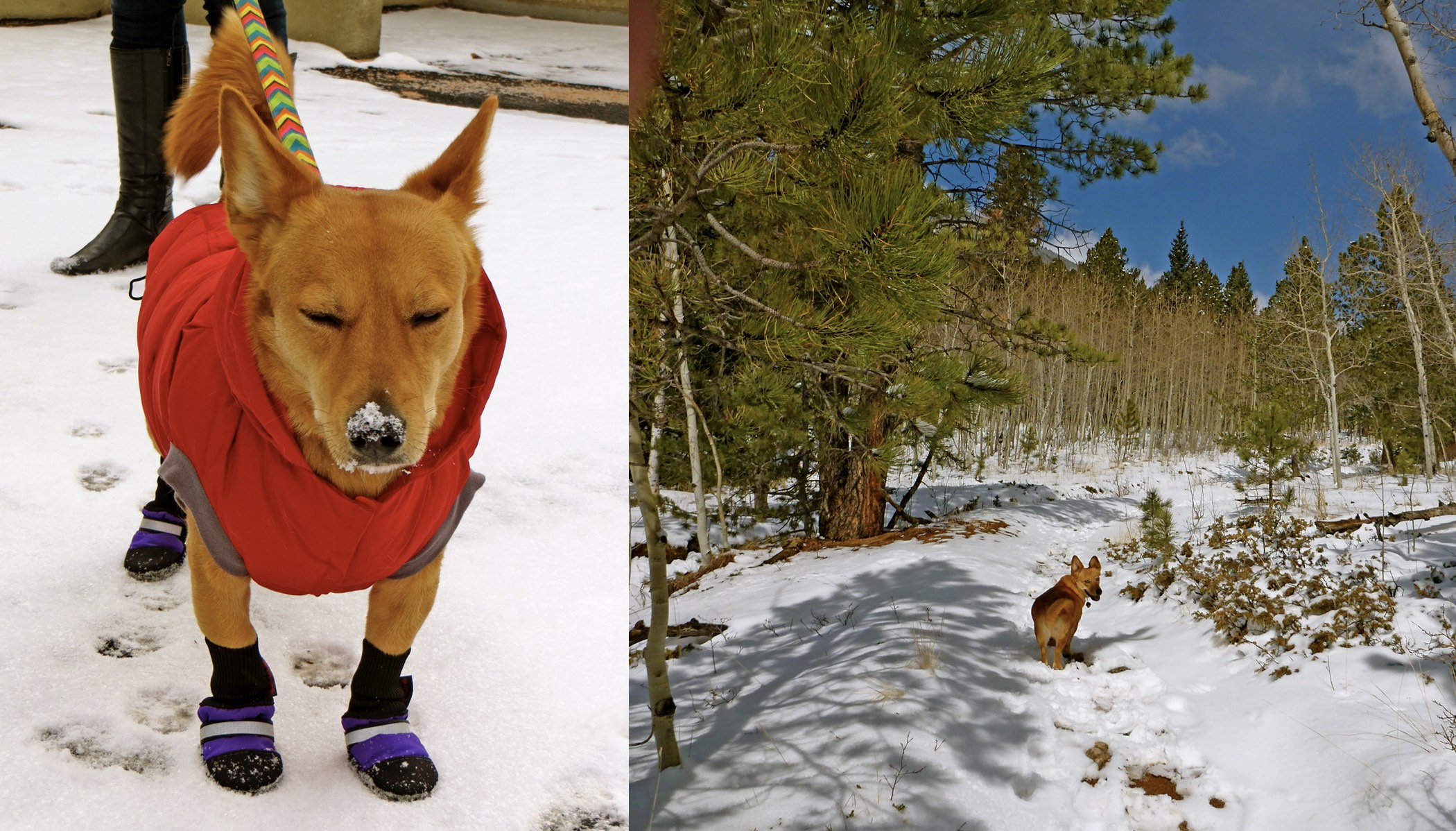 Meg with her snow gear, and on a hike doing her classic look back to see why I'm going so slowly.
Boulder, CO
In Fall of 2013, Meg, Betty, and I moved up to Boulder and I started a job with a lot less traveling. Meg got a new petsitter (Kari), and made a few new doggy friends. She also got her own "voice and sight" command green-tag that meant that she could legally be off-leash on most Boulder County Open Space and Mountain Parks land. During our year and a half in Boulder, her favorite adventure was meeting up with her good friend Nessie (Allison and James' dog) and walking around CU's South Boulder loop. Over the ~2 years that we lived there, I'd estimate we walked the ~2 mile loop at least 250 times, most of those times with Allison and Nessie. Nessie and Meg made a great team – Nessie would find the dead thing and roll in it, and then Meg would happily eat it. After she had her fill, she'd come running back to me at full speed with her classic "helicopter tail" waving around her. Eventually I got nervous that Meg would get sick from eating dead things so I tried putting a "comfortable" muzzle on her. People got a little freaked out by a seemingly friendly dog running up to them off-leash with a muzzle, so I then added a note to her collar that said, "I'm friendly! I just eat dead things!" She never fully adjusted to having it, and eventually managed to get herself and it stuck on a large bush, so the muzzle didn't last very long.

Meg enjoying "the loop" in all seasons.
We also did a lot more hiking while in Boulder including Bear Peak and various hikes near Brainard Lake. On our first time out to the Brainard Lake Recreation Area, I didn't realize that they only accepted cash (this has since changed) and I had only brought my credit card. We ended up parking at the "winter trailhead" and hiking in. I mistakenly got on one of the cross-country skiing trails and ended up leading us through 3 miles of marshland. By the time we got to the actual trailhead, Meg was soaking wet from jumping through mud. A few minutes later we ran into a moose and Meg luckily immediately ran behind me and stayed quiet (moose are not fond of dogs). Once we finally made it to Lake Isabelle, the afternoon thunderstorms were starting to form so we turned around to head back. Since I didn't want to risk another 3 miles of marshland, we decided to take the road. When we were around a mile from the car, Meg decided she was done. It was raining, she was wet and muddy, and she needed a break. She dragged me off the road, and started digging a hole under a tree. After she was happy with her hole, she sat down and would not move. We rested for an hour and then finished the hike once she had regained her composure. That was the first time she dug an "emotional support" hole, but she'd often do it in the future as a sign of needing a break.
The next time we returned to Lake Isabelle it was in winter so we again needed to start from the furthest trailhead, and I used snowshoes for the second half of the hike. This time we took the road and went almost all the way to the glacier. We hiked / snowshoed over 14 miles that day (and 2000+ feet of elevation gain) and it remains one of the toughest day hikes I've ever done, mileage-wise. Meg loved every minute of it.
One other notable hike near Brainard Lake was when we summited Mt. Audubon. Meg did great until we were most of the way down the mountain and essentially right at tree-line. All of a sudden, she stopped in the middle of the trail and put her head under a tree. I thought she was hot and just needed to cool down, so I coaxed her to the next switchback where it was shady. There was a woman sitting in a nice spot with a view of Mitchell Lake, so I asked if we could join her for what I thought would just be a few minutes. We ended up talking for a good 1-2 hours before I finally decided to continue hiking down. Meg still wouldn't move. She didn't appear to be in pain, but she wouldn't walk. My new friend (Hi Jennifer!) and I started carrying all 40 pounds of Meg down the last ~2 miles to the trailhead. We had help from some other hikers, and eventually Jennifer's friends (who, hilariously, were astronomers in town for a conference at CU Boulder) caught up with us to take turns carrying Meg. I later learned that Meg had bruised her paw pads on the rocky hike, and she recovered quickly. Jennifer (aka "the woman who helped me carry Meg down the mountain") became a good friend and hiking companion :).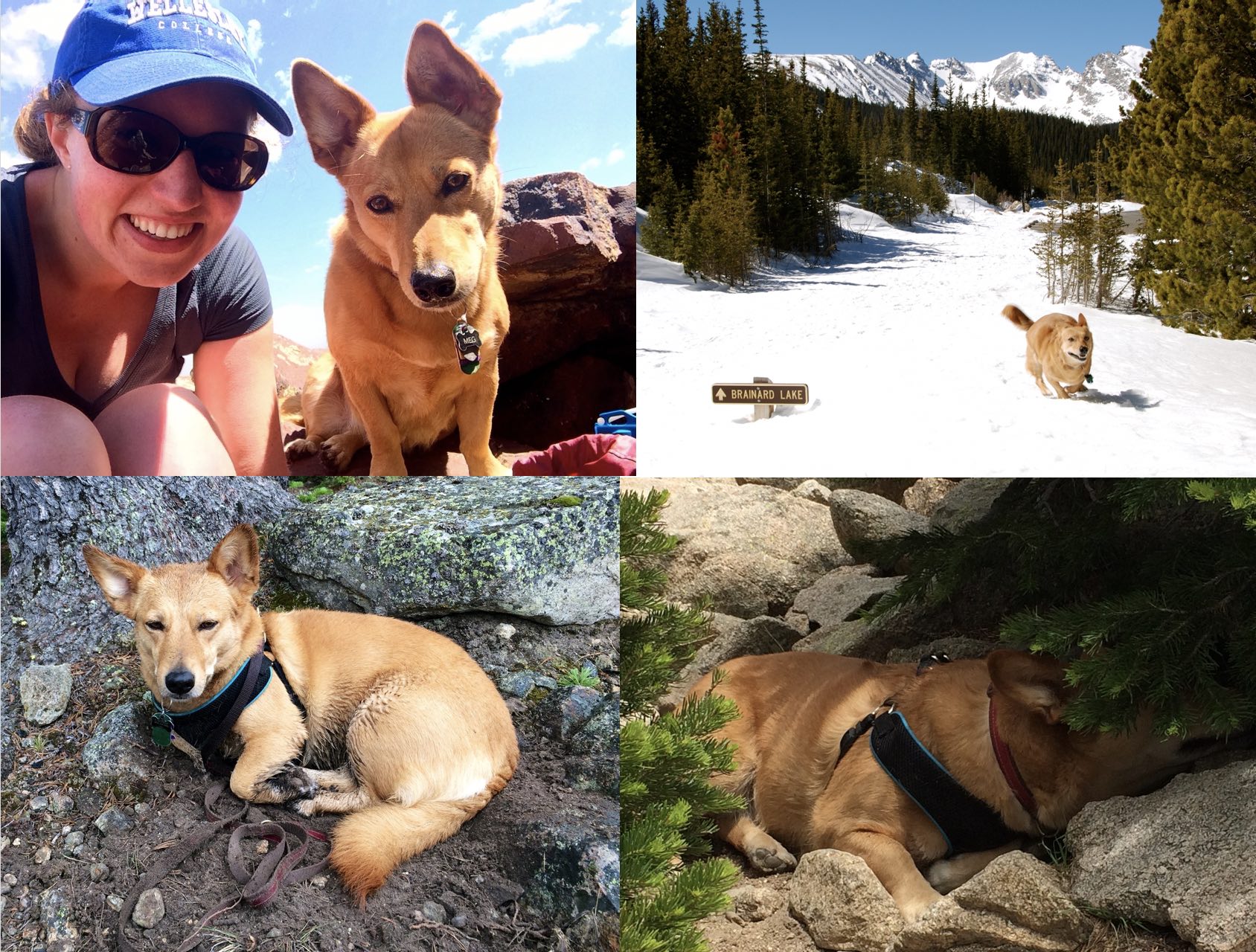 Hikes around Boulder including Bear Peak and her "emotional support" hole and tree at Brainard Lake.
Flagstaff, AZ
In August 2015, I started my masters program at NAU so we (me, Betty, and Meg) moved to Flagstaff. Meg and I had travelled to Flagstaff quite a few times before, so she was already best friends with Goldie (and Phil, Deidre, and Rita), had formed a wonderful bond with Melinda and Curt, knew her way around Cinder Hills, and was a fixture at Lowell Observatory (she even had an employee picture on the wall!). We lived in the Trustee's house for the first two months until I found an apartment, and Meg enjoyed going on runs with me around the trails on Observatory Hill and barking at/with Dave's dog, Lucky. There were dog beds, treats, and water bowls in almost everyone's office, so Meg felt right at home.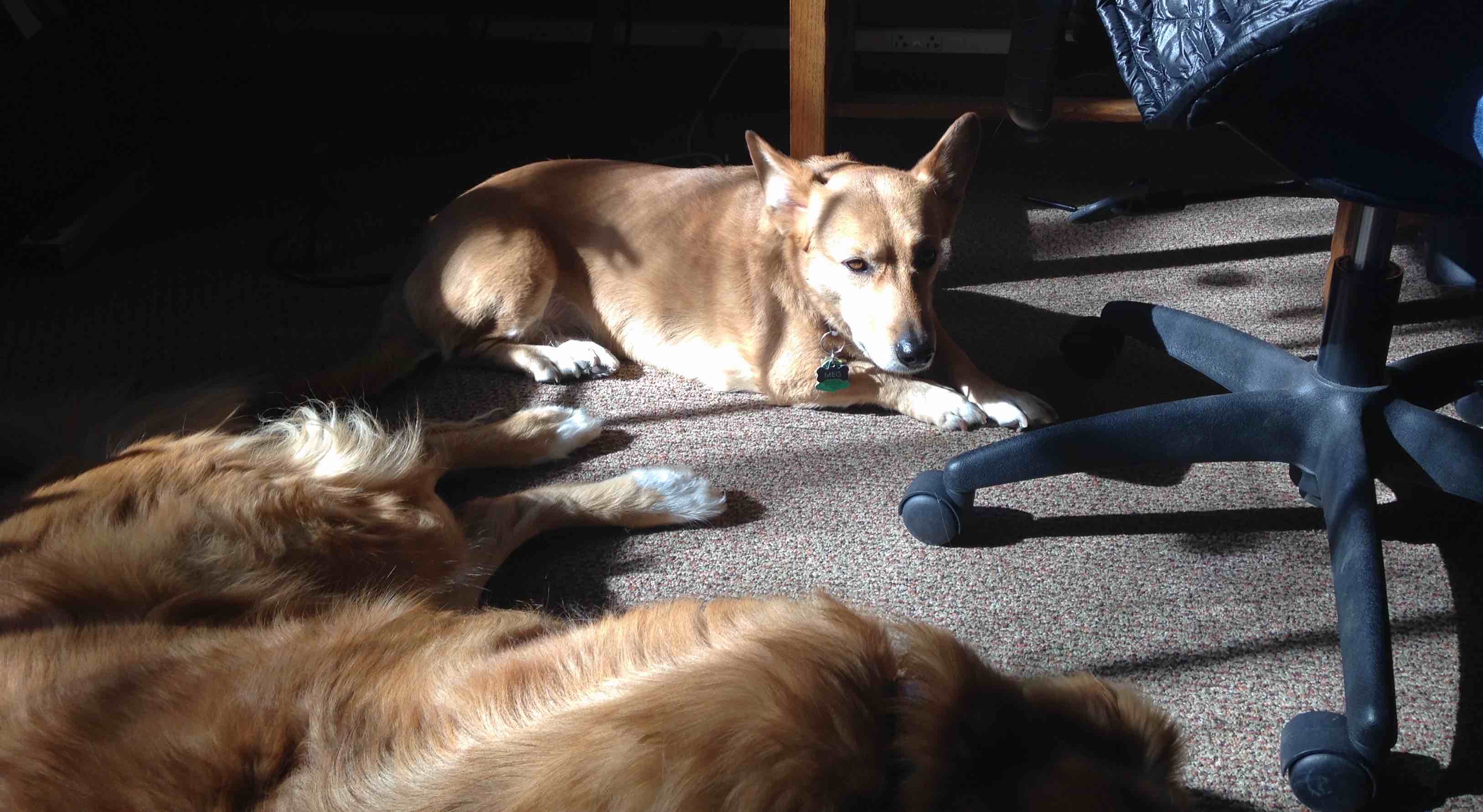 Meg and Goldie in Phil's office at Lowell.
And then, everything changed. Suddenly, there was another person in the apartment. There was a person sitting in her spot on the couch and sleeping in her spot ON THE BED. In other words, I started dating Garrett. Meg was … less than excited … about this development. Betty saw Garrett as someone else who could pet her and might potentially give her food. Meg just saw Garrett as someone in her spot. Over time, Meg's tolerance of Garrett grew into actual affection and while Meg would never sit with Garrett when she had the option of sitting with me, he eventually grew into a solid second choice. Still, if she had the chance to take his spot on the bed and drool on his pillow, or shove her body behind his on the couch and try and push him off, she'd 100% go for it until the very end.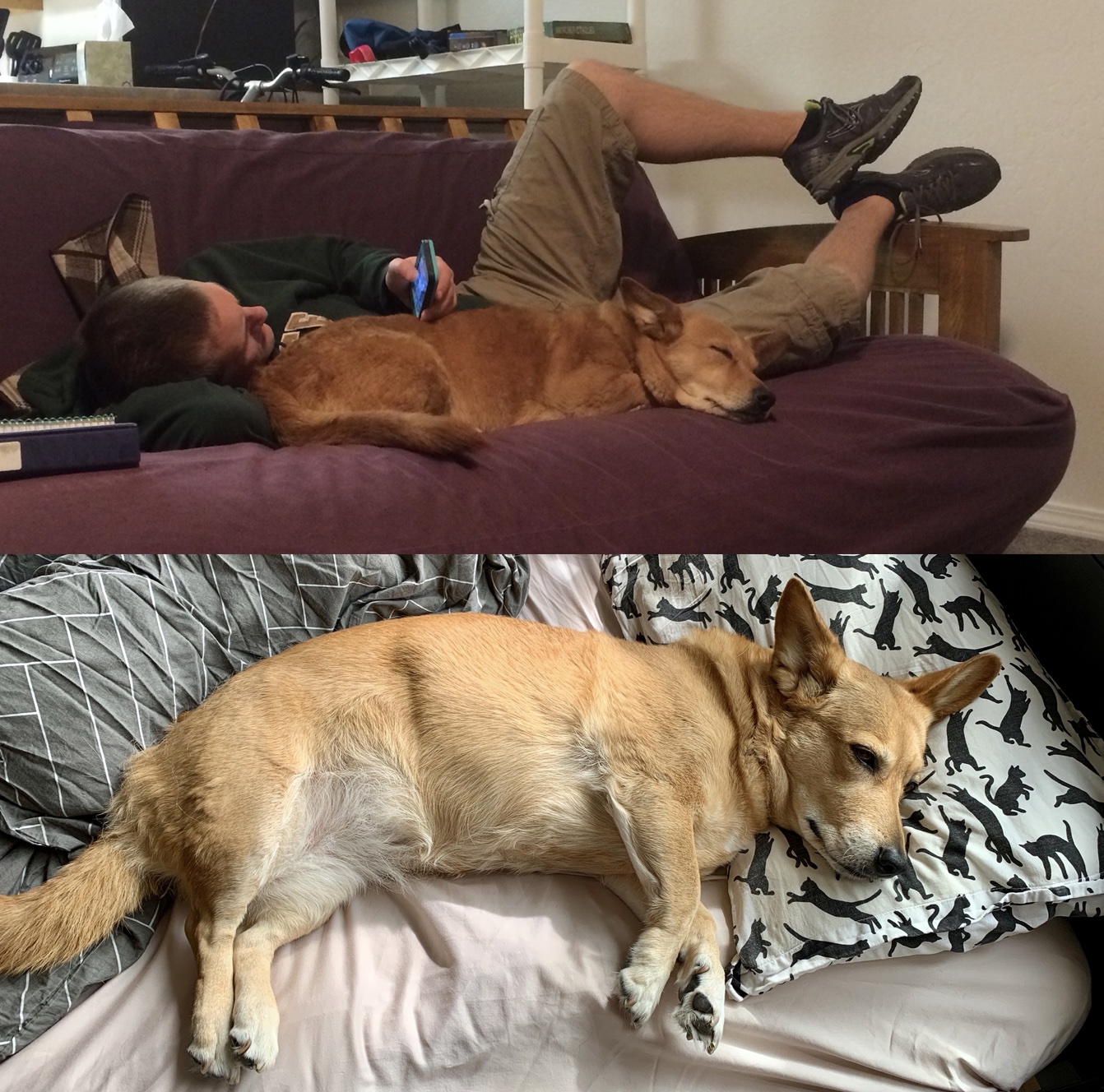 A classic Meg and Garrett picture, and then Meg happily drooling on his pillow.
As a bonding activity, Garrett decided to teach Meg a few new tricks. While it had been a while since we went through the PetSmart training classes, Meg still understood that clicker = food, so she was pretty trainable. Over the course of a couple of months, Garrett taught Meg how to roll over (which he did by continually barrel rolling her while clicking the clicker and feeding her treats), and to spin. She enjoyed both of these immensely and she added them to her "I-don't-know-what-you're-asking-from-me-I-will-do-all-my-tricks-in-a-row-and-hope-I-do-the-right-thing" repertoire. Garrett also learned quite quickly that Meg did not like having air blown in her face. He'd sometimes blow air at her as a joke and one day she paused and let out a long, low growl. Other than the crayon incident, that was the only time she ever growled at a person. After that, she felt that Garrett had learned his lesson, and she was pretty tolerant of his shenanigans (his long-time favorite one being to make an airplane noise with his hand and glide it right over her head. She'd always put her ears down flat to avoid it).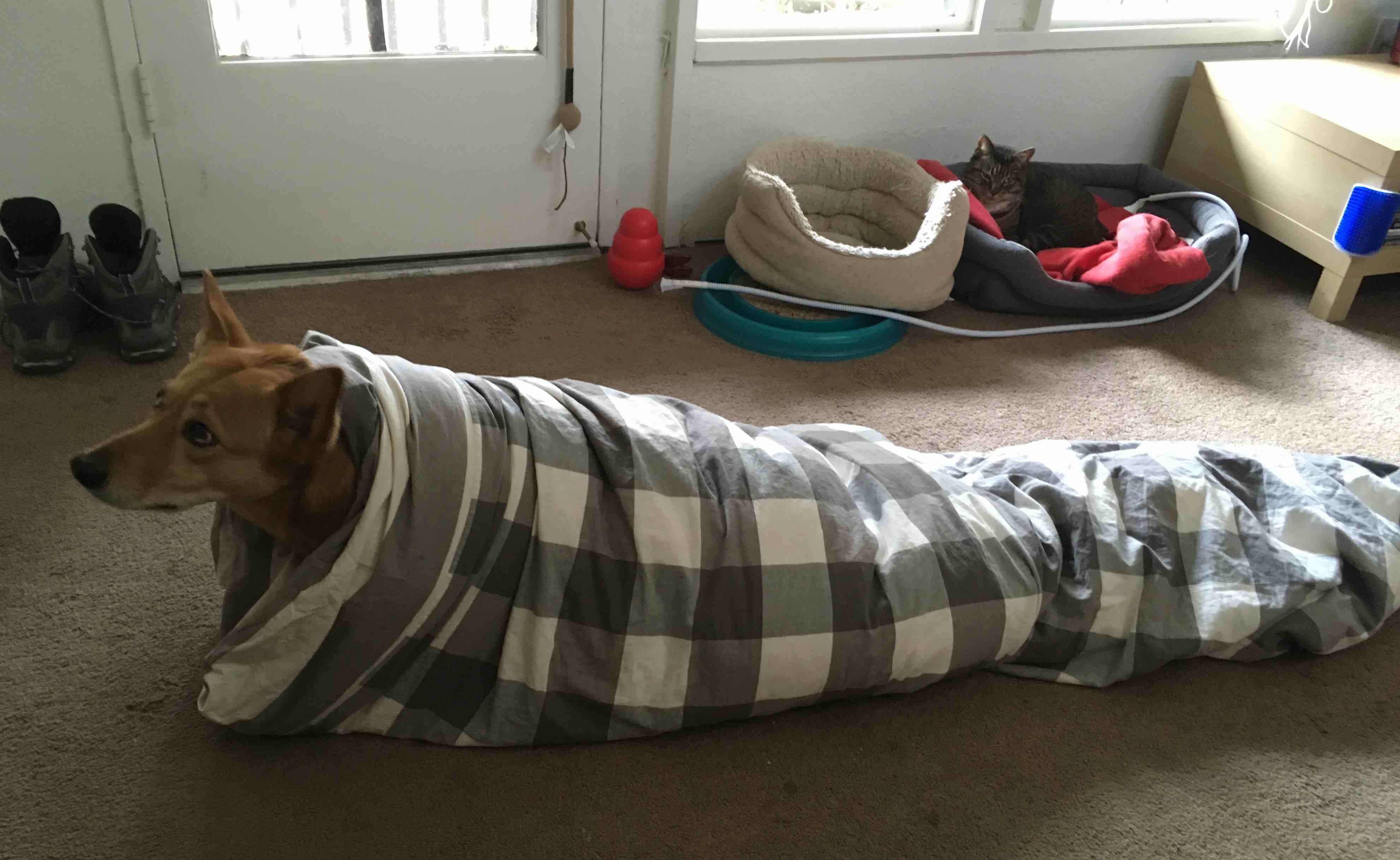 Garrett turning Meg into a "merdog". Betty looking on in amusement.
While our hiking adventures decreased a bit in Flagstaff, we still had some fun trips. Right after moving (and before Garrett and I were dating), we hiked up Humphreys and Meg was the tallest corgi in Arizona! We also went on a nice backpacking trip up Kendrick (where she did not get skunked, and all three of us crammed into a small 2 person tent), a few hikes in Sedona, and many snowy romps at Lowell. We also took a few trips to California and Meg got to experience barking at the waves and running on nice, sandy, beaches. Still, it was clear that by the end of our time in Flagstaff, her 5+ mile hiking days were over, and she was happier playing in the backyard with Goldie and Pumpkin (Phil, Deidre, and Rita's newly adopted dog).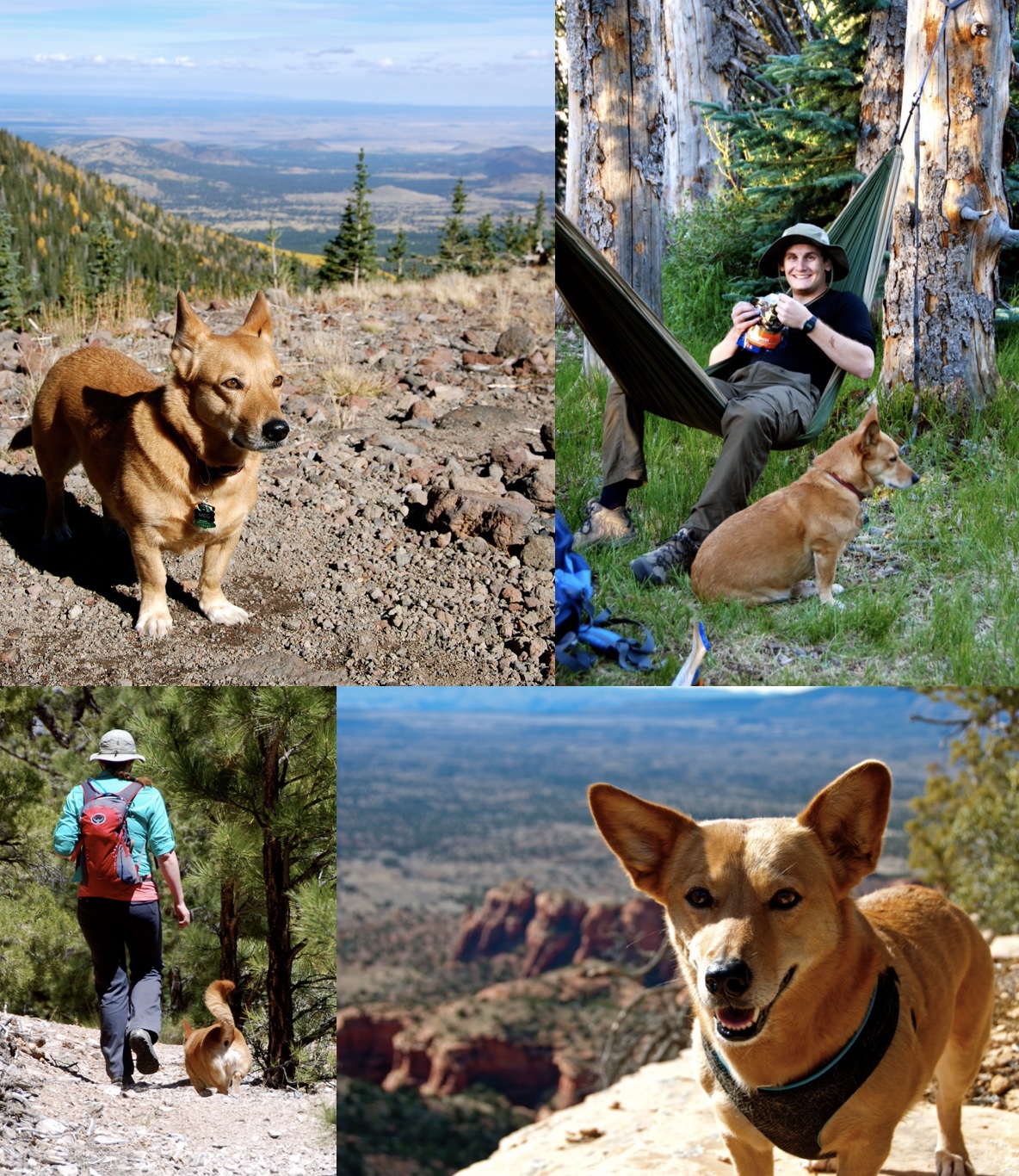 Adventures when we were in Flagstaff.
Seattle, WA
After two wonderful years in Flagstaff, we (Meg, Betty, me, and now Garrett) next moved to Seattle in August 2017 so I could begin my PhD program at the University of Washington. While the move itself went fine, this was a difficult transition for Meg (and for us). Her long romps in the woods were over, and instead replaced by leashed walks in the city. While she had never been great about walking on a leash, everything became more difficult in Seattle. She quickly learned how to crouch-down and maneuver her front legs forward such that she could slip out of her harness, so we got her a newer, and more secure one. There was lots of trash to eat, so our walks turned into more of a sniff-fest with continued attempts at getting her to avoid eating anything horrible. She perfected her "low gear"/stubborn stance and made it clear that sometimes she just didn't want to go on a walk. We tried taking the bus a few times, since dogs were allowed, but it was a bit too noisy for her. Also, there was rain … lots of rain. Sarah got her a raincoat for Christmas, but overall, she just wasn't a huge fan.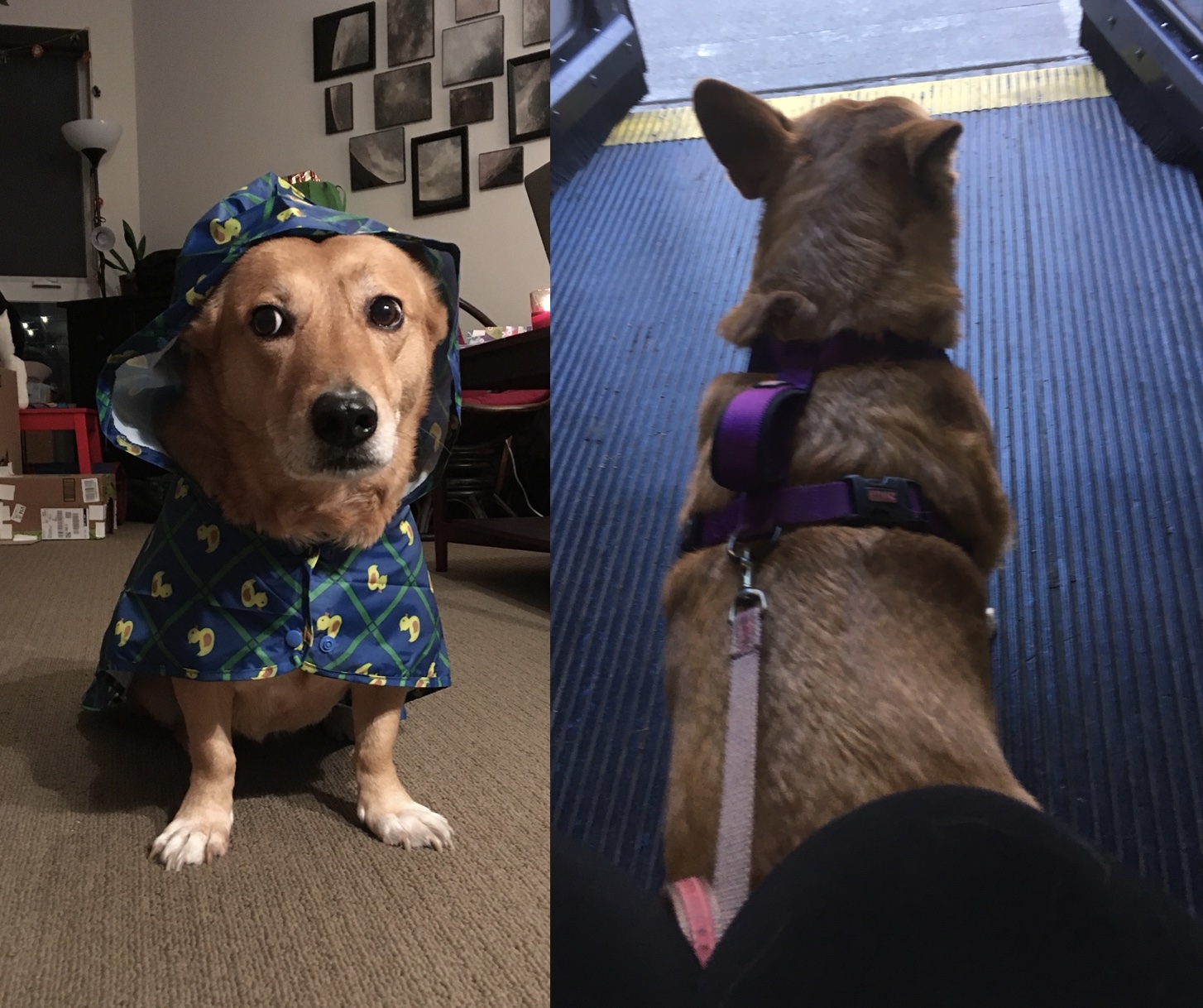 Rain and busses in Seattle.
As Meg and Garrett's relationship grew stronger, they bonded over one of their shared loves: food. Once Garrett joined "the family", we started a tradition of making a small Thanksgiving dinner each year, and Meg got to enjoy some carrots and turkey. This was clearly a yearly highlight for her and she'd inhale her portion in seconds. We also started celebrating her birthdays more regularly, and giving her wrapped bully sticks to open on Christmas. Food really was the way to Meg's heart. When I first adopted her, dinner as at 6pm. Over time, she moved it to as early as 4pm with a few follow-up evening treats. Once she decided it was "close enough" to dinner (usually at around 1:30 pm), she'd start ramping up her presence just to make sure you realized she wanted food. While she never barked or did anything destructive, she had a way of shifting her weight around, licking her lips, grumbling, and gently nudging you with her nose for hours on end whenever she thought she might be able to get dinner a few minutes early. It was quite impressive. Besides her dog food, she also regularly enjoyed peanut butter on a lick mat, "dog meatballs" in her small kongs, left-over yogurt, her glucosamine pill in the evening, or really anything that accidentally got dropped on the ground. Still, with the exception of a few instances, Meg was impressively well behaved around food. She never got into the garbage cans, ate food off of our couch table, or put an extensive amount of work into trying to get the cat food. But, if food was on the ground, it was fair game.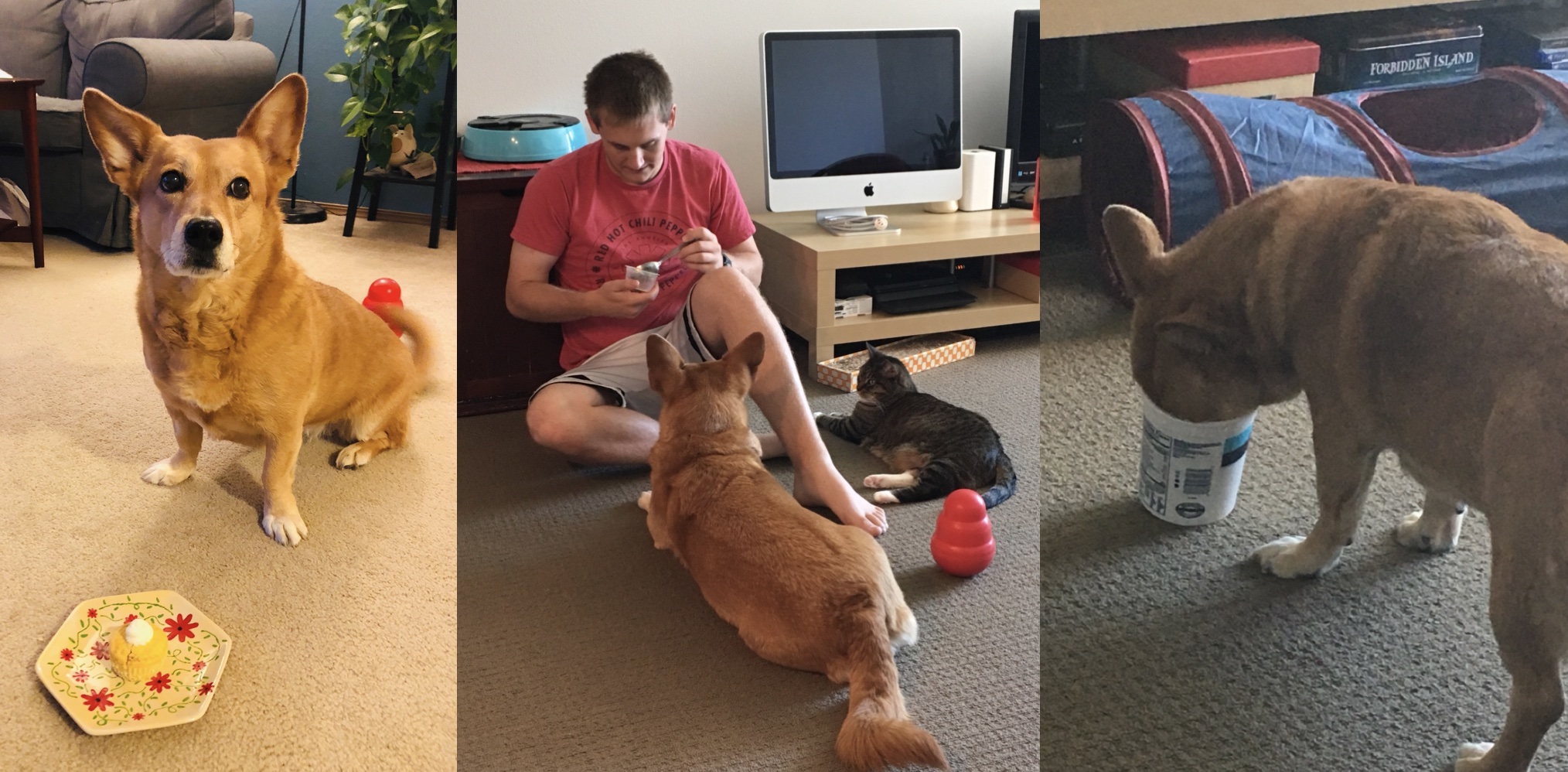 Meg's celebrations and love of food.
In November 2019, after Betty kitty's passing, Meg got a new kitty housemate – Marlowe. While Meg and Marlowe never quite bonded the way that Meg and Betty did (as in, Marlowe never jumped on Meg's face and made her wet herself …), they still got along fairly well. Marlowe was a bit bitey, but she also spent most of the day sleeping, and Meg appreciated that. Marlowe did attempt to initiate play-time with Meg a few times, but it never went super far. Overall, they were friendly at a distance, and that relationship worked well for them.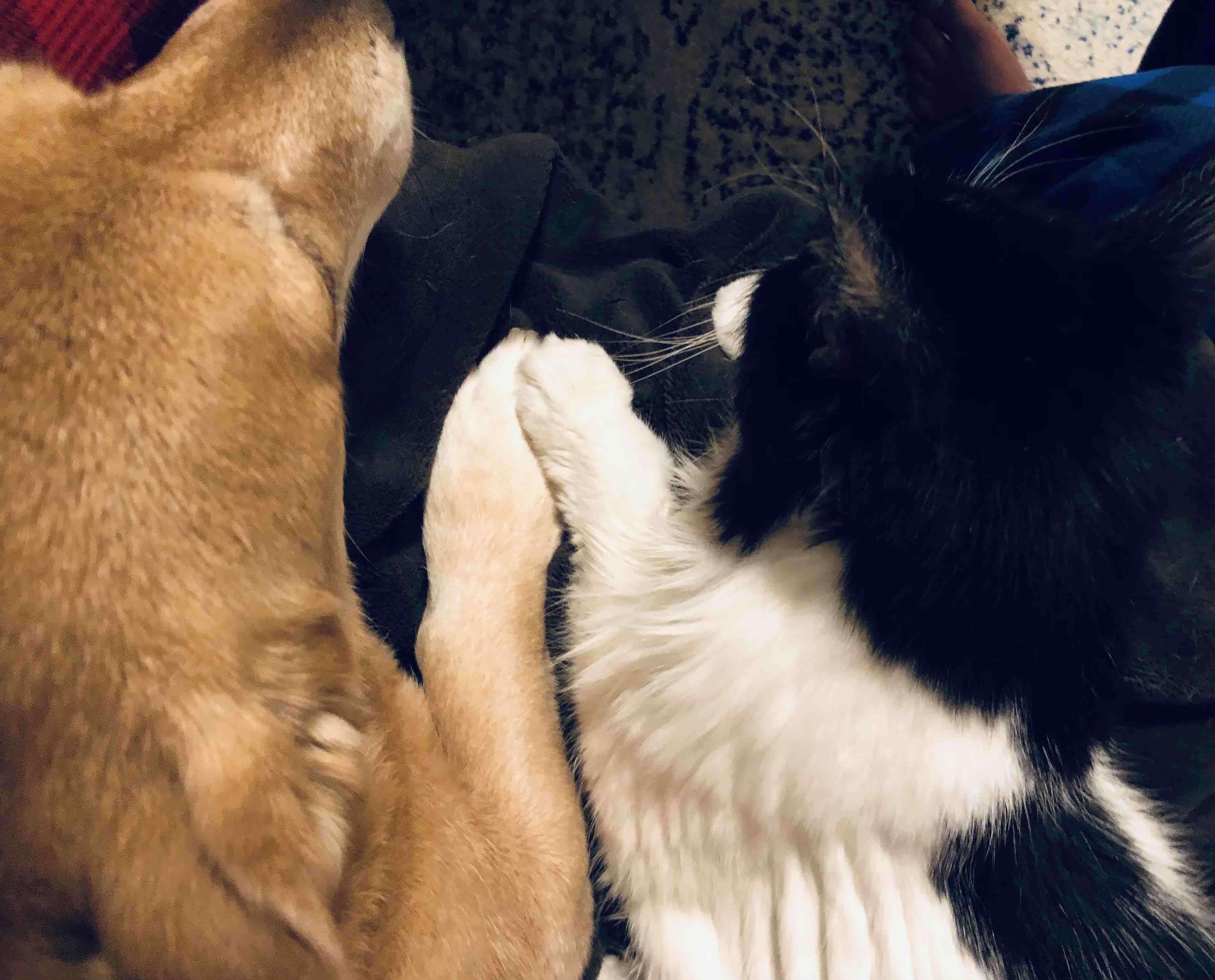 Meg and Marlowe.
Lafayette, CO
In the Spring of 2021 we joyously moved back to Colorado. While Meg certainly wasn't as spry as when we lived here before, she clearly enjoyed being back. When we left Seattle, we had a difficult time walking her more than a couple blocks and we thought she physically wasn't capable of it anymore. She soon proved us wrong and within a couple weeks of moving, she was back to 2-3 mile walks and small hikes. It was wonderful to see her energy and happiness increase. We lived across from a small park and she loved walking around it, sniffing the scents from other dogs, and running in the grass. When it snowed, she had a great time chasing after snowballs and running up and down the small hill where kids would sled. We also overlapped with Allison, James, and Nessie for a few short months and it was great to reunite Meg and Nessie and watch them play. Overall, Meg also really enjoyed our new apartment. We had a carpeted loft and she'd often run up the stairs, scratch her back on the carpet and let out what only can be described as a groaning noise, and then run back down full of energy. Moving back to Colorado really extended Meg's life.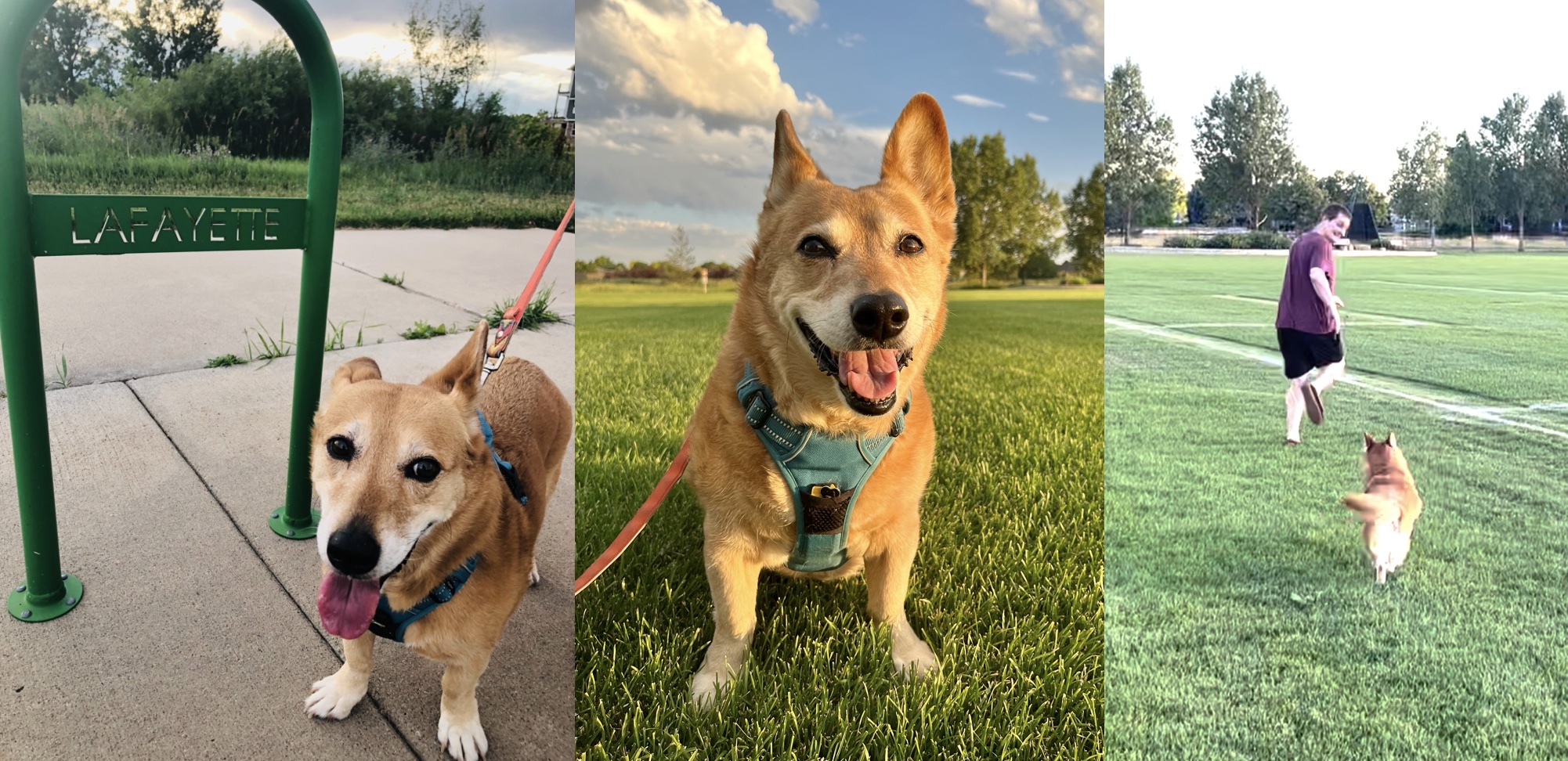 Meg enjoying our local park.
In August 2022, Garrett and I got married! While we debated including Meg in our ceremony, we settled on including her in our elopement photo shoot. We picked Loveland pass due to its amazing mountain and water views, as well as its proximity to the parking lot so Meg could be present for the photos at the beginning. I got her a special faux-leather harness and leash and made a bow out of my extra dress fabric. She wasn't the most well-behaved or photogenic dog during our photo shoot, but we still got some fun and memorable pictures.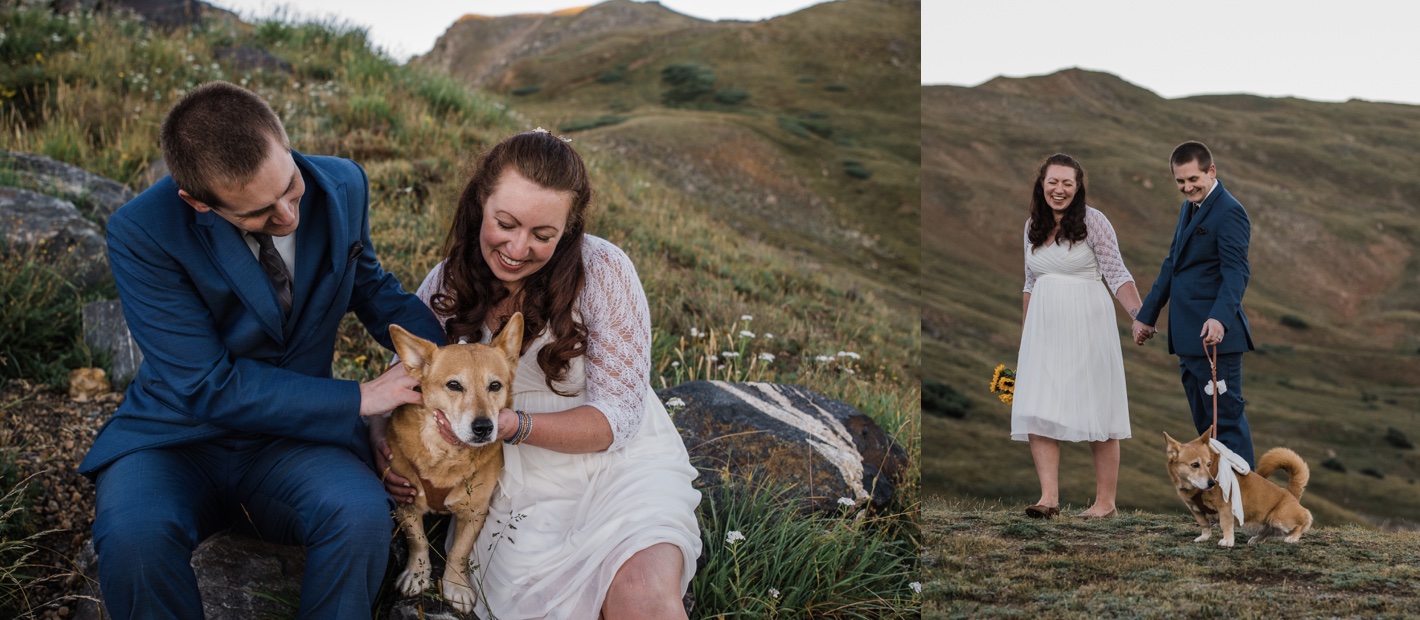 Our elopement pictures … including Meg peeing.
Marlowe was sadly only with us for a few short years due to kidney failure. After her passing, we waited a few months and then adopted Andy. Andy and Meg never quite figured out a mutually-beneficial relationship, but they still had their moments. Andy really wanted to play with Meg, and Meg was done with her kitten years. But, Andy and Meg still bonded during some of Andy's calmer moments.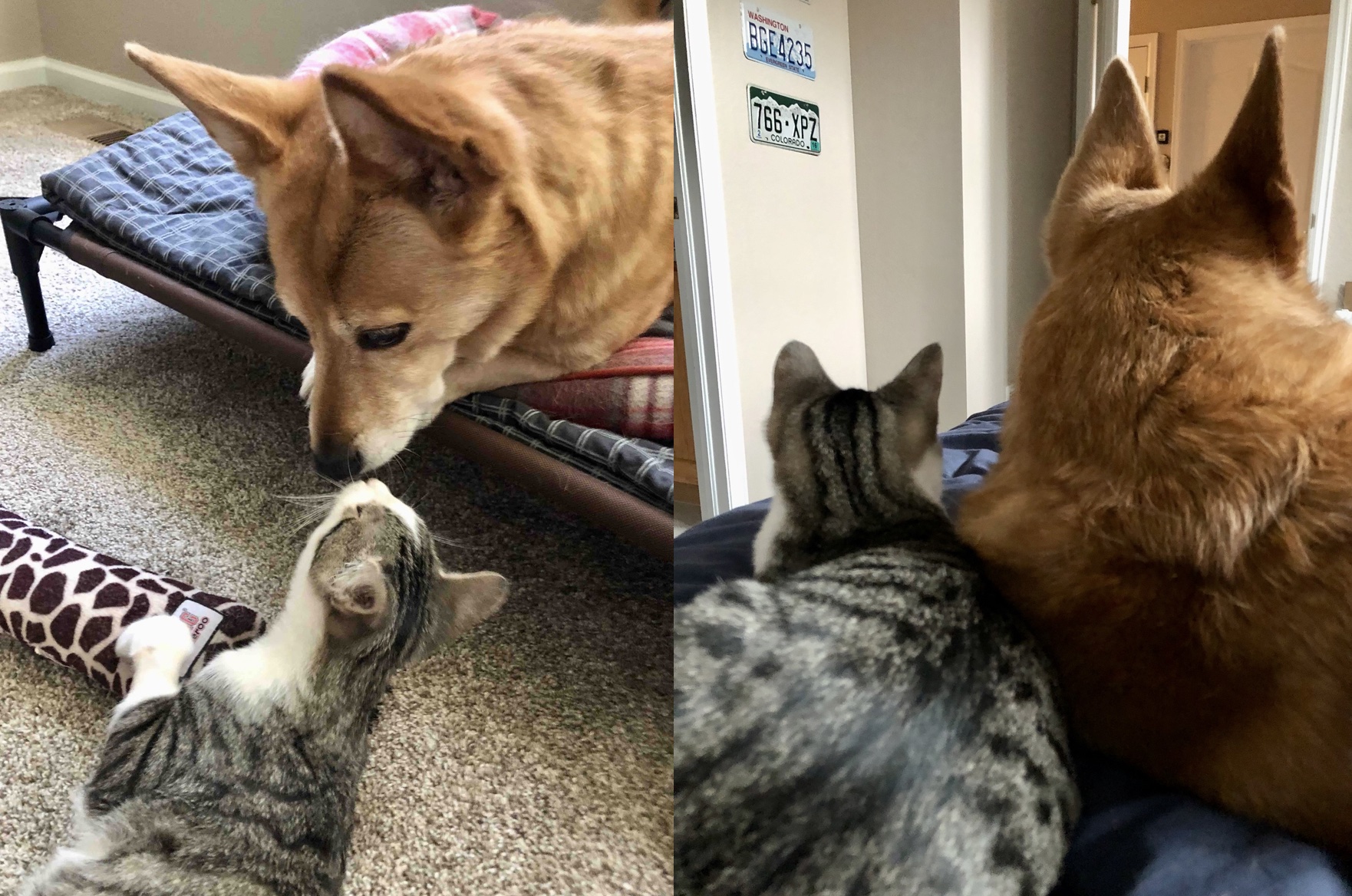 Meg and Andy's first snoot boop and keeping each other company.
While overall moving back to Colorado was just what Meg needed, there were still some less-exciting aspects. Meg was always incredibly sound-sensitive, especially with loud booms like thunder and fireworks. We tried lots of sedatives, but none of them reliably calmed her down during a loud thunderstorm. As she got older, her anxiety levels increased, and the summer thunderstorms became a significant source of stress. Garrett and I spent most June, July, and August afternoons from 2021 - 2023 trading off sitting with her in the closet. Sometimes she'd be fine and sleep, and other times she'd spend the entire afternoon panting and hyperventilating. It was difficult to watch and experience both for her and for us. Still, other than these summer afternoons, she was astonishingly healthy and happy until the last couple of months.
We started noticing a difference in her quality of life in April 2023. She had recently changed food due to some small crystals in her urine, and the new food caused her to drink more water. We also noticed that her appetite had become almost ravenous and she managed to get through the cat door into the litter box just to eat the "goodies" left behind by Andy. We first suspected Cushing's disease due to her thirst, hunger, and an increase in panting but every test we did came back negative. Switching her food also did nothing. Over the next several months we did more bloodwork, an ultrasound, and eventually started her on a multitude of anti-anxiety and pain medications. None of them seemed to help and her anxiety kept getting worse. Once the summer thunderstorms began in June, she was constantly in a state of panic every afternoon – even when the sky was clear. The only time she was reliably happy was when we were running around the park at night after the temperatures had cooled off. And the only place she was ever comfortable was in our bedroom with one of us sitting next to her. Finally, in early August we accepted that while nothing was obviously physically wrong, she was not a happy dog. We debated doing a few more tests (chest x-ray, MRI) to try and find a physical cause for her behavior, but we realized that at 13+ years old, and given all of the medication we had already tried, anything we found was likely not treatable.
We finally made the decision to say goodbye to Meg on Friday, August 4th. We spent the previous night and that morning giving her all the treats and food she wanted, going on lots of short runs in the park, and showering her with belly rubs and cuddles. We were lucky enough to say goodbye to her in our bedroom with the help of Dr. Sean Leffert Lap of Love.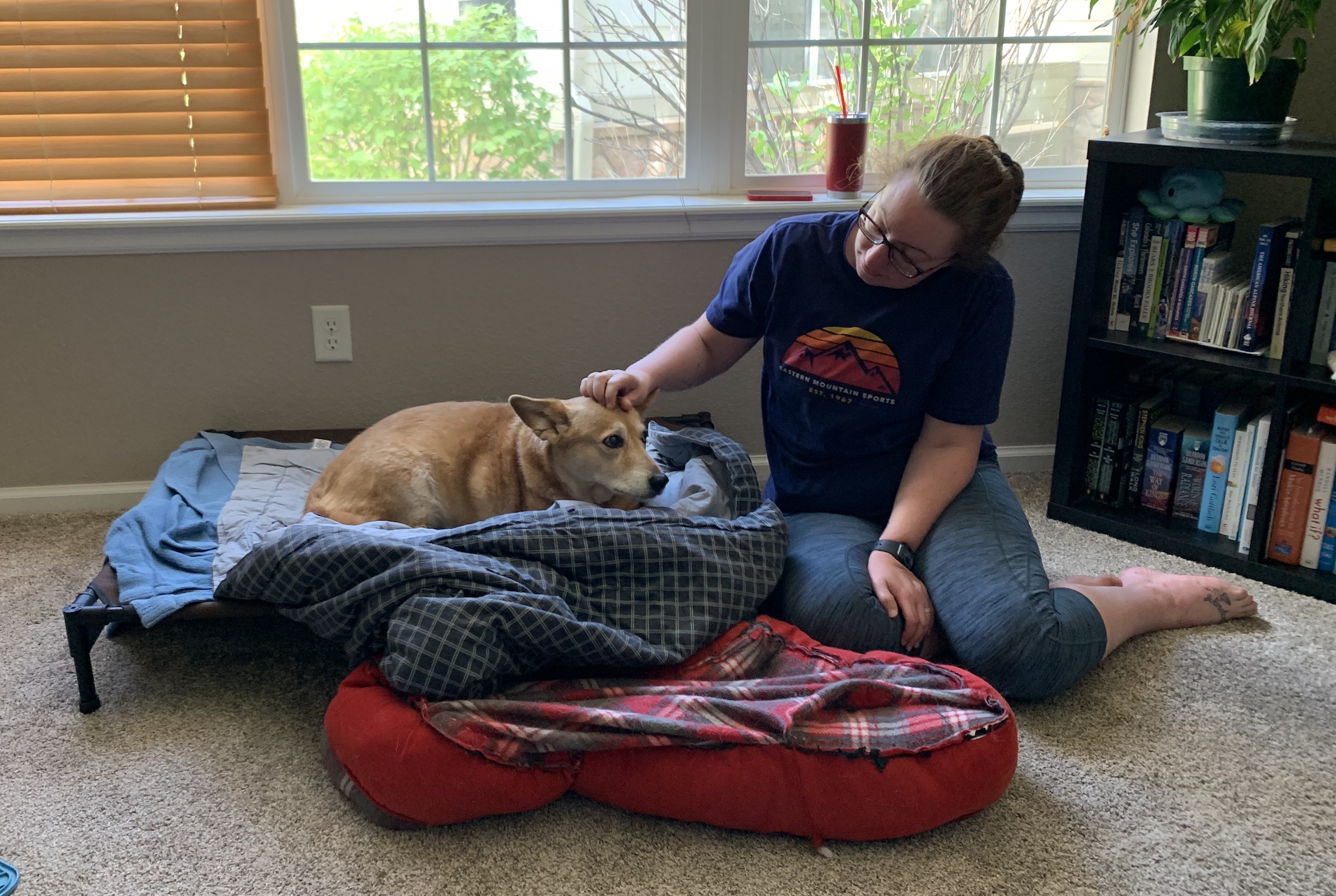 A few last pets the morning of August 4, 2023.
Meg came into my life when I needed a best friend. She stayed by my side through moves, jobs, classes, concussions, health issues, losing Betty and Marlowe, and the start of my relationship with Garrett. After what was likely a traumatic first couple of years, she needed a person to help her see and experience the joy in the world. We were exactly what each other needed. She will forever be missed.
Extra Stories
Meg's Doggy Friends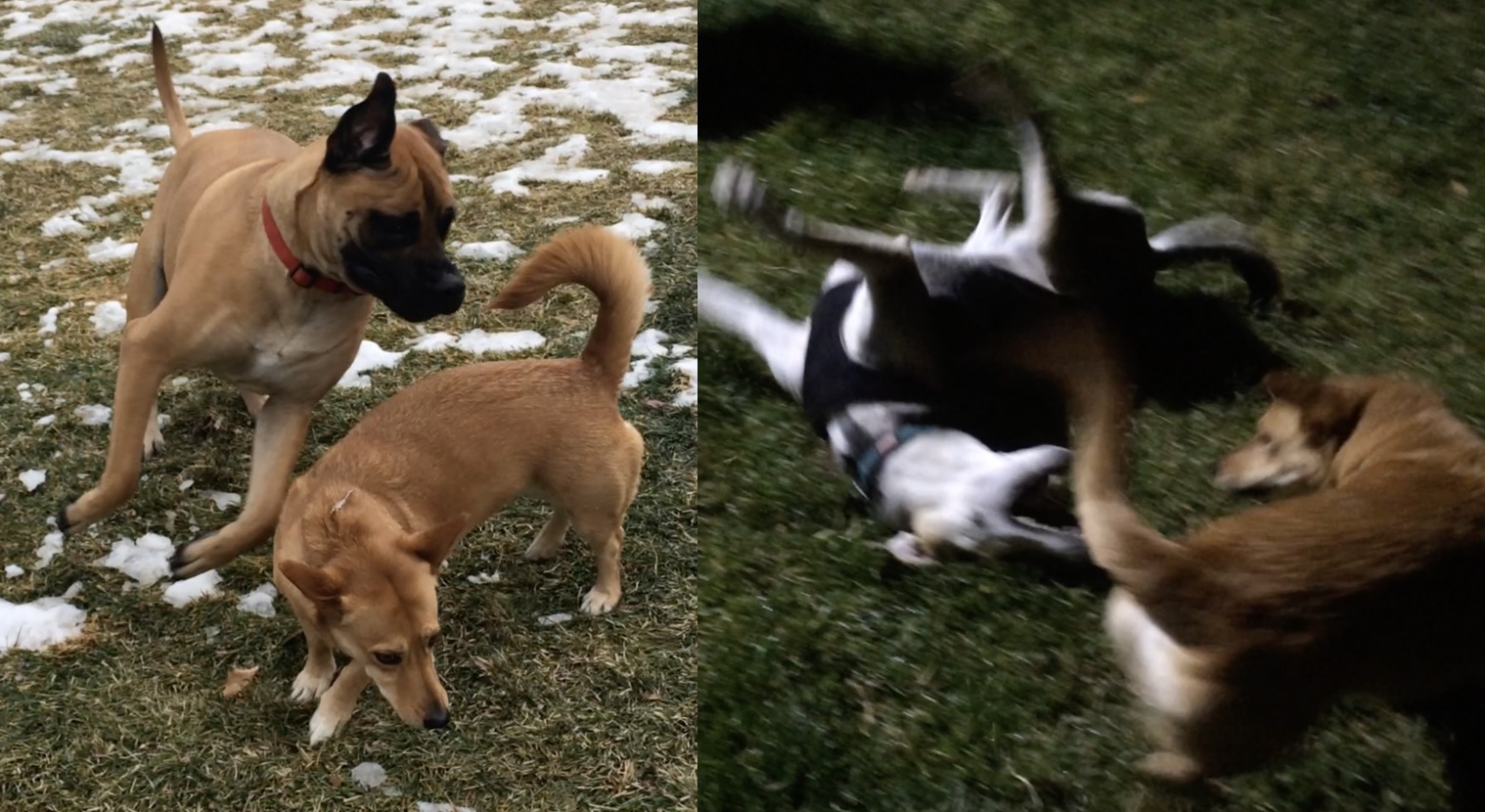 In Colorado: Monte (left) and Nessie (right)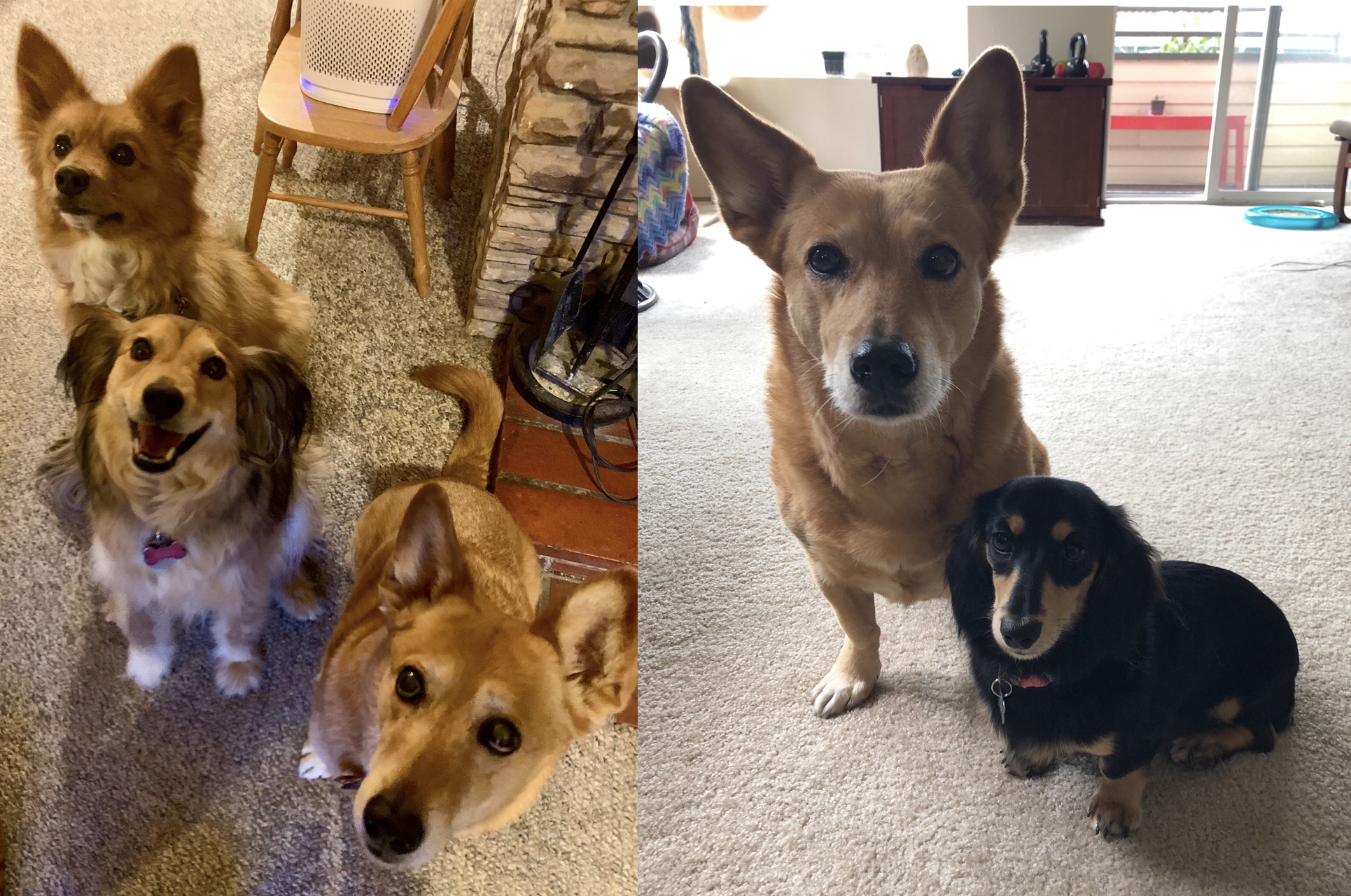 In Arizona and Seattle: Goldie (seen previously above), Pumpkin and Butternut (left), and Pod (right)
A (non-exhaustive) list of things Meg ate that she shouldn't have
A dark chocolate orange that, in her defense, was left on the floor. This resulted in much GI distress and a vet visit … but luckily no lasting damage.
The mouse that was in a mouse trap at Lowell. This caused much distress because we thought she had gotten her tongue in the mouse trap. But nope, she just wanted the dead mouse.
An entire Panera bread bowl. I placed it on the dining room table, but Betty happily knocked it down so that Meg could gobble it up … since it was on the floor.
Multiple Biff's bagels left unattended in the car.
Garrett's chipotle burrito that, again in her defense, was left on the floor when Betty got outside the apartment. We went to grab Betty, and Meg happily ate the burrito we left for her.
A ton of fresh grass (not because she was sick, but just because she liked eating fresh grass). One time she ate so much grass while on a walk at Lowell that she barfed it up a few hours later and it was the size of a full banana. From then on, we carefully limited her grass intake.
So many dead things and rabbit poop outside.
Snow.
Mannerisms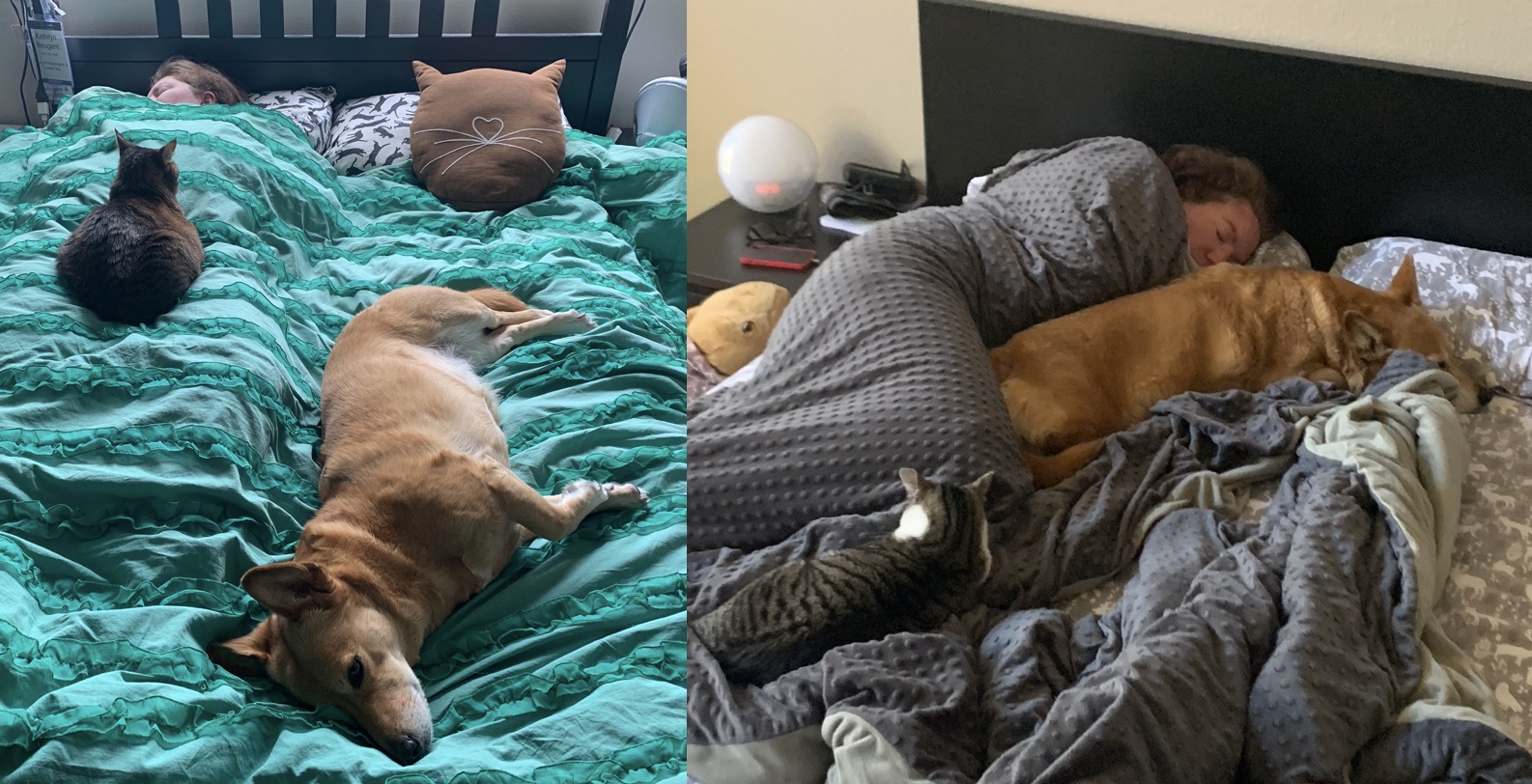 Cuddling on the bed while I'm napping

Sighing when in her bed like the world was ending and we weren't doing enough to fix it
Grumbling when itching her ears (even when she did it herself)
Stretching every time she would get up or before going out for a walk or pee break
Pogo-ing when she was excited or wanted something (usually food)
Lots of twitching and whimpering when she was dreaming
Super expressive eyebrows
The clicky-clacky of her nails on the hardwood when she got excited (again, usually for food)
Pressing her cold nose against you in bed to cuddle
Her fluffy corgi butt after bath-time (which she obviously hated)
Playing with other dogs and not being able to out-run them because of her short legs, but being very adept at changing directions quickly and barrel-rolling under them
Scratching her back on the carpet and then standing up and doing a propagating shake (starting at her nose and ending with her back two legs)
And, not really a mannerism, but the deep voice we gave her that was inspired by Nathan. Her voice will be missed, even if it was never real.